Town Life
Manhan Silver Lead Mining Co.
This valuable mining property is situated in the Hampshire County, Massachusetts, and embraces an area of about two hundred and sixty acres of arable meadow and woodland.
Throught its entire length, which is 4000 feet, runs one of the largest and most productive lead veins ever discovered...Read more.
Culture
Many townspeople have written and published books, memories, histories and poetry. The works by Southampton authors which are available in our Historical Cabinet to view at the library is listed here. This list is by no means exhaustive, but gives an indication of the breadth and depth of their literary accomplishments.
Various books, presentations, and memorabilia about Southampton are available for research in our Historical Cabinets. Please ask a librarian for assistance.
Listed here are available photographs, VHS tapes and DVDs about Southampton and local areas which may be viewed at the library. Please ask a librarian for assistance.
Our library collection and the CWMARS catalog also have many other resources available about Southampton that may be checked out or viewed at other libraries.
Southampton Cornet Band 1875-1933- Excerpt
Example of a Bride's Dowry in 1702.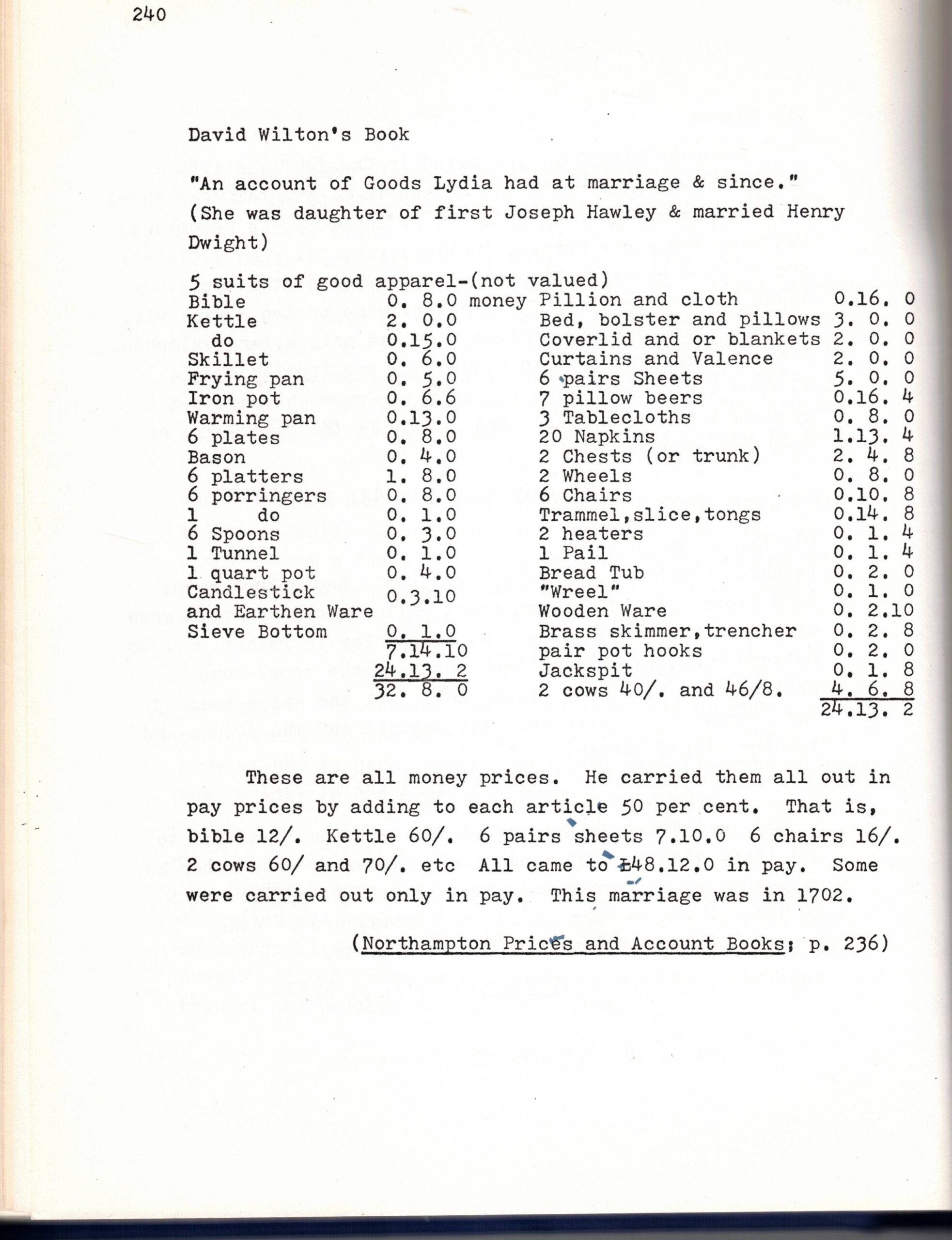 Of Historical Interest
1.
June 19, 1964 – U.S. Senator Ted Kennedy survived a plane crash that killed one of his aides as well as the pilot. The plane was on its way to a Democratic State Endorsing Convention in Springfield.[34] The small plane crashed in an apple orchard near Southampton, Massachusetts. The senator was pulled from the wreckage by passenger (and fellow senator) Birch Bayh. Kennedy spent five months in a hospital recovering from a broken back, a punctured lung, broken ribs, and internal bleeding.[4][5][11][35] Following the crash, Bobby Kennedy remarked to aide Ed Guthman: "Somebody up there doesn't like us."[36] –From "Kennedy Curse" Wikipedia.

"From Selected Papers from Sylvester Judd Manuscript"
Of local historical Interest
Return to the Edwards Public Library website.