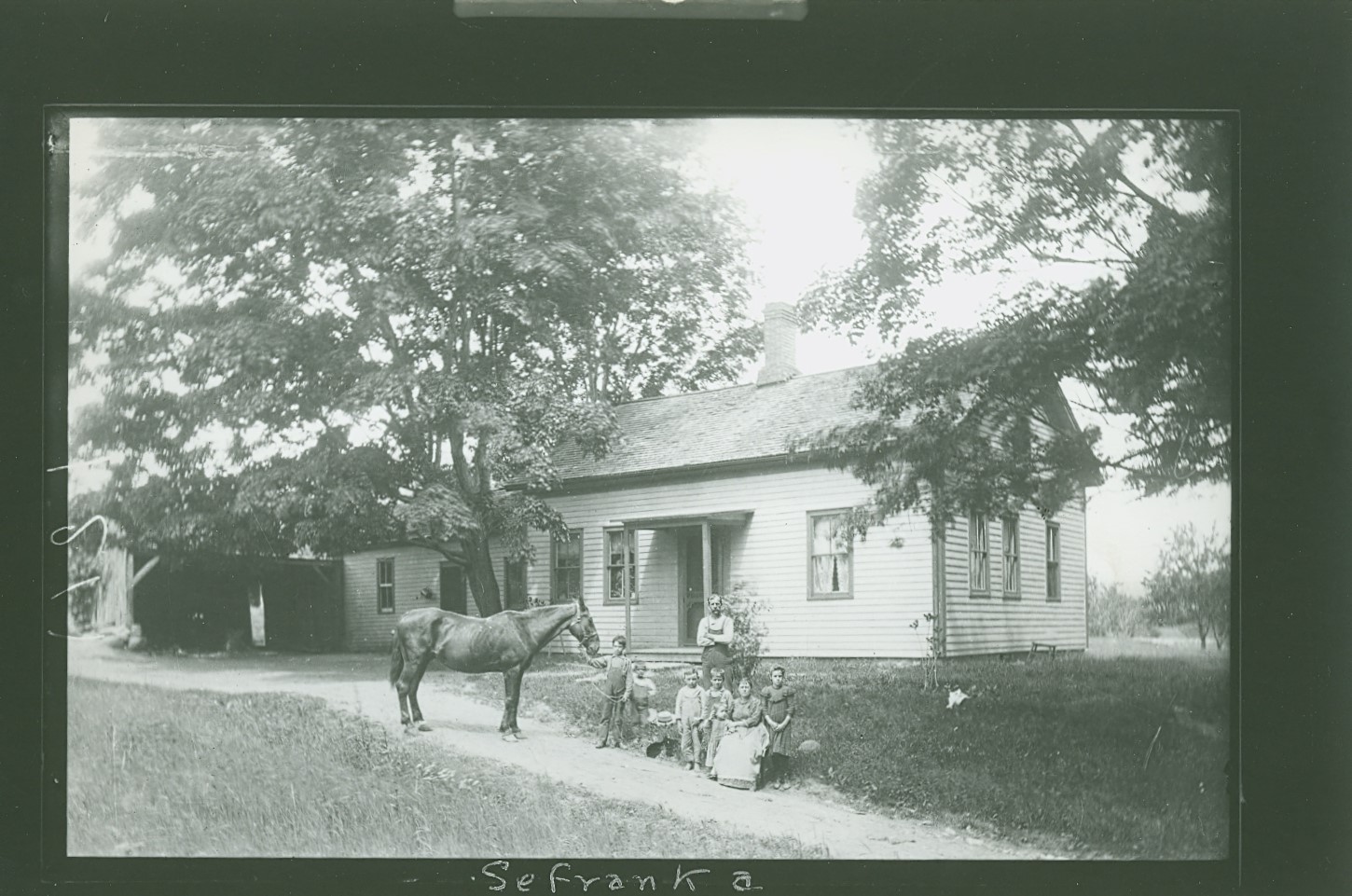 Louis A. and Lois (Smith) Sefranka – College Highway
The land where this house stands was part of the John Clark farm (now in part the Golf Course). The first deed on record regarding this property as a separate parcel from the rest of the John Clark Farm is dated 1828 (60-133).
This deed is from Gauis Lyman et ux to Gauis Lyman, Jr. Price was four hundred dollars.
Gauis Lyman had purchased most of the John Clark farm some years previously.
Quote from deed (60-133): "with dwelling house same lately occupied by Gad C. Lyman".
Gad C. Lyman was an older brother of Gauis Lyman, Jr. He was married in 1822 and it seems reasonable to suppose that this house was built at that time. His wife was Achsah Searle and she died in 1828, age 26.
In 1842, Gauis Lyman, Jr. sold this property to his uncle, Samuel Lyman, from Chester.
Samuel Lyman lived here briefly if at all. He moved on to the main part of the John Clark farm which he had also purchased from Gauis Lyman, Jr.
Samuel Lyman then sold the property, which is the subject of this sketch, to his son, Stephen Lyman, for $400, 1843 (99-274).
Stephen Lyman, born 1811 in Chester married Julia Searle, daughter of Zenas Searle, Jr. and Julia (Sheldon) Searle, in 1830.
Stephen and Julia (Searle) Lyman had four children: Martha, married 1864 George K. Edwards; Hattie, married 1871 Rev. William Stocking, a missionary, she died in Persia, 1872, age 26; William S., born 1850 married 1882 Mrs. Carrie H. Lyman widow of his brother Frederick; Frederick, born 1853, married 1876 Carrie L. Hill, died 1878.
In 1866 Stephen Lyman sold this property to Albert Atkins, a speculator, for $2,000.
Stephen Lyman had become homesick for this native town of Chester and decided to move back there. So, a neighbor, Elijah Lyon moved his goods back to Chester. According to Marion Lyon, a granddaughter of Elijah Lyon, Elijah made this remark to Stephen Lyman, "You will want to come back to Southampton in a year or two and when you do let me know and I will come after you." Sure enough, Stephen Lyman soon wanted to come back to Southampton. So, Elijah Lyon moved him back here in 1868 to the place lately known as the Kupon place now owned by the Goral family.
Meanwhile Albert Atkins had resold Stephen Lyman's old place to John Beauliew for $,200, 1966. Atkins must have reserved some of the land.
Arthur Lyman bought this property from Beauliew in 1878. Arthur Lyman, son of Charles B. and Angeline (Avery)Lyman, was born 1852 and in 1878 married Anna F. Munson. They had two children: Flora, born 1882; and Mary, born 1886.
Joseph G. Farrier was the next owner buying it from Arthur Lyman in 1899 for $1,300.
James Harris bought it from Ferrier in 1902.
James Harris sold it to Max Lederer in 1903. Max Lederer was a painter and he and his wife Amalie (Wollman) Lederer had four children: Max, Jr.,; Elsie; Arnold; and Bertha.
Max Lederer, Jr. in 1916 married Inez May Stevens. She was born in Temple, Maine and came here as a school teacher from Strong, Maine. She later took up the study of genealogy and became a top authority on that subject.
Max Lederer, Jr. worked principally on the "bridge gang" of the N.Y., W. H and Hartford Railroad.
They moved to Westfield in 1955 and he died three years later.
Elsie married Robert Jones in 1914. She now lives in Arizona. Arnold married Melissa Davenport. He died in 1948. Bertha married John McAuslan of Holyoke.
Max Lederer, Sr. and his wife Amelis* moved to Holyoke in 1918 and sold this farm to Isaac Rider from Worthington. He and his wife Inez had a large family of children. Three were born here; Irene, Donald, and Floyd. Others were Linwood, Harold Morris and Alice.
This was rather a small farm for a large family to have a living from so Inez Rider did outside work and Isaac Rider hauled wood and logs with his horses and sawed wood for neighbors.
In 1939 A. J. and Mary A. Robitaille bought this property from Isaac Rider (943-39). They were here about two years and since 1941 it has been owned and occupied by Louis A. and Lois Sefranka. He is a practicing attorney with an office in Holyoke.
–From "A History of Old Houses" by Atherton Parsons
See photograph #35 of Howes Brothers' Photographs.
Return to the Edwards Public Library website.