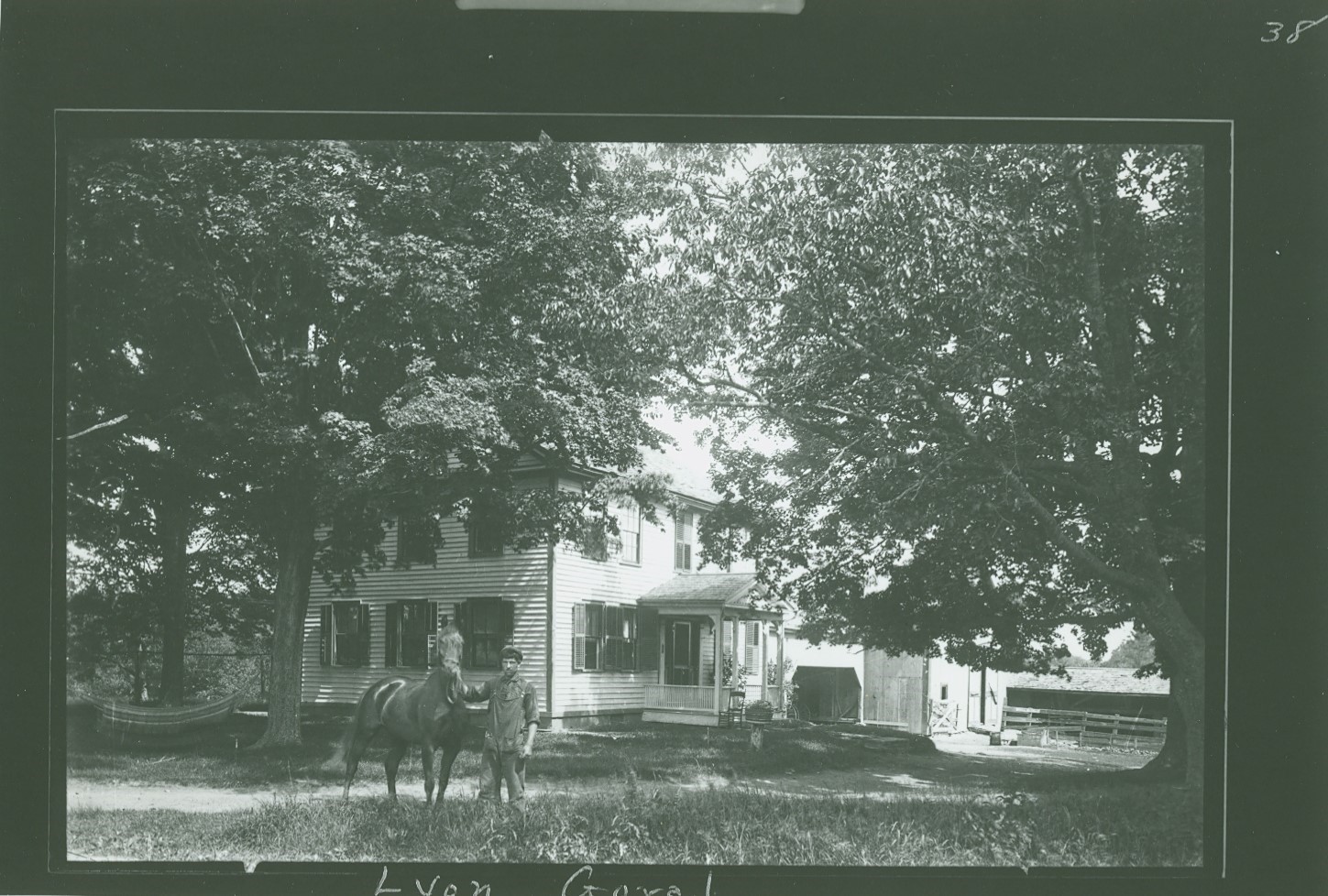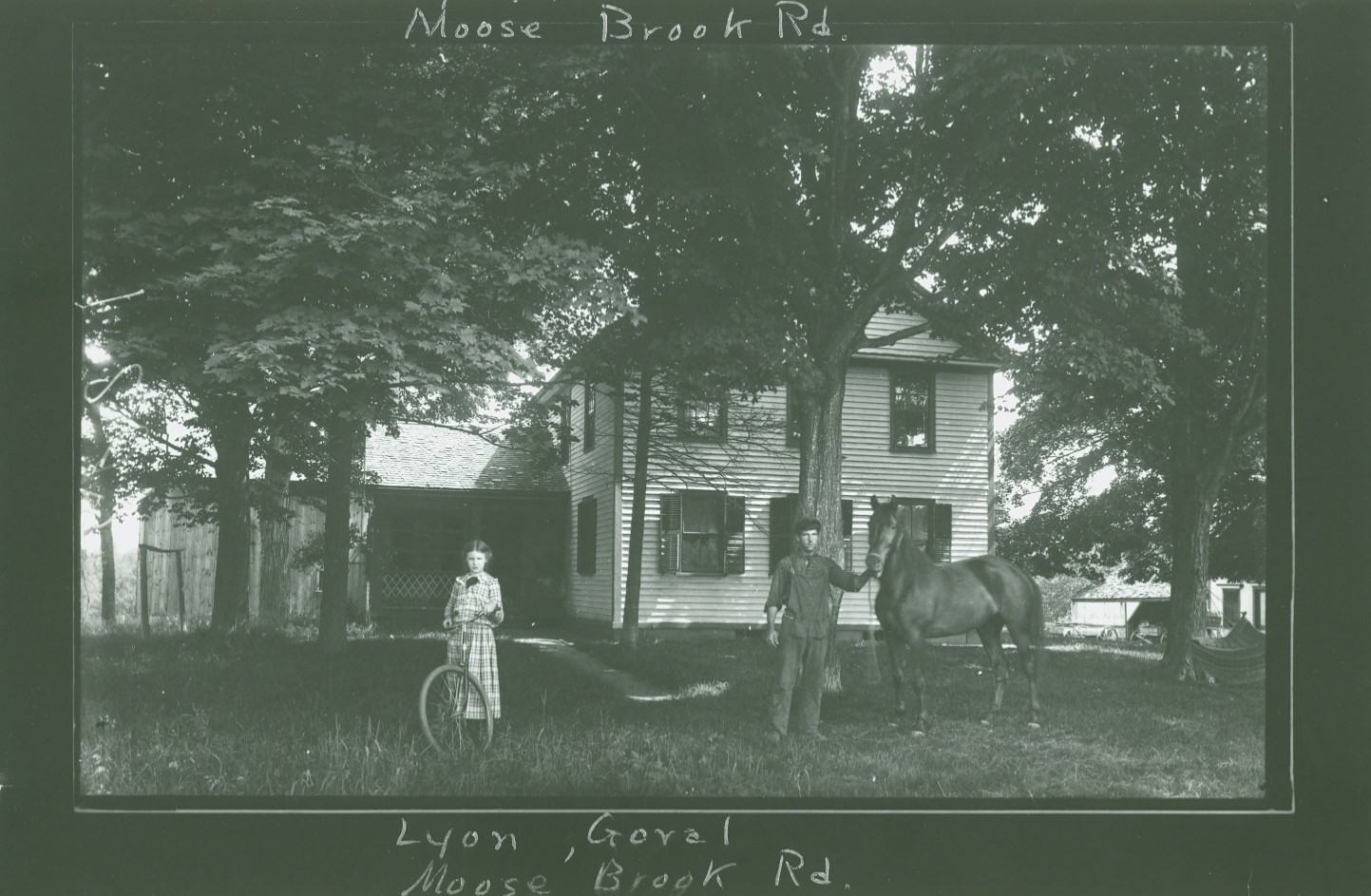 Charles and Agnes Goral – Moose Brook Road
In 1818 Phineas Strong bought the land, and in 1833 built the house here. The land formerly belonged to the John Clark farm (later owned by Charles L. Lyman.)
In 1847 Phineas Strong sold the property for $1000 to his son Noah Lyman Strong. Presumably Noah had lived here since he had married Elizabeth Fowler of Westfield in September of 1837. Noah and Elizabeth Strong had three children.
Josephine E. b. 8-23-1837. Josephine never married, but spent her life teaching, part of the time instructing freedmen in the South.
Sarah. b. 6-11-1842 m. 9-3-1862 Edwin E. Kingsley who was born in Southampton, but moved to Boston where he was a merchant.
Henry H. b. in Westfield 7-24-1860. He gave $5000 to the Edwards Library in 1930.
Noah Lyman Strong in addition to farming, helped to operate the saw and gristmill owned by his father. He was sent as a representative to the General Court at Boston in 1848, and later he was a state senator. After retiring from politics, he moved to Westfield.
The next owner of this property was Elijah Lyon, who bought it from Noah L. Strong March 25, 1864 for $3450, (218-104). Elijah Lyon b. 9-28-1823, m. Eunice M. Clapp, b. 5-13-1827, daughter of Stephen D. and Electa (Frary) Clapp. They came from Westhampton and had occupied the Quigley farm and also an old house, since torn down, where Harold Sheldon now resides. Elijah and Eunice Lyon had five children: Marcus E. b. 1846 who died at 16 years at New Orleans in the Civil War; William S. b. 1847, d. 1938 m. (1) Celia Bartlett; George H. b. 1848 d. 1921, m. Cynthia E. Russell; Eva F. b. 1852, m. 1872 George Everett Searle, d. 1924; Charles O. b. 1856 d. 1917 m. Anna Jane (A. Jennie) Ewing, daughter of John and Flora (Butler) Ewing. Sometime bewteen (sic) 1888 and 1982 Elijah and Eunice Lyon moved to West St., Easthampton, living with his daughter Eva until he died in 1917.
In 1897 Elihah had turned the ownership of this property over to his son Charles O. Lyon reserving a life interest for himself and his wife Eunice. In Addition to farming Charles operated a retail meat business. Many people in Southampton today remember the especially built meat cart with which he sold his meat in Easthampton and Southampton. A dog or two usually tagged along to pick up a waste morsel. Charles O. and A. Jennie Lyon had three daughters: Helena Butler b. March 10, 1886 d. Oct. 29, 1966; Marion Clapp b. April 3, 1888; Ruth Eunice b. March 31, 1892, d. Sept. 1, 1893. After the death of Charles O. Lyon in 1917, his widow and daughters ran the farm for two years, then moved to Easthampton. A. Jennie Lyon died in 1928. In 1942 Helena and Marion Lyon moved to Northampton where Marion now lives.
Stanley Sekscienski and Felix Goral, brother-in-laws, bought the farm in 1919. After several months Felix Goral bought out Mr. Sekscienski's share.
Felix and his wife Alexandra (Seksciencski) Goral operated the farm until Felix died in 1952. Their children were Charles and Jennie born in New York; Anthony, Elsie, and Carl born here on the farm. Jennie married Earl Wing and settled on a farm near the Westfield line. Carl married Elaine O'Connor and built a house on the home farm east of the main house. Elsie and Anthony married and settled out of town.
Charles, b. 1911 married Agnes F. Jerzylo in 1939, and has operated the farm since his father's death. Charles and Agnes Goral have four children:
Florence b 4-8-1940 m. Daniel Bellville and have a new house on the home property fronting on Strong Road.
Charles Jr., m. Cecile Girouard. They live in the house known as the W. S. Lyman house now owned by Charles Sr. and Agnes Goral.
Edward works on the farm with his father.
Janice lives at home.
–From "History of Old Houses" by Atherton Parsons
Return to the Edwards Public Library website.