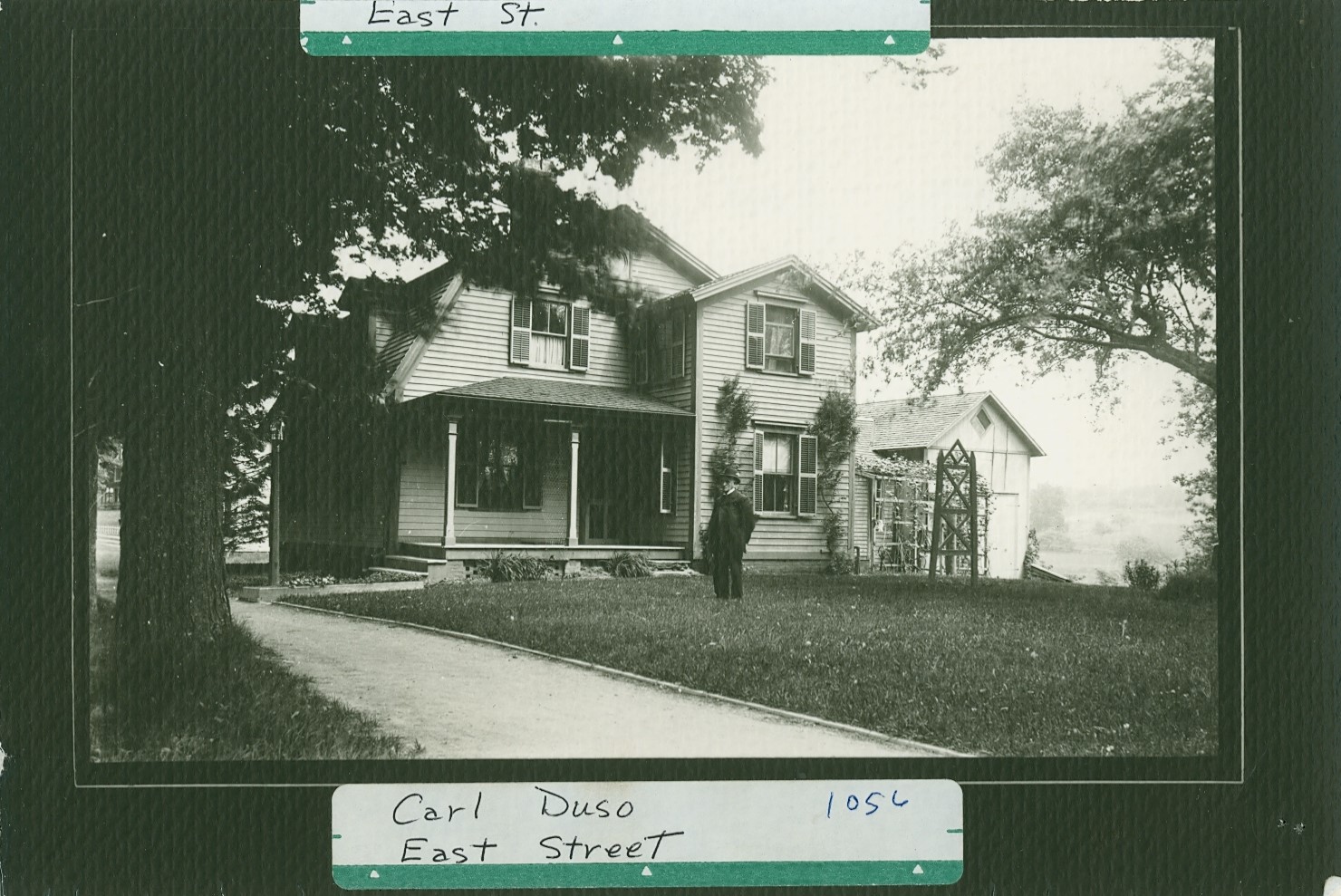 Mrs. Esther P. Nichols – East Street
This house reportedly was built in 1772 by Phineas King for his daughter Clarinda. It was located first on the green in front of the present Center School. Later, when Asahel Birge Jr. was the owner (on April 18, 1829) Asahel Birge Jr. sold his land on which the house was located to the trustees of Sheldon English and Classical School as a site for the school building. He then moved his house and attached shoe shop to its present location on East Street. A well on the green was used into the 1900's.
Clarinda King, for whom the house was built by her father, Phineas, married Asahel Birge in 1758. Asahel Birge, b. 1730, was one of the soldiers sent out from Northampton to protect the settlers against Indian attacks and was quartered in the house of his future father-in-law Phineas King. Asahel and Clarinda King Birge had three children:
Cynthia, b. 1760 died unmarried 1838
Asahel Jr., b. 1770 m. 1797 Betsy Bliss of Bolton, Conn.
Francis, b. 1733 died 1782
In 1812 Asahel Birge sold his homestead to his son Asahel Jr. for $400. Asahel Birge Sr. died in 1815. (His wife Clarinda died in 1807.)
Asahel Birge and his wife Betsy had eight children, born between 1798 and 1814: Sophia, Betsy, Lucy, Francis (died at 6), Maria, Clarinda, Francis A. and Edward W. Of their children, three lived here all their lives; Clarinda taught school, Betsy kept house, and Sophia was a seamstress. Lucy Birge married Bidkar Jones and Maria Birge married Philip Jones, both of West Springfield.
Francis A. Birge married (1) Lucy Stebbins and moved from Southampton, and (2) Lydia Brewster. He later came back to Southampton and lived in the present Walter Howland place. Francis A; Birge had four children, Maria, Mary, Henry, and Martha. Mary married Prof. Charles H. Gardner.
Edward White Birge married 1845 Ann Stephens of Troy, N. Y. They lived in Troy, also Hamden, Conn., coming back to Southampton about 1874. He died 1902 and Ann, his wife, died 1911. They had four children, of whom three lived to maturity. They were Edward A., John T., and Clara S.
Clara S. Birge (b. Troy, N. Y. 1847) married Benjamin Wilcox of Westfield, Conn., in 1873. They had a son and a daughter Anna. After Benjamin Wilcox died in 1910 Clara and her daughter Anna lived in Springfield where Anna taught school They spent their summers in the old homestead in Southampton and after Anna retired, they lived here year round. Mrs. Clara Wilcox died in 1938. Anna Wilcox is now living in St. Petersburg, Florida.
In 1947 Richard and Virginia Mullaly bought the property from Anna Wilcox.
In 1950 Edward Nichols of Yonkers, N. Y. bought it from the Mullaly's (1081-233). Also in 1950 Edward Nichols sold it to his daughter and son-in-law, Henry P. and Janel ( Nichols Derouin.
In 1961 the Derouins sold the property to Janet Derouin's mother, Esther Perkins Nichols. It is now a two-family house and has been rented to several families.
–From "History of Old Houses" by Atherton Parsons
Return to the Edwards Public Library website.