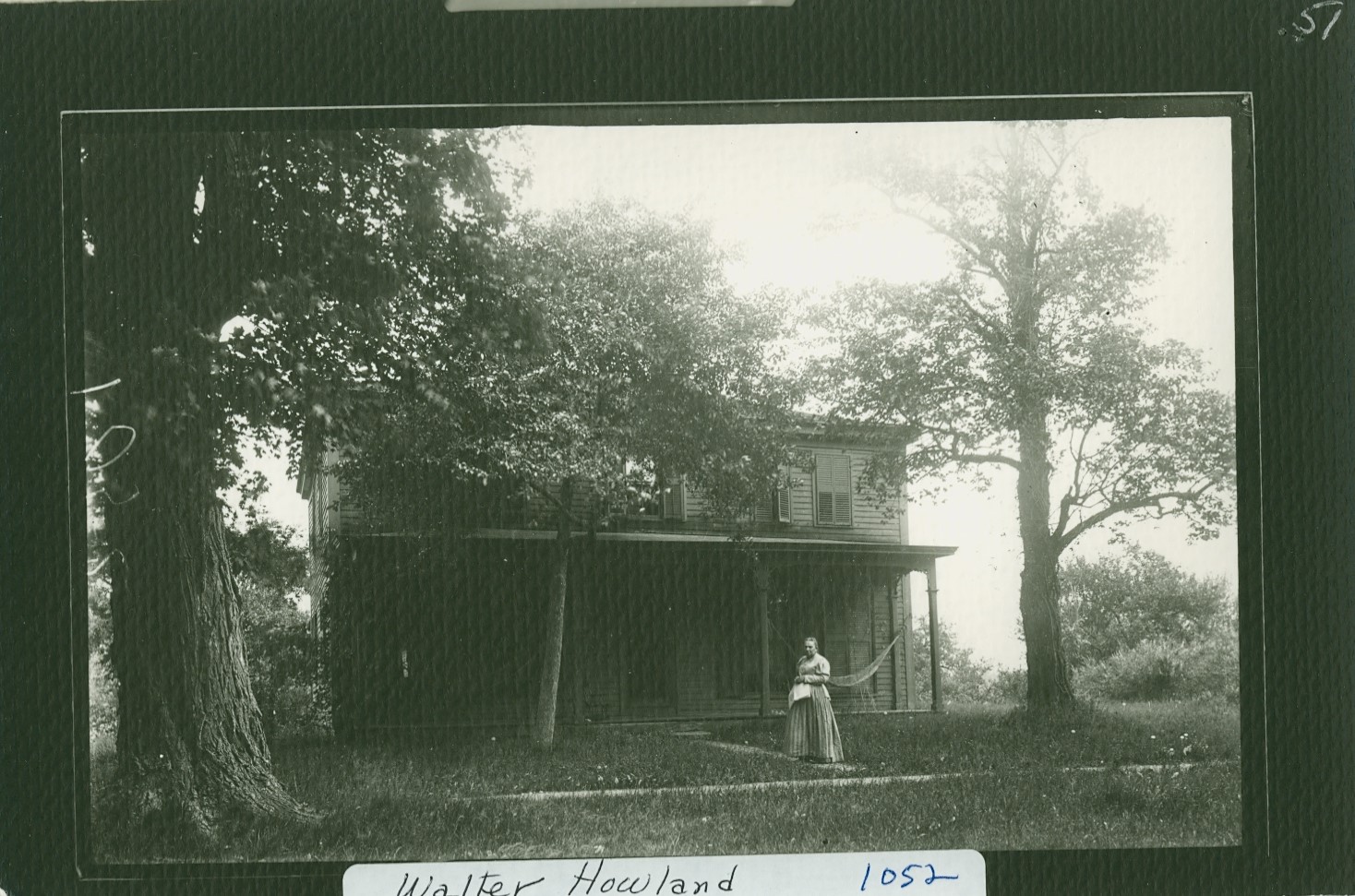 Walter M. and Beatrice H. Howland – Elm Street
This property was the homestead of Jonathon Wolcott Jr., who married Clarissa Pomeroy of Easthampton in 1800. They had two children: Almira, b. 1802 and Tertius, b. 1804. Tertius married and settled in Troy, N. Y. Clarissa P. Wolcott died in 1816 and Jonathon Wolcott Jr. sold this property in 1818 to his brother, Stephen Wolcott. The deed says in part: "homestead on which I now live with house, barn, and shop." Apparently Charles Bates rented the property from Stephen Wolcott for several years.
Dotus Strong bought from Stephen Wolcott in 1824. Dotus was the of the Waitstill Strong line, being a son of Elihu Strong Jr. and Abigail Pond Strong. Dotus Strong, b. 1799, married in 1824 or early 1825 Achsah Lyman (b. 3-22-1802 d. 1854) daughter of Joel and Achsah Parsons Lyman. Dotus and Achsah Strong had three children born in this house:
Caroline A., b. Feb. 1826 and d. 10-8-1827
Richard B., b. June 30, 1827 and d. Feb. 19, 1828
Caroline M. , b. 4-12-1829, m. 10-29-1856 to George A. Moore, d. 10-18-1901
Dotus Strong d. 5-19-1832 and his widow Achsah married Nehemiah R. Washburn (son of Amos W. and Amanda Root Washburn of Williamsburg). Nehemiah was b. 4-21-1807 in Williamsburg and died 6-17-1886 in Springfield, Mass. Nehemiah Washburn was a blacksmith, and he moved here. Nehemiah and Achsah had three children:
Maturin A. born 1839 b. 1841
Ellen Brunell, b. 8-14-1841 d. 12-11-1904
Massena M., b. 9-6-1847 d. 2-23-1849
Ellen Brunell Washburn m. 2-23-1863 Robert E. Monaghan of Cambridge Township, Lenarve County, Michigan. The above information regarding the Washburn's (sic) was furnished by Carol Ring of Berkley, Michigan, a descendant of Nehemiah Washburn.
Asa Capen Edwards bought this property from Nehemiah Washburn in 1853 (152-377). Asa was born in Westhampton 8-20-1813. He was descended from Samuel Edwards and Silence (Judd) Edwards who had moved from Southampton to Westhampton about 1780. Asa was three times married: first to Ann Judd, second to Aurelia Edwards, and third to Abigail Arms, a widow. He had four children (none of them born in Southampton), but only one lived to maturity. This one was Samuel Findley Edwards, son of Asa by his second wife, Aurelia Edwards.
Samuel F. Edwards, b. 10-1-1841 in South Deerfield, m. 9-23-1862 Adeline Fidelia Gridley (daughter of Josiah A. and Fidelia Searle Gridley). He was in the Civil War as a lieutenant for about a year, but presumably lived here with his wife when their two children were born: Frank W., b. 12-12-1864 and Mary A. b. 6-12-1866.
Asa Edwards' third wife Abigail d. in 1869 and Albert Atkins bought the place in 1874 (312-445).
Lydia E. Birge became the next owner in 1876. She was the second wife of Francis A. Birge. They manufactured knitted goods. Francis A. Birge died in 1899 and Lydia d. in 1904. Henry Birge, son of Francis A. Birge by his first wife, Lucy Stebbins, lived here until he died in 1920. With Henry Birge were his two daughters: Edith who m. Ernest Porter and Mabel, who married a Cornell. Mary Birge Gardner, sister of Henry Birge, also lived here and considered using this property for girl's summer school. Apparently this plan never materialized though she did add a third story to the house about 1912. Mary Birge Gardner was the widow of Charles H. Gardner of New York City, who had founded Gardner Institute in N. Y., a girl's grammar school
In 1921 Maria Pittsinger bought the property and sold it the same year to Sarah P. Clark.
In 1924 Edward K. Parsons bought it from Sarah P. Clark for his stepson Mason Slocum who lived here for a short period. After the death in 1925 of Edward K. Parsons, his daughter, Emily (Parsons) Gill inherited the property, and she with her husband Albert and daughter Carolyn lived in part of the house. Part of the house was rented to Clarence Tolson and his family for about fifteen years. Also Emily's daughter Carolyn lived here with her husband Kenneth Moon for about two years.
In 1947 Professor Elmer Nybert bought the property from Emily P. Gill. Elmer Nyberg sold it to Walter M. and Beatrice H. Howland in 1949. Alexander and Ruth Parker and family lived here from 1945 to 1955 in part of the house.
Walter M. Howland came from Conway, Mass. and his wife Beatrice Hutchinson Howland came originally from Morgan, Vt. Walter and Beatrice have two children Harold and Nancy. Harold, m. Beth Cooper, daughter of Mark and Edna Cooper, and lives in Haydenville. Nancy married Edward Hughes and lives on Strong Road.
–From "History of Old Houses" by Atherton Parsons
Return to the Edwards Public Library website.