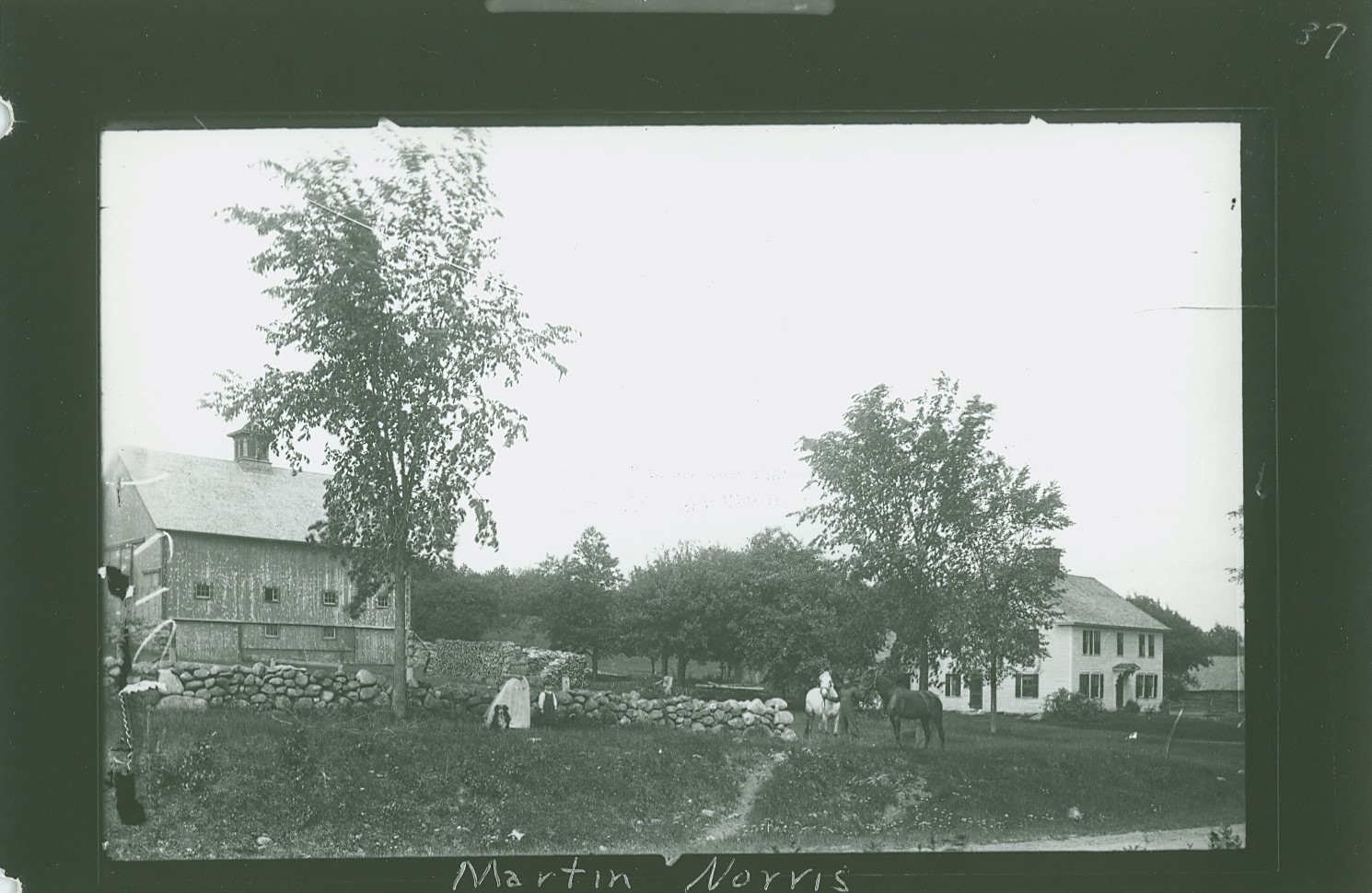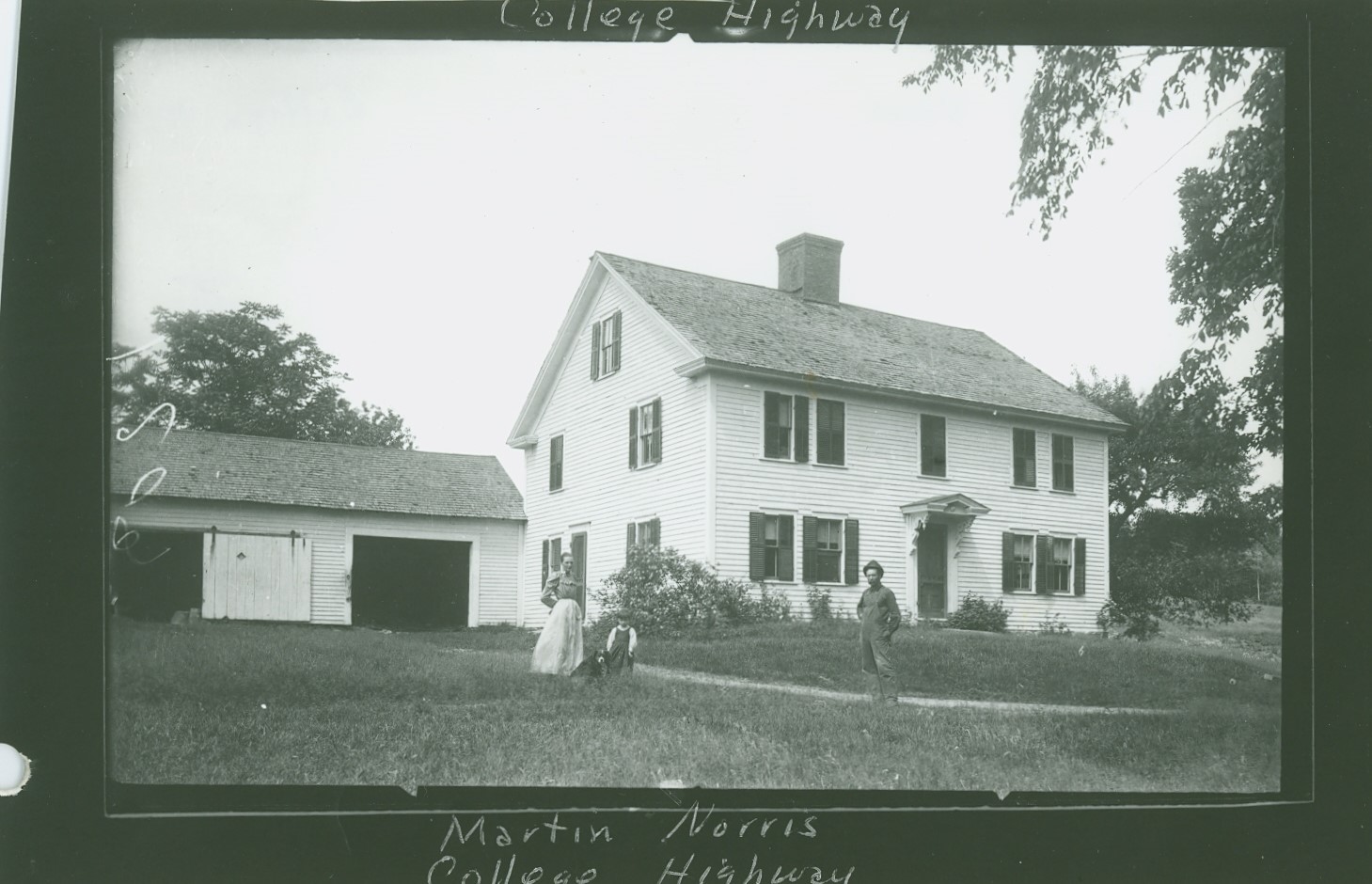 Martin Norris Farm – College Highway
John Strong Sr., apparently built the buildings on this property in 1796 for his son John Strong Jr. On Feb. 18, 1802 John Strong deeded to son John Jr. for $500 "the property where he now lives, with dwelling, barn, and 55 acres." John Strong Jr., b. 1769 married 12-20-1826 Keziah Sheldon, daughter of Israel and Keziah (Bates) Sheldon. Keziah Sheldon Strong was born 1787 and the last part of her life resided in Westfield. She died in 1875. John Strong Jr. died 1-24-1848.
John Strong Jr. and Lois (Harrison) Strong had one daughter, Lois, born in 1814 and died in 1831. John Jr. and his second wife Keziah had one son, Lyman Beecher Strong, born 6-24-1828. Lyman received one half interest in his property when his father died in 1848. His mother Keziah received the other half.
Lyman Beecher Strong married Ann Maria Parsons (daughter of Timothy Parsons of Worthington) 6-4-1851. The had one daughter Julia Ann Strong, born in 1852. Lyman B. Strong died 11-10-1855 and his widow married Edward Swan. Shortly before Lyman Strong died (in the same year 1855) he sold one-half interest in the property to Edwin Parsons. (163-277). In April 1856 Timothy Parsons bought this one-half interest and also the remaining one-half interest from Keziah Strong.
Walter Norris was the next owner. He bought the property from Timothy Parsons in April 1865 for $3400. Walter Norris, b. 1818 in Waterford, Ireland, came to this country in 1852. Ellen Foley, born 1825 in Ireland, had come alone to this country in 1850. They were married and rented a farm on the Southampton Holyoke Road just over the Southampton line in Holyoke. Their son Michael was born here in 1854. The Norris Family intended eventually to buy a farm but purposely rented different places as experiments. They next rented a farm on Doody's Flat in West Holyoke where their son John was born in 1856. The next move was to the Quigley farm in the West Part of Southampton. Their son Thomas was born here 6-7-1859. Soon after 1860 they rented the farm which is the subject of this sketch, purchased it in 1865. Since this date it has been known as the Norris farm. Their son Martin was born here in 1863.
Thomas Norris married Mary A. Farrell of Westfield. He became owner of a whip factory in Canada. Their home straddled the U. S. & Canada line at Derby Line, Vt. John Norris married Mary Kane and they lived here for a time after their marriage. Walter Norris died 10-3-1869 (his widow lived many years after that) and Michael carried on the farm. The principal crop was tobacco with a small amount of dairying. Michael Norris was appointed Postmaster in 1886 and on June 4, 1895 he married Mrs. Margaret Brophy (widow of Timothy Brophy) and daughter of John and Margaret Lavin. They had one daughter, Margaret. Mrs. Michael Norris died 6-19-1902 and Michael Norris died in 1908. Martin Norris then bought his interest in the farm and became sole owner and operated it until he died in 1937. He willed the farm to his nieces and nephews.
In 1941 Margaret Norris moved to the village and is a librarian at the Edwards Library. The big dairy barn on this place burned about 1946. and the land was rented to neighboring farmers. Several different families have occupied the house as renters.
–From "History of Old Houses" by Atherton Parsons
Return to the Edwards Public Library website.