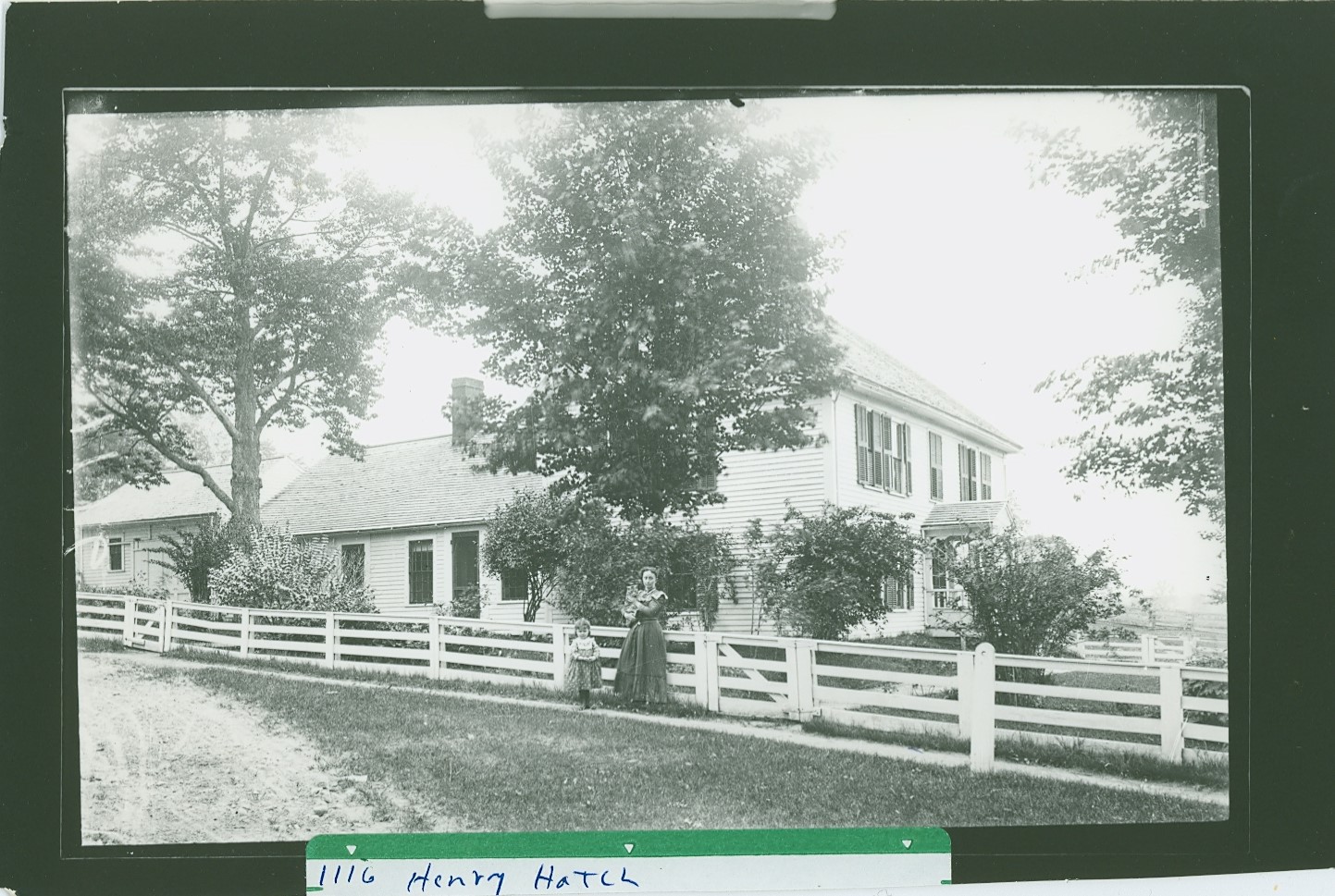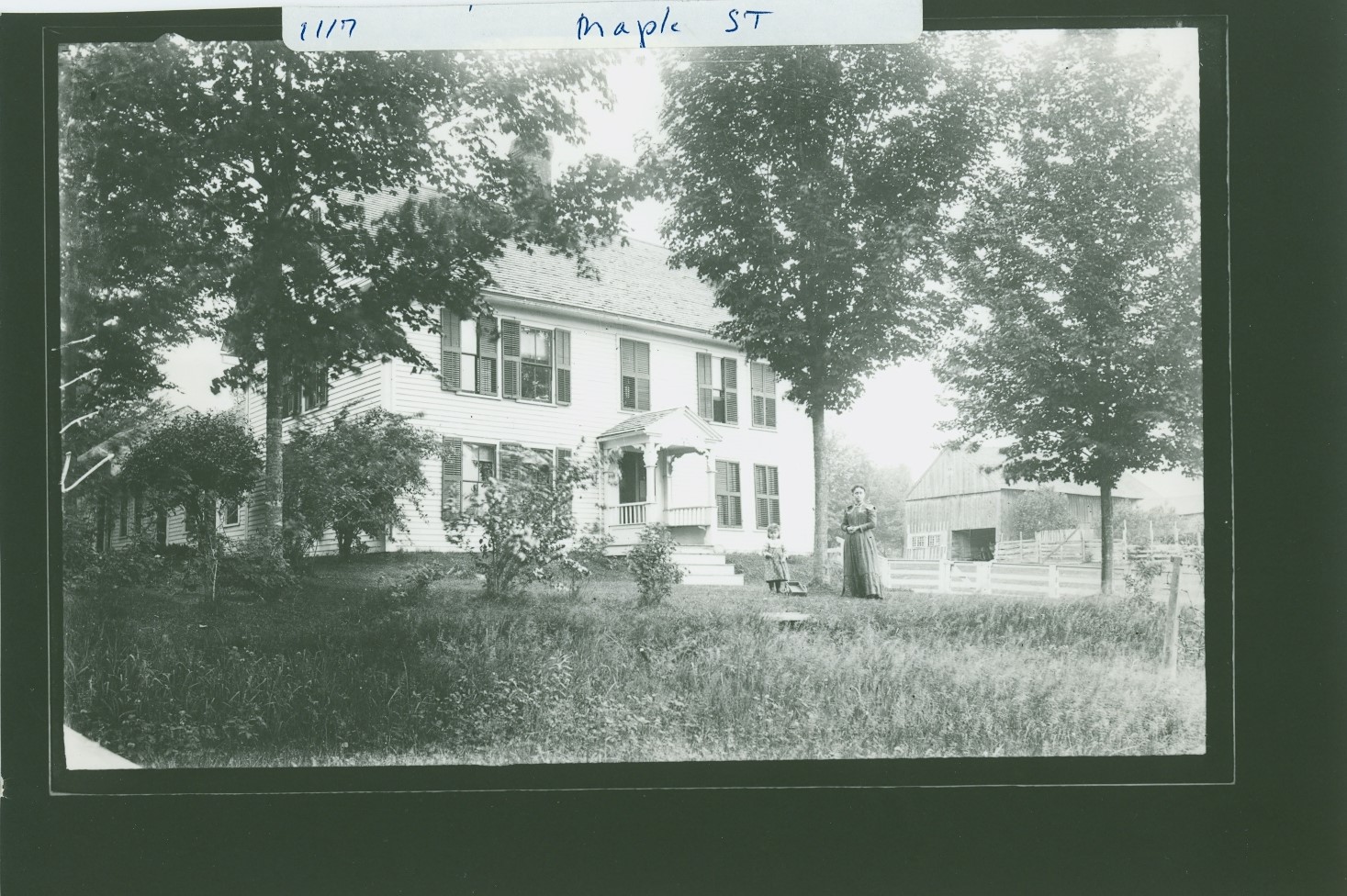 Henry N. and Mary Hatch – Maple Street
Known as the Jonathon Judd Place
On June 8, 1743, a church was organized in Southampton and Jonathon Judd was ordained as first minister. The Rev. Judd, son of William and Mary (Root) Judd of Waterbury, Conn., was born in 1718. He married November 1743 Silence Sheldon b. 1721, daughter of Jonathon and Mary (Southworth) Sheldon. It was voted by the residents of this Second Precinct of Northampton to offer the Rev. Mr. Judd toward his settlement 200 acres of land, 100 pounds in money, old tenor, and 125 pounds in work towards his house. The house was started in Late 1743. It was chosen to be fortified with a palisade of stakes and a watch tower at the west end because it was larger than the other houses nearby, and centrally located.
Quoting from Jonathon Judd's diary under the date 7-28-1743 he wrote, "had timbers for my house cut down'. 12-12-1743, he wrote, "sent for house-hold stuff today". Eight days later, another entry states, "brought home my wife".
The affairs of the church in the early days of this town were under the control of the town and administered by vote at the town meetings. There appeared to be two regular town meetings each year; one in the spring for election of officers and certain appropriations, and one in the fall especially to administer the business of the church. In reading over the minutes of these town meetings it appears that the Rev. Judd considered his house very hard to heat and desired that the town should furnish him with his firewood. The voters agreed to this and furnished him with from 80 to 110 loads of wood per year. Each load was to be 3/4 of a cord.
Jonathon and Silence Judd had seven children:
Jonathon Judd Jr. b. 10-7-1744 died unmarried 1-30-1819.
Silence b. 12-11-1750 married Deacon Samuel of Westhampton in 1780.
Sylvester b. 12-1-1752 married 1774 Hannah Burt-they settled in Westhampton.
Sarah b. 1-12-1755 m. 1793 Timothy Clark Jr. as his second wife.
Solomon b. 1-26-1758, married 1779 Princess Hannum and settled in Westhampton.
Frederick b. 1-29-1760 m. 1785 Nancy Waite. He apparently stayed on this place for some years after his marriage.
Clarissa, b. 10-2-1764 m. 1802 Luther Edwards as his second wife. She was the mother of the last two of Luther's children (Clarissa and Electa).
The Rev. Jonathon Judd held his pastorate for sixty years until he died in 1803, though the Rev. Vinson Gould was ordained as a colleague in 1801. The whole number that joined the church during Rev. Judd's pastorate was 442.
Rev. Jonathon Judd made out his will in 1797. He left one-third part of the house to his wife; one room to his daughter Clarissa who was then unmarried; and the rest of his house and farm to his son Frederick, whose story is given under the heading of the house of David Claxton. Frederick was the owner until his death in 1840. In 1841 ownership passed to Frederick's son, Asa Judd.
Asa Judd, son of Frederick and Nancy (Waite) Judd, was born in 1788, married about 1816 Levia Gridley. He died 10-20-1848. His wife Levia died 3-24-1863. They had seven children:
Jonathon Newell b. 9-23-1817 m. 1842 Naomi Searle
Ann Maria b. 2-21-1819 m. 1846 b. 1846 Orin R. Moore
Cornelia b. 6-9-1820 died February 1841
Infant girl died age 6 months
Zeres Jane b. 3-12-1824 never married died 1911
Ard Gridley b. 11-22-1825
William D. b. 3-1-1828 m. 1851 Melvina A. Carlton of Lowell. There were the parents of Frederick E. Judd
Asa Judd was a merchant operating the store with his uncle, Jonathon Judd, Jr. and continuing after the death of his uncle in 1819. Asa owned this property until his death in 1848. However, he did build a new house on this same property but fronting on the main highway. This was a large long house and at a later date was the home of Frederick E. Judd for many years. It was torn down around 1950 to make a larger area for the Center School Just what date Asa built the house is uncertain but is was 1831 or before – (Note: An item in history is that Asa Judd lived on the store property, now the home of Edwin Doty, however, that seems questionable). After Asa moved to his new house the old Judd homestead was occupied by his son Jonathon Newell Judd whose story is given in the write-up of the house of Edwin Doty.
After the death of Asa Judd the property was sold to Col. Elisha Edwards Jr. for $1200. The deed was dated 1-2-1850 (131-325). In this deed the house was called the "mansion". Col. Elisha Edwards Jr. b. 4-22-1793 m. 1821 Julia King. They had seven children, all born before Elisha purchased this property. They were Horace, who died unmarried 1846; Charles, who moved to Kansas; Elizabeth who married Martin Gaylord; Eunice who married George Gaylord; Elisha A.; Caroline; and George King Edwards. Of these children, all three sons served in the Army during the Civil War; Elisha A. as a captain, Charles L. as a major, and George K. as a lieutenant. Col. Elisha Edwards Jr. apparently never lived here but several of his children did.
George King Edwards b. 4-28-1838 m. 12-15-1864 Martha Lyman. They lived here part of 1889 and most of 1890. Caroline Edwards also lived here for a short time around 1890. She had a new house built on East Street in 1893, (the house now owned by Clement and Mary Burr). She was considered the best authority of her time on Southampton history. She kept a scrapbook of news-paper clippings, now in the Edwards Library. It is very valuable as a reference.
Elisha Austin Edwards also lived here a good part of his married life. He was born 1824, married 1846 Henrietta Sheldon (daughter of Captain Silas Sheldon and Anna King). They had four daughters:
Alice b. 1847 m. 1867 George Boyd. He died and she married (2) 1877 Worthington H. Lyman
Emma b. 1853 m. 1884 Lyman Bartlett. She died 1890
Isabel b. 1856 m. 1877 Duane Bronson
Anna b. 1861 m. William Sheldon
Elisha Austin Edwards died in 1898 and his widow Henrietta continued to live here until her death in 1913. Her daughter Isabel who was then a widow (her husband Duane having been dilled (sic) from being kicked by a horse) lived with her. Anna and her husband William Sheldon also lived here for some years.
In 1915 the heirs of Henrietta Edwards sold the property to Francis A. and Adelia Miller. Francis Miller died in October 1921, aged 65. His widow, Adelia, rented it to at least two different families – William Allaire and Harold Lyman. In 1927, she sold the property to Henry N. Hatch.
Henry N. Hatch and his wife, Mary, previously lived on the Bell property in the west part of town. They came to Southampton from Connecticut to work with Nelson Crowell. Mr. Hatch is a carpenter, now retired.
–From "History of Old Houses" by Atherton Parsons
Return to the Edwards Public Library website.