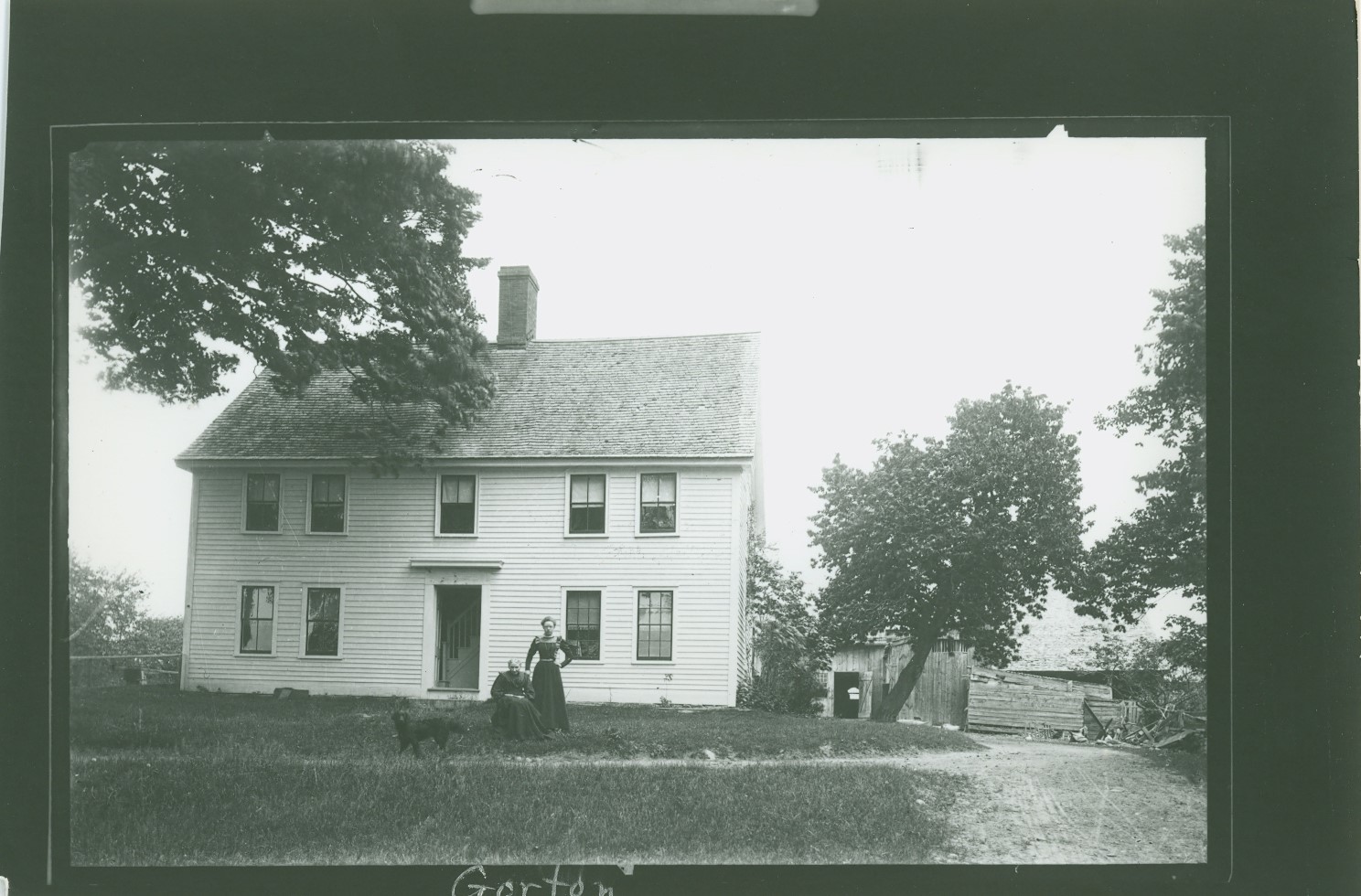 Harry and Leah (Klopfenstein) Gorton – College Highway
This farm was one of four that Ichabod Strong owned when he died in 1798. He will this farm to his son John. As this will was made out many years before Ichabod Strong died it appears likely that John Strong settled on this place when he married Sarah Lyman in 1768. Probably the building of this house would be near that date.
However, there is a small cellar hole on Brickyard Road, northeast of College Highway, over which there once stood a house which probably was occupied by John Strong at some period in his married life. Presumably this period was toward the end of his life.
John Strong was born February 7, 1739, and his first wife, Sarah (Lyman) Strong, had six children: John Jr. born 1769, married Lois Harrison in 1797; Phineas born 1770, married Eunice Lyman in 1797; Sarah born 1772, married Josiah Parsons: Elizabeth born 1774, died 1778; Mary born 1775 and died, unmarried, in 1805; Jerusha born 1777, died young.
Mrs. Sarah Strong died in 1777 at the age of 31 and John Strong married (2) 1779 Abigal Clapp. By her he had three children but only one–Rev. Lyman Strong, born 1781, lived to maturity.
John and Abigal Strong died in 1821; she in February and he in June. John Strong left this property to his son Phineas.
Phineas Strong was born October 16, 1770 and died in 1855. Phineas married Eunice Lyman (daughter of Elias, Jr.) in 1797. Eunice was born 1778 and died 1859. Phineas and Eunice Strong had nine children: (1) Elizabeth born 1798, married Oliver Clark in 1827; (2) Pamelia born 1800. married Sumner J. Clapp; (3) Eunice born 1803; (4) Phineas, Jr. born 1805, married Fanny Pomeroy in 1829 and moved to Onanda Valley, New York; (5) Noah Lyman born 1807, married Elizabeth Fowler in 1837, settled on Elijah Lyon Place; (6) Mary born 1809 and married the Rev. Thomas Hall of Dalton, Massachusetts in 1840; (7) Horace E. born 1811, married Sybella Clapp in 1832, moved to Brunson, Ohio; (8) Alexander born 1814 and married Priscilla Redd of Vicksburg, Mississippi in 1838; (9) Francis born 1818, married 1845 to Miriam Lyman (daughter of Samuel Lyman)–moved to Ripon, Wisconsin.
According to report, Phineas Strong was an exceptionally religious man and one of the prominent men of his time in Southampton. He operated the Strong Mills. In his will he left the life use of the property to his wife Eunice.
On November 4, 1859 Asa Searle and Hymenius Searle, brothers, bought this property from the heirs of Phineas Strong for $2,250, two tracts, 30 acres (190-231). Presumably neither of these Searle's (sic) ever lived here. Asa, particularly, bought and sold real estate.
On April 2, 1860 Anson A. Swift bought the property from Asa and Hymenius Searle (193-54). The Swift family lived here for several years and then sold it back to Asa R. Searle in August, 1865 (230-325). Orlando C. Searle and his wife lived here as renters when they were first married in 1872. Asa Searle died in 1872.
George Gorton (born 1828, died 1897) bought this property from Bethsina Searle (widow of Asa Searle) in 1874. He came from Rhode Island to Holyoke first, and worked as a mill-wright and carpenter. George Gorton's wife was Aurilla Sanborn Gorton (born 1832, died 1907). George and Aurilla Gorton had two children, Sarah and George A. Sarah, born 1854 married Walter A. Cheney (born 1848) about 1874. Sarah and Walter Cheney had one daughter, Effie, who became the wife of Herbert Lowe on May 29. 1901. Walter Cheney died in 1894 and his widow married (2) Jonas Embury. Sarah Cheney and Jonas Embury were married March 11, 1903.
George A. Gorton, son of George and Aurilla, born 1857, married Iretta L. Clapp. She died 1893 and he married (2) June 12, 1895, Delia Pamilia Pomeroy, daughter of Calvin Pomeroy. George A. and Delia Pomeroy Gorton had four children: (1) Emma, born Mary (sic) 5, 1896, married Royce Granger; (2) Harry E. born August 28, 1897 and married Leah Klopfenstein; (3) Fanny E. born March 16, 1901 and married William Chipman; (4) Helen G. born September 4, 1902, married Albert Delisle. George A. Gorton died in 1919, and his widow Delia married Reginald Thorpe of Holyoke.
Harry E. Gorton and his wife Leah (Klopfenstein) Gorton became the next owners, and they are still living there. Harry operated the farm and also worked at lumbering with his horses. Harry and Leah Gorton have three children: (1) George C. born October 27, 1920, married Elsie M. Frost; (2) Frances A. born March 6, 1923, married John E. Dzialo; (3) Harry O. born April 14, 1927, married Lucille Gamble.
George E. and Harry O. built houses near the original house. As of this date, 1967, the property has been in the Gorton family for nearly a hundred years.
Much of the information in this article was furnished by Gerald E. Harriman.
From "History of Old Houses" by Atherton Parsons
Return to the Edwards Public Library website.