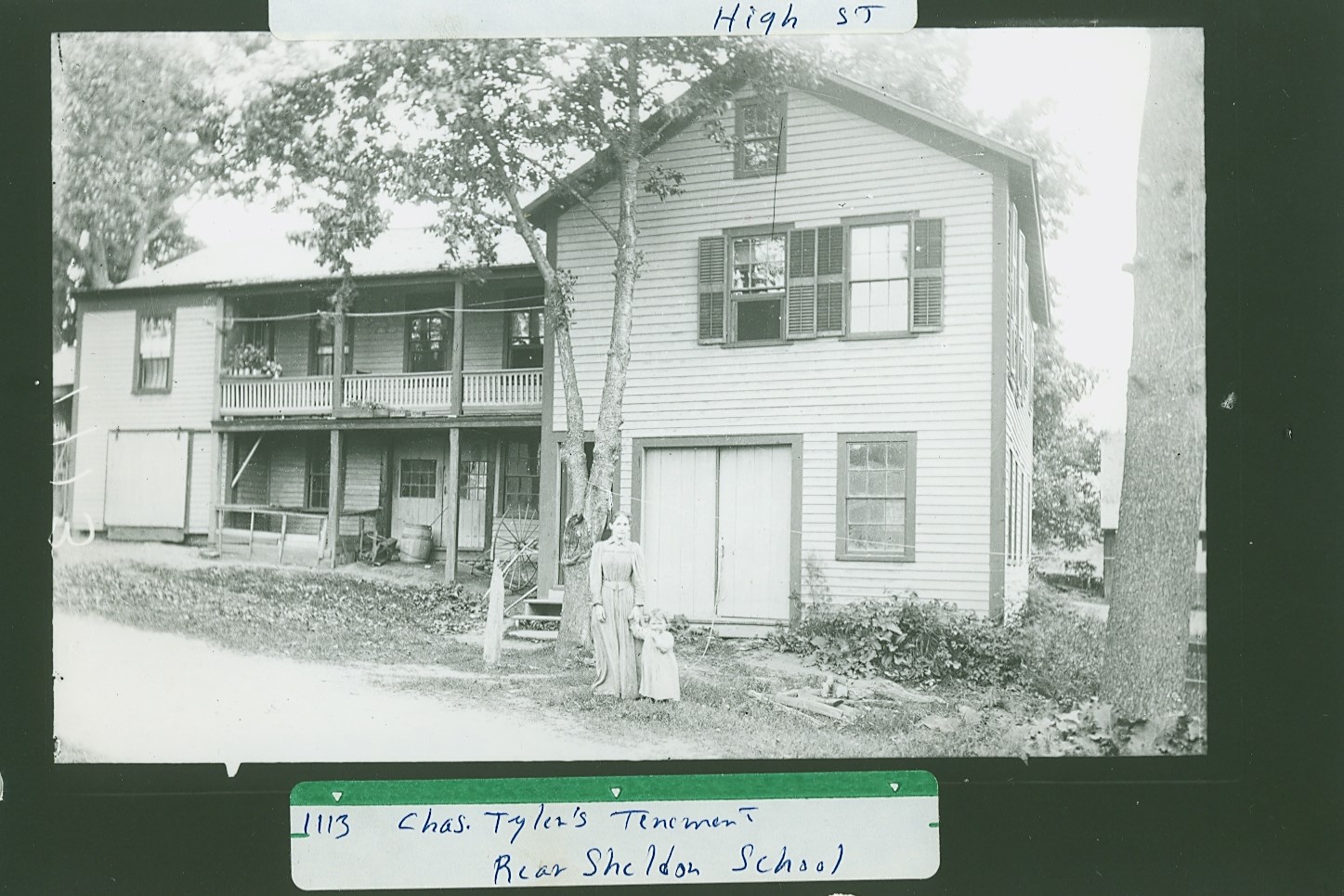 Charles and Helen (Matuszek) Kaleta – Maple Street
On the 18th of February 1835 Gad C. Lyman bought this property from Heman Searle. The deed reads in part "a piece of land near meeting house being he same whereon said Lyman has erected a cooper shop." Just a few days later Thomas Howard, Jr. bought this same property from Gad C. Lyman, February 27, 1835 (75-188). Evidently Thomas Howard, Jr. sold this property to Semilius Brockway, but this deed does not appear to have been recorded.
Stephen Wolcott was the next owner, buying it from Semilius Brockway, August 28, 1841, for $200.00 (102-188). Qoting (sic) from the deed, it reads, "land with dwelling house." So evidently the cooper shop mentioned in the deed from Heman Searle to Gad C. Lyman had been made into a dwelling house. Stephen Wolcott was a building contractor and had build (sic) several houses in town previous to 1841, among them the house of Ethel Tiffany on High Street.
Next owners were Roxanna Clapp, widow of Almin Clapp and her grand-daughter, Hattie M. Clapp, a minor. They bought it from Stephen Wolcott on April 11, 1864 for $500.00 (219-331). Roxanna Clapp died about 1876 and Ophelia (Searle) Clapp, widow of Rev. Andrew Clapp, came here to keep house for Hattie M. Clapp. The latter was then teaching school in Fogintown (No.4) and in 1880 Hattie M. Clapp married Rev. Arthur Spooner and they moved to Williamstown. Ophelia (Searle) Clapp then married (2) Lemuel Bates Norton of Westfield.
The next owner of this property was Sarah A. Clapp, wife of Otis B. Clapp. However, she sold it immediately (January 17, 1879) to Samuel J. Loomis for $700.00 (345-430). Samuel Loomis died about 1886 and his widow Lucy (Tower) Loomis sold it to Jane A. Wolcott in 1893 (459-45).
In 1908 Charles W. Tyler bought the property from Jane A. Wolcott (641-171). Charles and his wife Minnie (Sheldon) Tyler, had two daughters, Hazel and Gertrude. Hazel Tyler married Frank Sherman and Gertrude married Albert Miles. Charles W. Tyler was the R.F.D. mailcarrier for many years.
Lotta L. Clapp bought this property from Charles W. Tyler in 1917. Lotta and her husband Franklin Clapp lived here, and Franklin Clapp was well known as a brick mason
Henry and Christina Young were the next owners buying from Lotta L. Clapp on July 29, 1925 (817-123). Henry Young did ornamental ironwork, and also some horse-shoeing. He was one of a long list of blacksmiths who operated the Ewing blacksmith shop
Charles and Helen (Matuszek) Kaleta are the present owners, having bought it from the estate of Henry Young in 1944 (988-381). Their three children are Stanley, Frank and Helen Ann. Stanley recently completed two years of service with the Marines, is married, and lives on East Street. Frank is now in the Marines and at this writing (February 1968) he is in Vietnam. Helen Ann is in grade school. Charles Kaleta owns and operates a bulldozer service.
From "History of Old Houses" by Atherton Parsons
Return to the Edwards Public Library website.