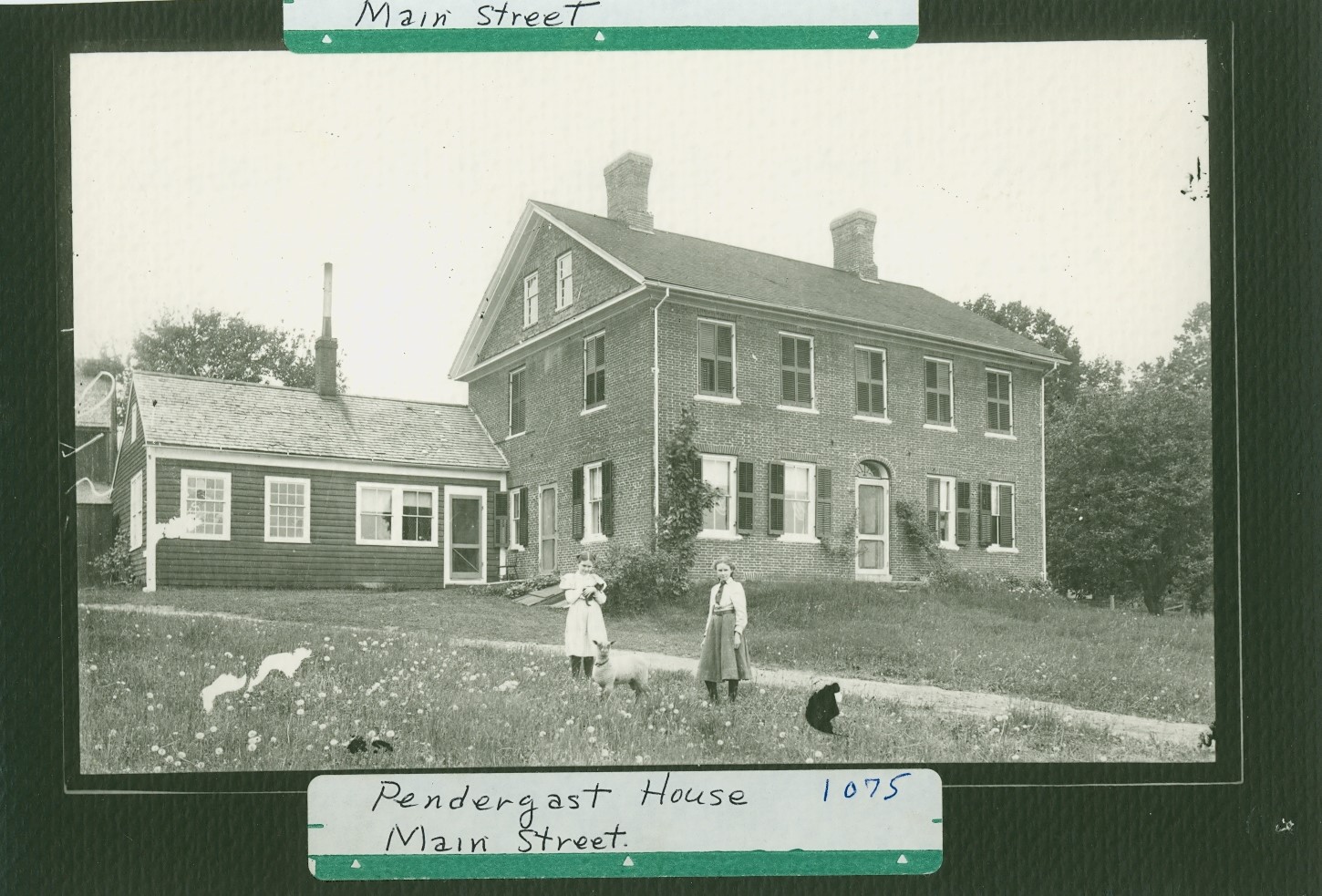 Abner Peck Place – Main Street
in 1770 Paul Sheldon, a blacksmith, bought one acre of land here from Bildad Searle. He probably built this house in the same year or in 1771, as he was married in the latter year to Anna Boyington. In 1773 he bought additional land to to the south of his house lot. Anna died in 1774, and Paul m. (2) Jemima Clapp. Paul and Jemima had eight children: Anna, b. 1776 m. 1796 Aaron King; Lovisa, b. 1778 m. M. Alpheus Strong; others were Arunah, Belsa, Paul Warner, Jemima, Silas and Naomi.
Paul Warner Sheldon, b. 1784 inherited this property. He married Deborah (Bundy) Bosworth of Montgomery in 1805. He was a blacksmith like his father. Paul died in 1820. His widow, Deborah m. (2) Martin Root in 1827. Martin Root in 1805 had driven an ox team from Granville, Mass. to Granville, Ohio. His first wife had died there about 1826 leaving several children. Martin came to Southampton, married Deborah and she with her children went to Granville, Ohio with him. Of the seven children born in this house to Paul W. and Deborah Sheldon apparently only two were married and left descendants. They were Paul W. Sheldon Jr. and Deborah Bundy Sheldon.
After Paul W. Sheldon died, and his widow (then Mrs. Martin Root) left for Ohio, this property was owned by Silas Sheldon, uncle of Paul W. Silas probably never lived here.
March 20, 1827 Lemon Gridley bought the property from Silas and Elizabeth Sheldon (59-293) "three acres with brick house and other buildings". Lemon Gridley b. 1770 in Southington, Conn., m. 1895 Lois Andrews (or Andrus) b. 1766. They came to Southampton 1805-1807, first owning the Ethel Searle property next south of the church. Lemon and Lois Gridley had four children: Sarah, b. 1796 m. 1815 Cyrus Chapin; Betsy, b. 1800 d. unmarried 1837; Josiah A., b 1802 m. 1823 Fidelia Searle; Henry, b. 1805 m. 1830 Sarah Howland of Montgomery.
Lemon d. 1838, his wife Lois had died in 1835. Their son Henry stayed here on this place. His wife, Sarah, daughter of Chester Howland of Montgomery, was born 1813, d. 1837. Lemon Gridley m. in 1837 (2) Sarah E. Root, b. 1814, d. 1840. Lemon's third wife was Dolly Howland, sister of his first wife. He had three children: Celia Ann, Sarah, and Henry. (Dates of birth not available). Henry Gridley died in 1850.
This property was next owned by William H. and Lucretia Avery from April 15, 1855 to June 1, 1857. On June 1, 1857 Henry Witherell bought from the Avery's. The Witherell's were from Chesterfield, and their son, Charles A. Witherell was the next owner. He married 1875 Ada Salome, (name changed by adoption to Ida May Hatch). Charles and Ada had a son Arthur, b. 1877. The Witherell's in 1889 bought a smaller place at the corner of High Street and Foamer Road. (Lately owned by Robert and Leona Hendrick).
In 1889 Abner E. Peck bought this property from Charles A. Witherell. Abner Eugene Peck, b. in Shelburn 6-17-1856 married 6-17-1879 Julia Anna Searle b. 7-2-1853, daughter of Cornelius Edward Searle and Julia S. Searle. Abner and Julia Peck had two children, Lumen Orlando, b. 9-9-1885 and Edith Maria, b. 6-26-1887. Lumen married Hilda Hart and they have two daughters. Edith Maria Peck married Charles Edwin Sherwood, a Dr. of Dentisty Oct. 12, 1911. They have two daughters: Dr. Sherwood was with the U. S. Army for some years. Later he practiced in Easthampton. he died and Edith now lives in Easthampton.
Abner Peck was in the lumber business first in partnership with Edward K. Parsons. In 1882, they bought from Allen Bartlett the sawmill in the West Part of Southampton. In 1889, Edward K. Parsons bought out Abner Peck's interest, but both continued in the lumber business separately. Peck owned and operated several portable mills. His business became on of the largest in Massachusetts and after his death in August 1938, his son Luman continued the business. Abner Peck's widow, Julia, died 10-19-1945.
In 1946 Harold C. and Gertrude N. Hutchinson bought this property from Edith P. Sherwood. Harold Hutchinson operates a loam and gravel business and also works for the H. B. Lyman Sheet Metal Co. In 1948, the Hutchinson's sold the property to the Stephen E. Bodurtha family, reserving some land on which they built a house for themselves. They also received an inclosed plot of ground which is believed to be the only private burying ground in Southampton. This was used by the Gridley family and certain in-laws.
Stephen E. and Florence (Boise) Bodurtha had four children: David, m. Arlene Washburn, now lives in Montgomery; Edward, m. Mary E. Crouse, now living on College Highway, Southampton; Marion, m. Charles Lucia, now living on Russellville Road; and Louise, m. Clarence Hocker who built a new house on property west of the brick house. Stephen and Florence Bodurtha also built a smaller house south of the brick house, thus making four houses on this property. In 1958 James E. W. Pendergast and wife, Mary M. Pendergast bought the brick house from the Bodurtha's.
–From "History of Old Houses" by Atherton Parsons
Return to the Edwards Public Library website.