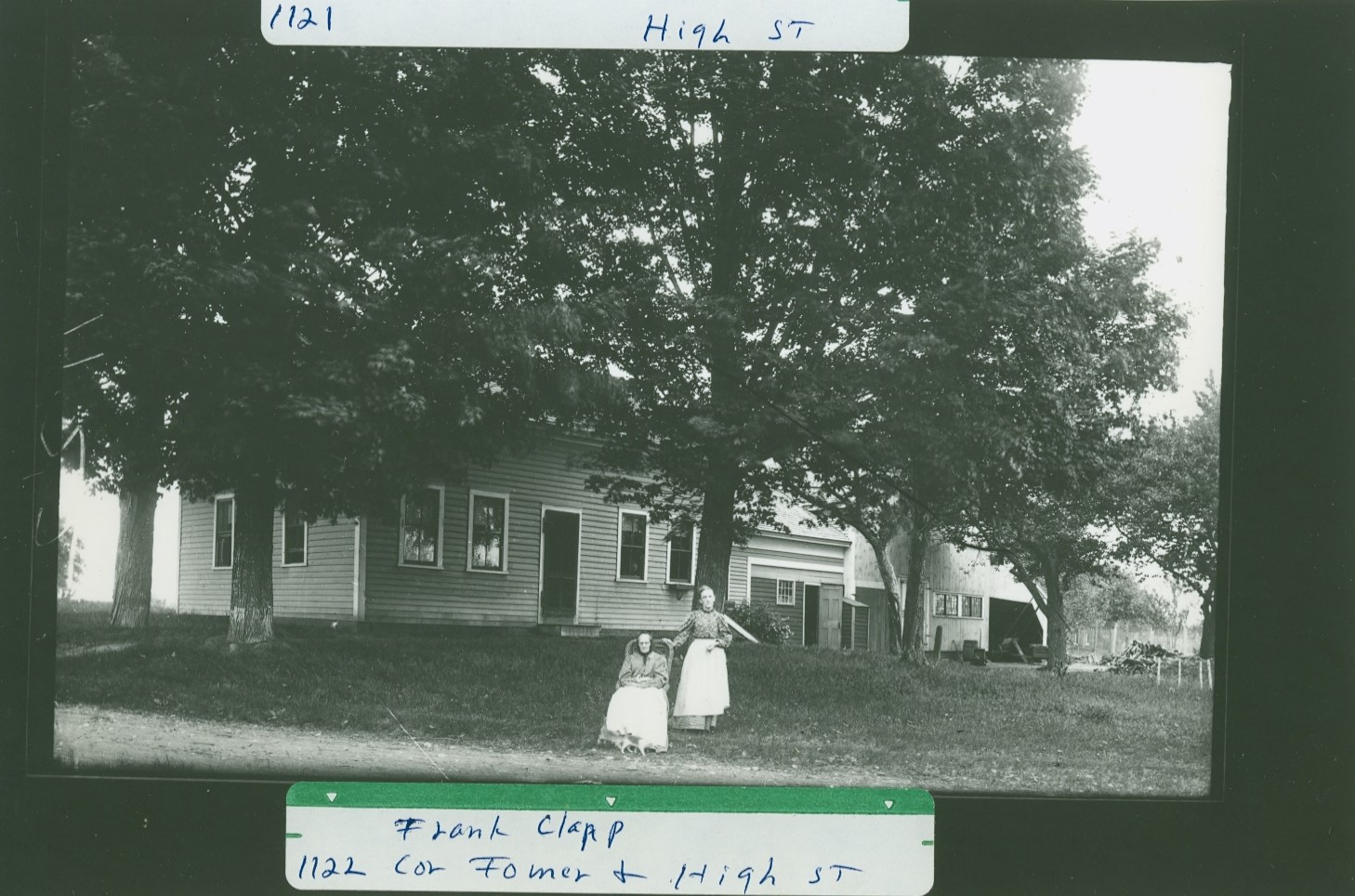 Robert and Leona Hendrick – Foamer Road
This house was built by Ansel Searle about 1830. He had married (1828) Abigail (Bascom) Edwards, widow of Edmund Edwards. Ansel and Edmund Searle, brothers, operated the mills on Red Brook.
Evidently these mills became unprofitable about 1837, so Ansel Searle sold his house to Job S. Strong 11-20-1837 (81-235) and moved to a farm on Rattle Hill Road. During the time of ownership by Job S. Strong the house was occupied briefly by the George Wilder family.
In 1841 Ansel Searle received the property back from Job S. Strong, and sold it to Nahum Shumway. Nahum Shumway was a carpenter and did a small amount of farming. His wife Elizabeth died in 1843 at 25 and he died in 1884 at 72. Their daughter Harriet E. Shumway, b. 1842, inherited the property and lived here at least until 1889.
Charles A. Wetherell bought the property from Harriet E. Shumway in 1889, (424-365). The Wetherells had formerly owned and lived in the brick house which they sold to Abner Peck in 1889. Charles A. Wetherell M. 1875 Ada Salome born in Holyoke 1859, (name changed by adoption to Ida Hatch). They had one son, Arthur, b. 1877 d. 1922. The Wetherells moved to Wethersfield, Conn. in 1896 (note the name is sometimes spelled Witherell).
Robert Crandall was the next owner, buying from Charles A. Wetherell in 1896 (485-341).
In 1905 George Foley bought from Herbert Crandall. George Foley died in 1909, his wife Julia died in 1911.
Mary E. Phelps was the next owner, buying the property in 1911 for $950. Her husband was Edwin Phelps who is remembered particularly for the fine stallion he drove in connection with his work of meat inspector and veterinary work. Mary E. Phelps died in 1924 and Edwin died the next year.
Franklin and Lottie (Gladden) Clapp purchased the property in 1925 (821-211). Franklin Clapp, b. 1867 in Westhampton, son of Horace F. and Cornelia Clapp, was an extra good brick mason. He also did some painting and did farm work for Edward Searle. Franklin Clapp d. 11-27-1946, and his widow sold the property in 1847 to Coddington B. Palmer, (1016-400).
Coddington B. Palmer and Irene Moran Manley were married Nov. 16, 1922. Coddington came originally from Norwich Hill but had been living in Southwick. His wife, Irene, had first married Sept. 23, 1914 Arnold N. Manley, who died on Nov. 4, 1918. Arnold and Irene had a daughter Eunice, b. June 24, 1917. Eunice married Earl Carlston Frisbie April 24, 1943, they had one son, Jeffrey C. born June 8, 1946. Earl and Eunice Frisbie first lived in Westfield, but came to live with the Palmers about 1918. Earl d. Nov. 29, 1951. Coddington Palmer d. Feb. 2, 1952. His widow Irene, and their daughter Eunice Frisbie (and her son Jeffrey) stayed here until Feb. 4, 1966 when they moved to Westfield.
Robert L. and Leona B. Hendrick were the next owners. Robert is the son of Orrell and Hazel (Lyman) Hendrick Vincent. Leona is the daughter of Galen and Lillian Beach, Robert and Leona Hendrick have two children, Verna and June. As of this date, January 1967 the Hendricks have moved to Hanover, N. H. On February 24, 1967 Roger E. and Nancy B. Schafer bought this property.
–From "History of Old Houses" by Atherton Parsons
Return to the Edwards Public Library website.