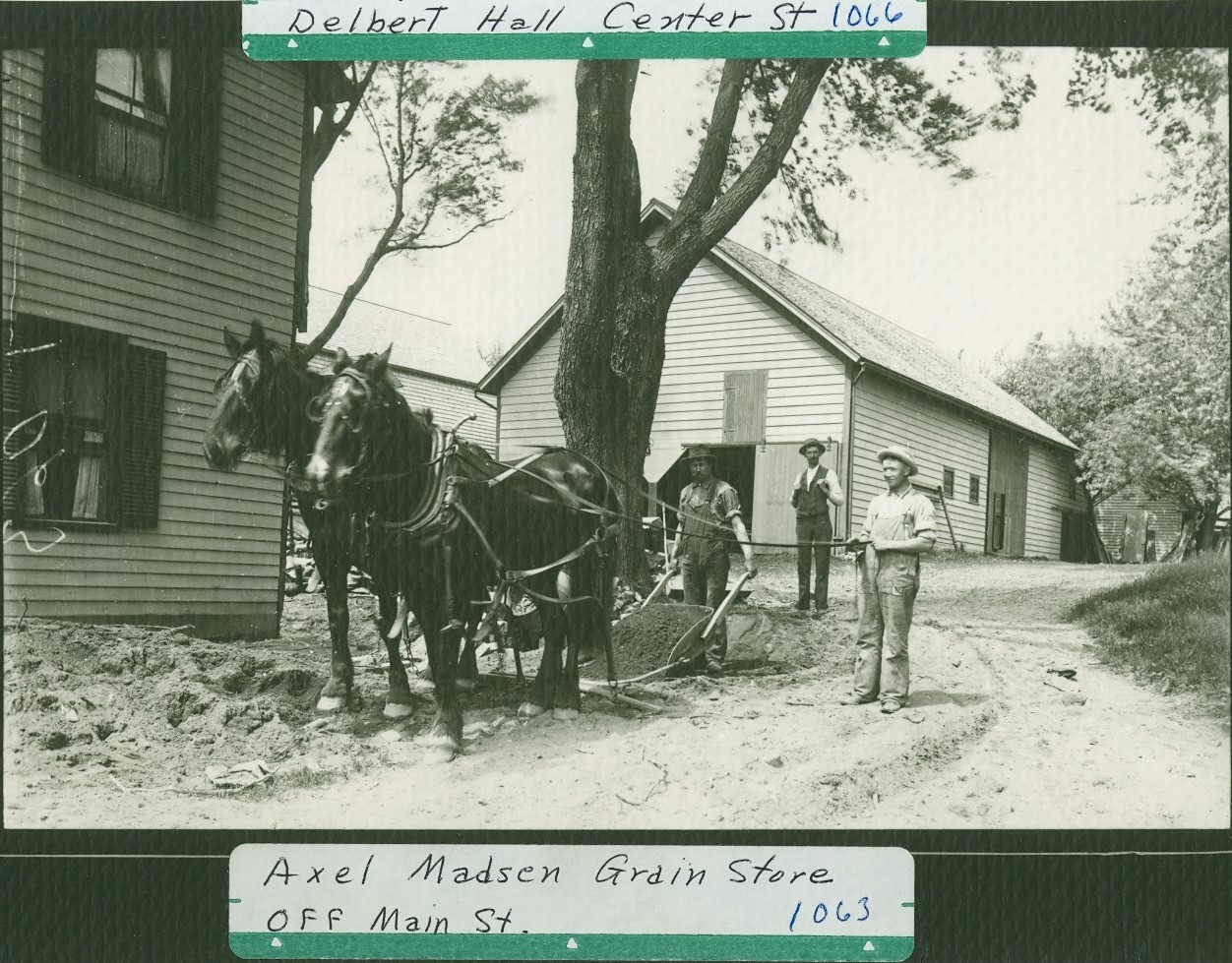 Winifred Madsen – Main Street
The land where this house stands was part of the homestead of Phineas King who came as one of the earliest settlers in Southampton. In 1807 Lemon Gridley bought this and other lands adjoining from Douglas King son of Phineas.
In 1816 James K. Sheldon and Thomas Sheldon "merchants" bought a piece of land here for $30, from Lemon Gridley. The dimensions were 36′ by 40′ and bounded south, west and north on the grantor and east on the highway (39-458). In later years Mr. Sheldon bought other land from Lemon Gridley. Considering the dates, the store of James K. Sheldon was built on land bought in 1816 which had 36′ frontage on the road.
James K. Sheldon was the first postmaster in Southampton, being appointed in 1819. He conducted the post office here in the store until 1834. According to notes in *Miss Caroline Edward's scrapbook, the store was a quite a large building and built very close to road. Later Mr. Sheldon made over the south side of the store for his family residence and continued the store in the north part until his death. An upstairs tenement was rented to various occupants over the years. One renter was Mrs. Trumbull whose son John lived with the Luther Edwards family. This John Trumbull became a noted writer on Northampton history. James K. Sheldon was from Suffield, Conn., and his first wife was Jerusha Pomeroy, also from Suffield. They had eight children, but apparently only one, James stayed in Southampton. Jerusha (Pomeroy) Sheldon died in 1839 and James K. Sheldon married (2) Hanna Lyman. Mr. Sheldon died in 1880, age 88. Hanna died in 1878.
On May 26, 1881 Noah H. Clark bought this property from the heirs of James K. Sheldon for $1,00 (363-445). Noah H. Clark sold to Mary S. Cobb, wife of Dr. Albert Cobb, Sept. 8, 1899. (532-269). Dr. Cobb had been a renter of the house, practicing here since 1892. From 1881 to 1892 other practicing physicians had also rented this property. They were Drs. Byer (1883-1889), Bartlett (1889-1890) and Egbert (1890-1892).
Dr. Neburtha Holden purchased this property from Mary S. Cobb in 1904 (568-181). Dr. Holden practiced here until 1907, when Dr. Oliver R. Fountain bought him out (624-15). Dr. Fountain was a single man at the time, but, married Florence Engels at a later date. This property was transferred to Florence Fountain's name in 1914 (699-357). In 1919 Dr. Fountain decided to locate elsewhere and in that year Winifred M. Madsen, wife of Axel Madsen bought this property (753-257). Axel operated a milk, grain and trucking business with a partner, Bernard Fowles. After a few years this partnership was dissolved, Bernard taking the milk business and Axel the grain business. Axel also conducted an insurance business. He was a member of the Board of Selectmen at different periods, as well as holding other public offices. In 1921 Dr. James B. Ryan came to Southampton and rented two rooms on the south side of the house for his offices; he moved back to Easthampton in 1940 and the town has been without a doctor since that time.
Axel died June 18, 1947 leaving his widow Winifred Crowley Madsen, and three sons, Robert F., Donald W. and Douglas A. Robert F. Madsen, who has been Postmaster since November 1945, married Margaret L. Kuhn Aug. 14, 1942. Douglas A. Madsen married Ruth N. Dukeshire Feb. 21, 1948. Donald W. Madsen married Margaret J. Krumpholz April 23, 1949. All three with their wives and children live in Southampton.
In 1949 an apartment was made upstairs in this house and has been rented since. Winifred Madsen lives on the first floor.
–From "History of Old Houses" by Atherton Parsons
*Miss Caroline Edwards' Scrapbook – See "In Memoriam Congregational Church Southampton, Mass." presented by Miss Caroline Edwards Jan. 1, 1904 – Call Number: HISTORICAL 974.44 Edwards LOCAL
Return to the Edwards Public Library website.