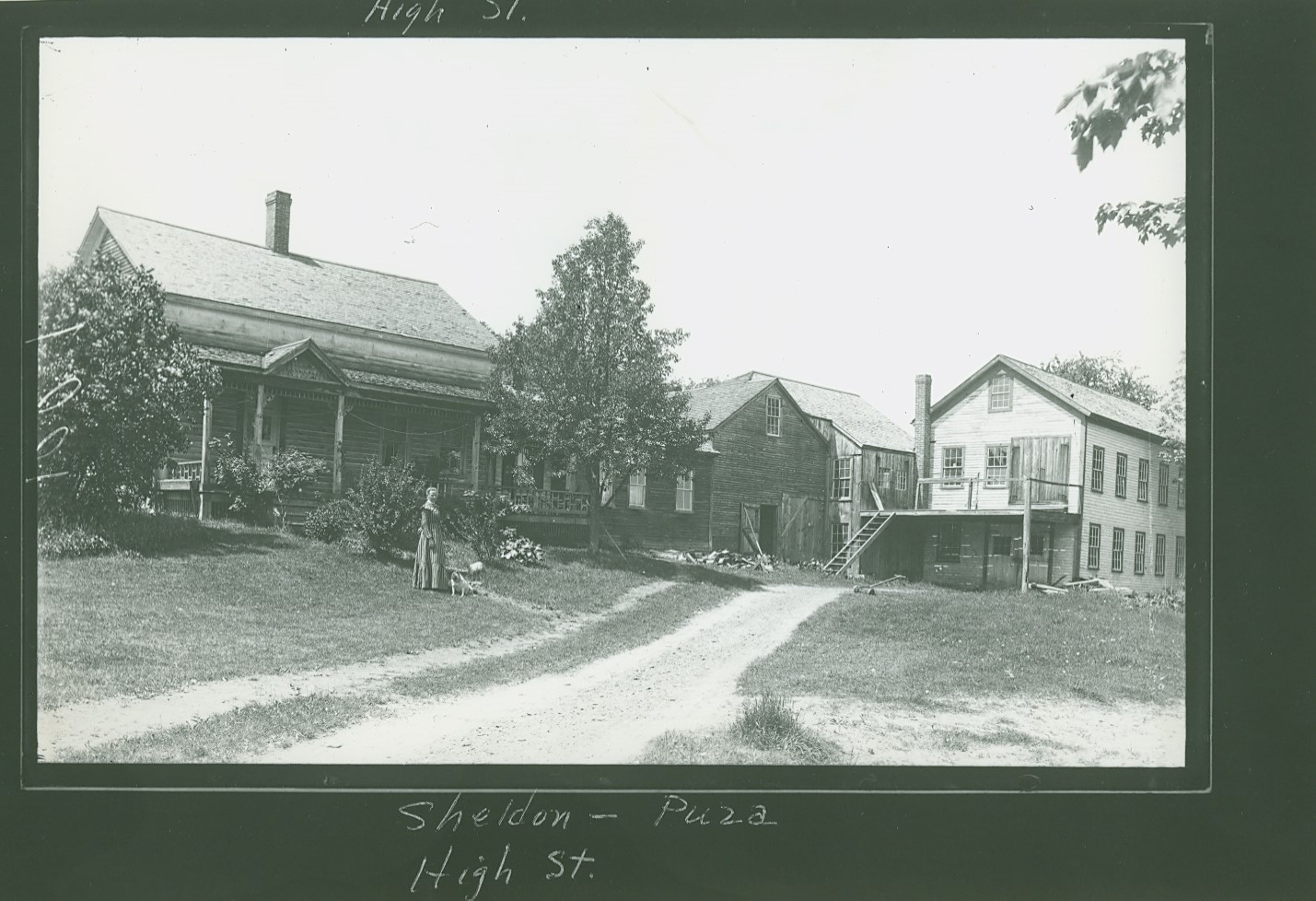 William J. Puza, Jr. and Ruth (Meagher) Puza
Simeon Sheldon bought one half acre of land from Asa Searle in 1853 (141-119). Simeon Sheldon was a prominent member of the Methodist Church and built this house in 1854 to be used as a parsonage. It was so used to some extent, but it remained in private ownership. Methodist ministers in Southampton from 1854 to 1879 were Judah Crosby (1854-1855); David Kilbourn (1856-1858); William J. Leonard (1859-1860); L. R. Brewster (1862-1863); N. Fellows (1864-1865); J. R. Bent (1866-1867); L. White (1868-1869); J. W. Merrill (1869-1870); B T. Johnson (1871-1872); Joseph Canadlin (1872-1875); H. Matthews (1875-1876)A. Webster Mills (1877); and A. W. Milk (1877-1897).
Samuel S. Morse bought this property from Simeon Sheldon for $1,250 on March 25, 1867 (241-343).
Lovinia J. Leonard became the next owner buying it from Samuel S. Morse of Holyoke, April 26, 1878 (341-129). Lovinia J. Leonard died about 1883 and left the property to her son Charles S. Leonard. Charles was a wagon painter and had a shop near High Street. After the owner-ship of Charles L. Leonard, it was owned by Mary G. Leonard from August 24, 1887 til 1907.
Frank H. Clapp bought the property October 29. 1907 (629-549) from Oliver Cobb, guardian of Mary J. Leonard.*
Mahlon C. Sheldon was the next owner, buying from Frank H. Clapp on August 11, 1911 (670-240).
September 10, 1938, Ralph S. Lyman bought it from Nelson Crowell, trustee under the will of Mahlon C. Sheldon for $1,500 (935-160).
Edward and Virginia White were the next owners buying it from Ralph Lyman on June 25, 1942 (968-74).
William and Catherine Keene bought from the Whites February 6, 1951 (1087-139) and owned it briefly. On September 29, 1951 Donald F. and Stella H. Morrison became the next owners (1102-478).
The present owners are William J. Puza, Jr. and his wife Ruth (Meagher) Puza. They bought it from Donald F. and Stella H. Morrison on October, 1960. William Puza owns and operates the Pure Food Market on College High, Southampton. They have improved and added to the house. Their children are: Ruth Theresa, William Patrick, Mark, and John.
*Middle initial of Mary J. Leonard may be typo.
–From History of Old Houses" by Atherton Parsons
Return to the Edwards Public Library website.