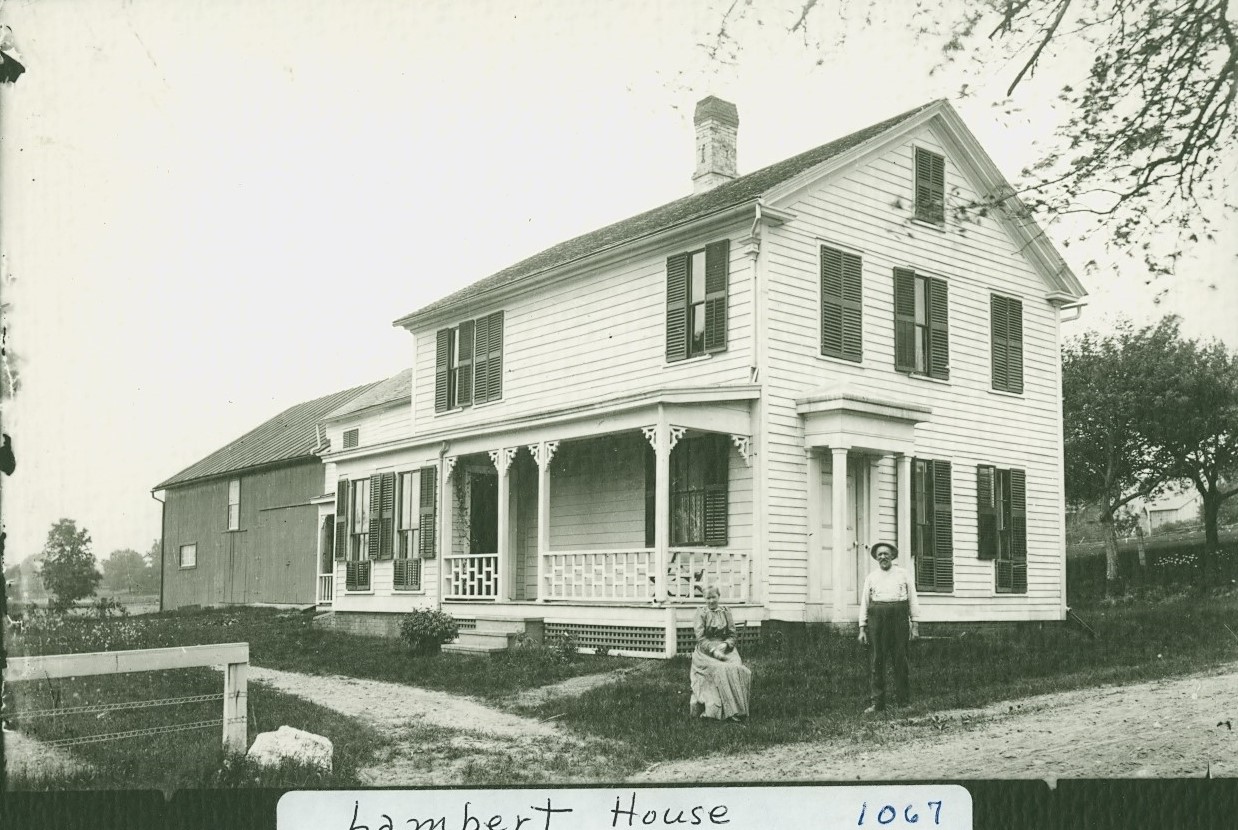 Romaine and Luella Lambert Home – Center Street
By a deed dated April 23, 1830 (71-539) Stephen Wolcott bought from Jesse Searle and Rufus Clark one acre of land described in part as follows: beginning at a point on the recently constructed road leading from County Road to Back Lane, easterly 21 rods to land of James K. Sheldon, southerly by said Sheldon's land to land occupied by Jesse Joy, westerly by said Joy's land, northerly to first bounds.
The price stated was $275, and there were no buildings mentioned.
Stephen Wolcott had a son, Isaac, born in 1806 and married in 1829 to Eliza Rust.
Isaac bought this property from his father, Stephen, in 1834 for $215 (71-558). No buildings mentioned in this deed. In 1841 (90-421) James S. Judd bought from Isaac Wolcott one acre with buildings, quote "Homestead on which I now live", price $750.
So it seems reasonable to assume that the house was built about 1834. The acreage was increased by two small parcels after the first transaction in 1830.
Mrs. Emma (Lyman) Coleman, widow of Samuel N. Coleman purchased this homestead from James S. Judd in 1856. This Coleman family had been living near the Easthampton line but at the death of Mr. Coleman in 1855 at age 30 the widow Mrs. Emma (Lyman) Coleman with two young sons, Frank and Emerson, and a daughter, Nellie, wanted to be near her relations. She was a daughter of Samuel Lyman and Miriam (Tinker) Lyman. She died in 1880 or 1881.
Frank and Emerson then transferred their interest in the property to their sister, Nellie, who had married Fred Warner in 1879, a blacksmith. Mr. Warner did horse-shoeing and iron work in a shop located a little east of the house.
In 1894 Alfred Z. Russell bought the "homestead and spring" from Nellie J. Warner. Next owner was Elbert Clark buying from heirs of Alfred Z. Russell in 1910.
In 1934 Delbert Hall boug[h]t the part of the property where the blacksmith shop stood and built a very good modern house.
The Watson Porters bought the rest of the property in 1940 from the estate of Elbert Clark.
Mr. and Mrs. Porter died suddenly in 1950 within 24 hours of each other.
Romaine Lambert and Luella (Pease) Lambert are the present (l966) owners having made their purchase in 1951.
Note James L. Judd was a grandson of Jonathon Judd, first permanent minister in Southampton. His wife and Lucretta Bates. Their one son died aged 21.
–From "History of Old Houses" by Atherton Parsons
Return to the Edwards Public Library website.