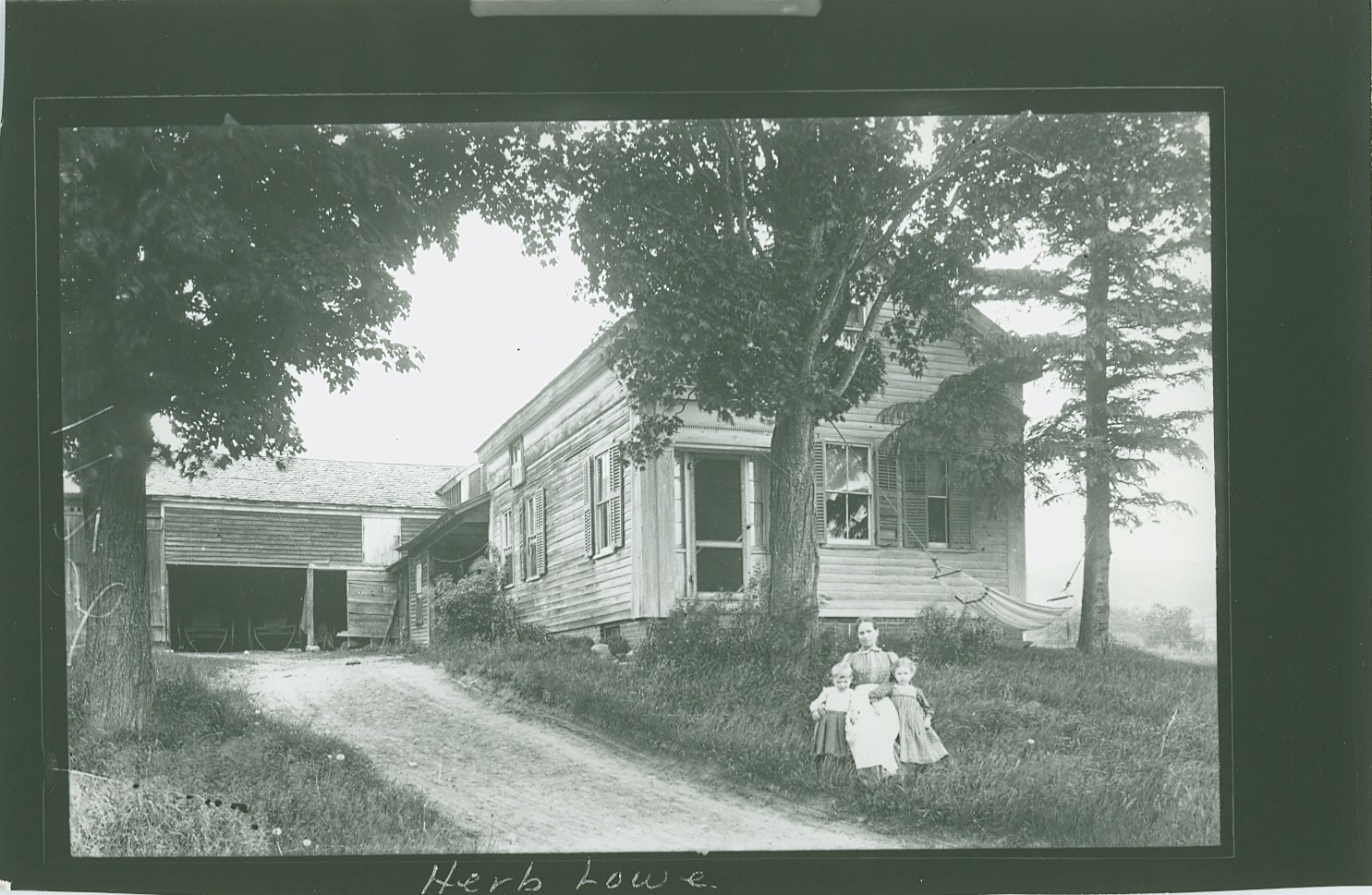 Robert and Alice Lowe, Effie Lowe – College Highway
In 1845 Cyrenius Wolcott bought a small piece of land here from Abner and Charity Sheldon for $102 (109-176). Cyrenius built part of the present house and probably a shop as he was said to be a wagon maker. He was a son of Stephen and Lucy (Strong) Wolcott. Silas and Anna (King) Sheldon. She died after only a few months of marriage and Cyrenius married (2) Harriet Abbott.
They left Southampton a few years later and sold this property, 1857, to Elam Hitchcock a harness maker for $400 (176-309). Elam and his wife, Helen (Hastings) Hitchcock lived here util April, 1864, when they sold to Ann Swan, wife of Edward Swan, a real estate dealer. The Swans sold to Orange Scott Moore in October, 1864, for $1,400. Orange S. Moore was born in Montgomery, 1834, and died in Southampton in 1865. His widow, Achsah S. Moore then sold this property to Richard Avery. His wife was Mercy (Hutchinson) Avery and they were the parents of Lydia Angeline Avery who married Charles B. Lyman.
Richard Avery died 1867, age 70, and his widow later devised this property to Jeromas J. Pomeroy.
Timothy Bates bought it in 1875 for $1,000 (339-468) and sold it to his son Augustus P. Bates in 1880 for $1,000 (370-291).
Augustus P. Bates a son of Timothy and Catherine (Lyman) Bates was born in 1842 and in 1865 married Sarah E. Smith of West Springfield. The had a large family of children, one of them–Edith M. Bates married Ernest M. Pease in 1901.
Mrs. Romaine Lambert (Luella Pease Lambert) of Center Street, Southampton is a daughter of Ernest and Edith (Bates) Pease.
George A. Gorton bought this property in 1892 from Augustus Bates. Mr. Gorton had married Iretta Clapp. She died in 1893 and he married (2) Delia Pomeroy, daughter of Calvin and Justine (Ober) Pomeroy. They lived here until about 1897 and then moved to his home place where Harry and Leah Gorton now live. From then until 1907 the house was occupied by different families principally by Calvin and Justina Pomeroy. They both died in 1907 and then Herbert E. Lowe bought this property from George A. Gorton.
Herbert E. Lowe, in 1901, married Effie Cheney, daughter of Walter and Sarah (Gorton) Cheney and a nice (sic) of George A. Gorton. Herbert and Effie Lowe and a son, Walter, born and died in 1907. In 1910 their son, Robert E. Lowe, was born. Robert E. Lowe married Alice Hall, daughter of David and Gertie Hall. They have two daughters–Nan and Nina, both married. After living in other places, Robert and Alice, in 1966, moved in to take care of his parents. Herbert E. Lowe worked for the Lyman Sheet Metal Company for approximately 65 years. He died April 14, 1968, age 88 years.
From " A History of Old Houses" by Atherton Parsons
Return to the Edwards Public Library website.