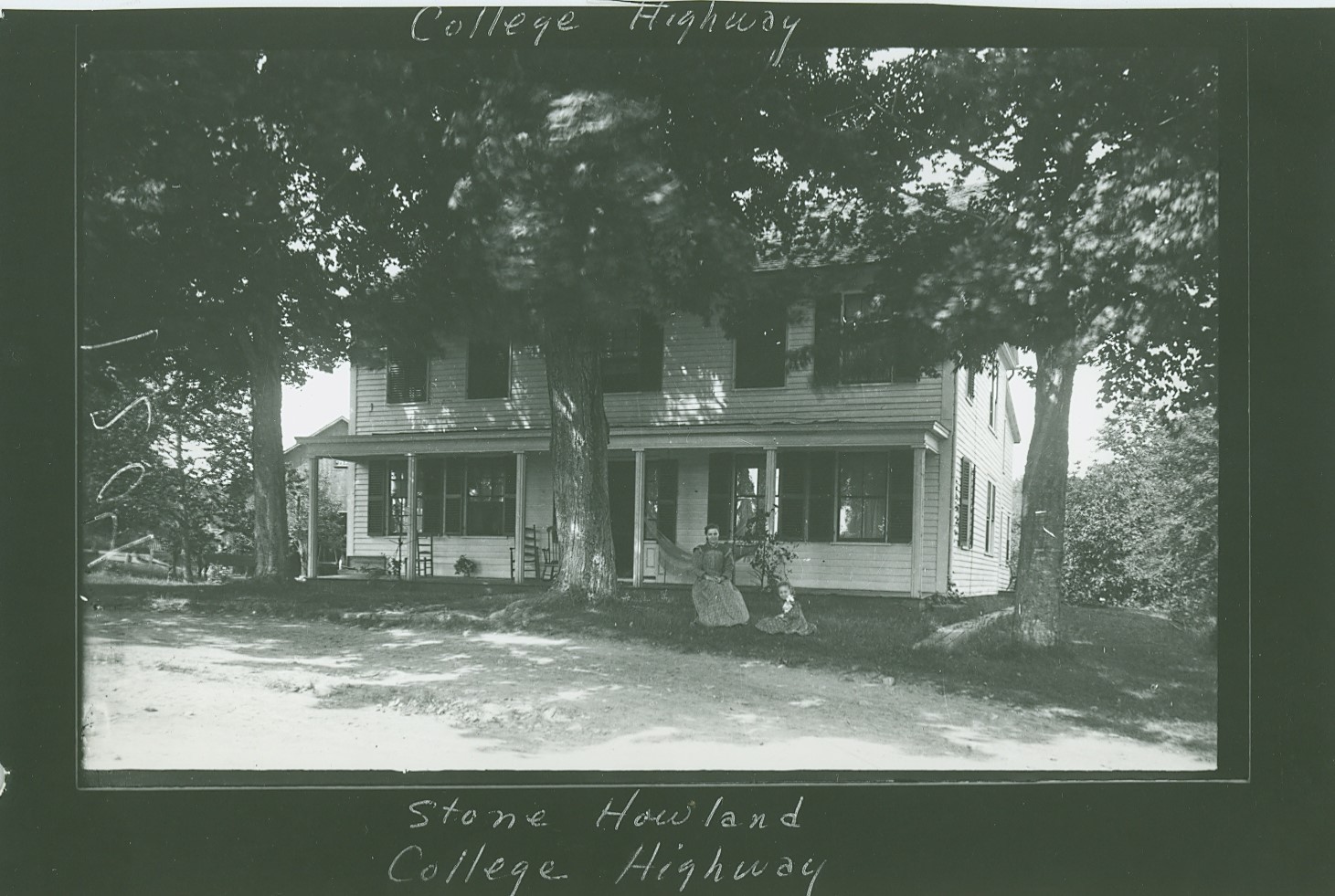 Richard and Miriam Howland – College Highway
The land on which this house stands was sold to John Strong Jr. by his father in 1803 (22-8). Apparently the house was built in 1828 as the construction of it was awarded by contract to Stephen Wolcott in that year.
Nathan Parks bought the property from John Strong Jr. and Ransford Root in 1831 (69-482). Just how Ransford Root had obtained an interest is not known.
The next owner was Sylvester Strong, buying from Nathan Parks also in 1831.
Noah Lyman Strong was the next principal owner up to the time that Delano Bartlett bought the property. Delano Bartlett, born 1794 – son of Noah of Westhampton; married Sally Sikes of Ludlow. He died in 1881 – wife died in 1880.
Delano Bartlett moved from Blandford to Southampton in the fall of 1840 where he bought what was known at the time of the Canal as the "Lockville Hotel". Mrs. and Mrs. Bartlett resided at their southampton house the rest of their lives.
Their daughter – Sarah Almina – (b.1826- d. 1905) married Rufus Lyman (b. 1822 – d. 1912). Mr. Lyman was the 8th generation of Lymans in this country. They came to live with and care for Mr. and Mrs. Bartlett, probably in the year 1870. The Lymans lived here for the remaining years of their lives.
The second son, Herbert Bartlett Lyman (b. 1863 d. 1945) married Lillian Boyd (b. 1869). They came to live at the homestead in 1894. Herbert Bartlett Lyman lived there the rest of his life.
Their daughter Jennie Esther Lyman (b. 1895) married to Edward Rood Stone (b. 1891) in 1921 and they lived in the homestead until 1958.
Their daughter Miriam (b. 1936) married Richard Swasey Howland (b. 1929) in 1957 and came to live at the homestead in 1958. They are the present occupants of the homestead (1966).
Mrs. Herbert Bartlett Lyman now resides with the Edward Stones at their home on Brickyard Road.
–From "History of Old Houses" by Atherton Parsons
Return to the Edwards Public Library website.