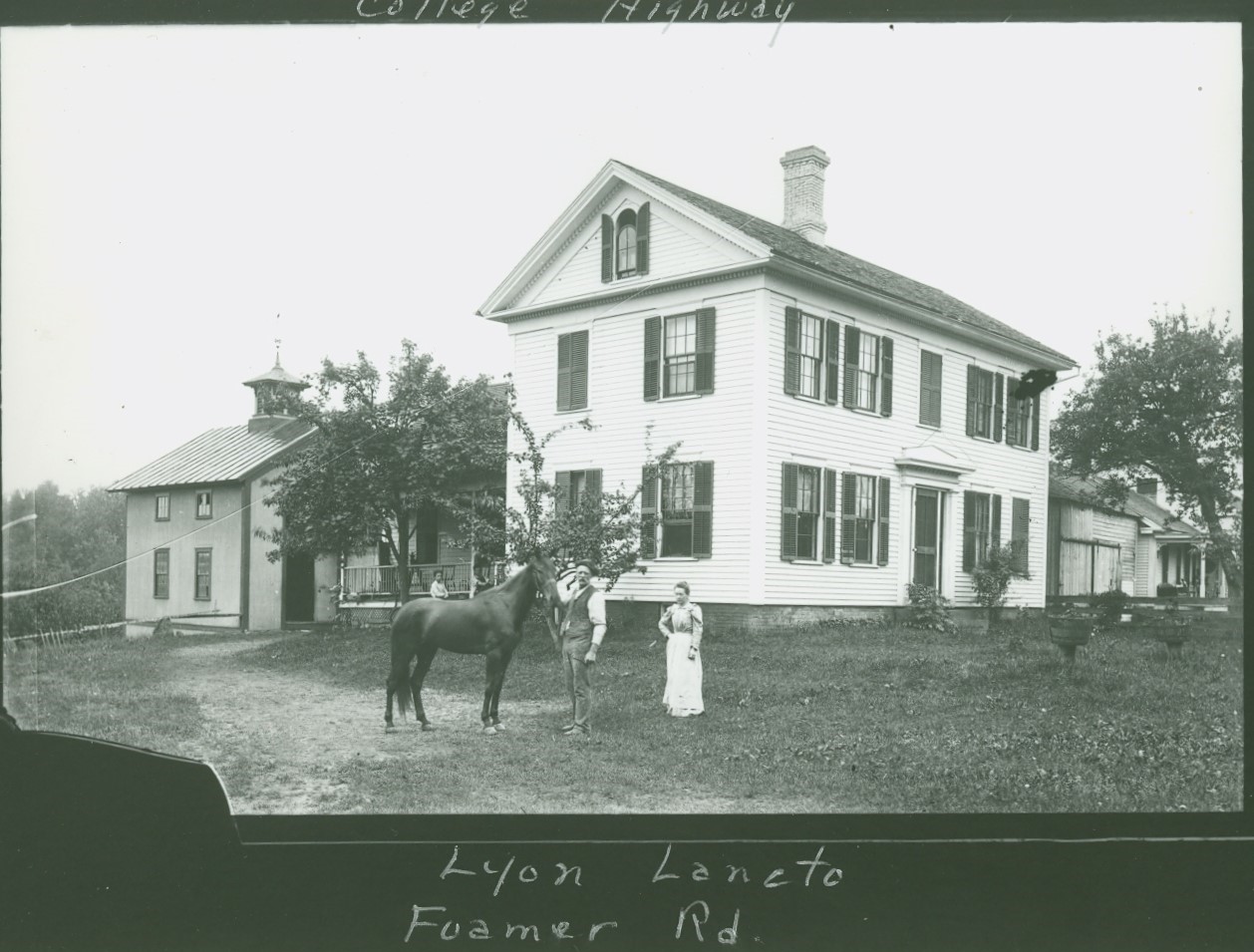 Richard and Jane Lancto – Foamer Road
The land where this house stands belonged originally to Nathaniel Searle and remained in the Searle family through four generations. Zophar Searle the second, and two of his sons, Ansel and Edmund operated mills on Red Brook in the rear of the property and Ansel may have had a shop building near where the house now stands. At least he reserved the right to build a shop there when he sold his other interests there to Saul Burt in 1845, book (108-349). Edmund Searle had previously sold his interests to his brother Ansel particularly, but partly to Asa Searle, a cousin.
Dr. Josiah A. Gridley had some interest in this property as he was also a Grantor in the deed to Saul Burt in 1845.
The next owners were Gilbert Bascom, James Carpenter and Moses Rumery.
In 1858 (179-416) James Carpenter and Moses Rumery sold out to J. A. Gridley and Gilbert Bascom. This deed includes the words "with buildings standing thereon'. This could mean either buildings connected with the mill or a residence but certainly J. A. Gridley did not live here and probably Gilbert Bascom did not.
In 1864, Joseph H. Simmons bought out the interests of J. A. Gridley and Gilbert Bascom (221-49-50). His deed includes 10 acres with water privileges and buildings thereon.
According to "History of Connecticut Valley" by Everts there has been located on this property "clothier works, a woolen mill, a saw mill and a shingle mill, a cotton batting mill run by Mr. Simmons and that Mr. S. C. Burt built a saw mill".
Mr. Simmons sold out to Newell Cowles in 1865 for $2200, (230-498). Newell Cowles sold to Seth Cowles in 1869, "building and appurtances" (259-62).
Asa Rand next had an interest here as he and Seth Cowles sold to Stephen D. Clapp Jr. in 1870 (272-357).
Mr. Clapp sold to William S. Lyon in 1874 (503-383). He lived here until probably 1909 or 1910 when his son Marcus and wife Nellie Dickinson moved back from Connecticut.
William S. Lyon had married 3rd Flora Ewing, and as Flora did not particularly like this location they moved to Glendale on the Ewing farm. He did retain ownership until 1928 when he transferred the property to his daughter-in-law, Nellie Dickinson Lyon. She died in 1942. Marcus stayed on here until 1946 when he sold out to Eric Spafford.
Marcus and Nellie had three children born between 1910-1915. Eunice was first, then Arline, and the last was Marcus Dickinson Lyon (usually called Billy). The opinion held by members of the Lyon family is that Stephen D. Clapp built the present house. This would date that construction between 1870. and 1874, (the style is of this time). Mr. Clapp was an uncle of William Lyon.
It seems certain that [t]here was a house here earlier but available records do not indicate who built it or the date. Richard N. and Jane M. Lancto bought this property from Eric Spafford in 1960 (1334-70). They have a family of five boys.
–From "History of Old Houses" by Atherton Parsons
Return to the Edwards Public Library website.