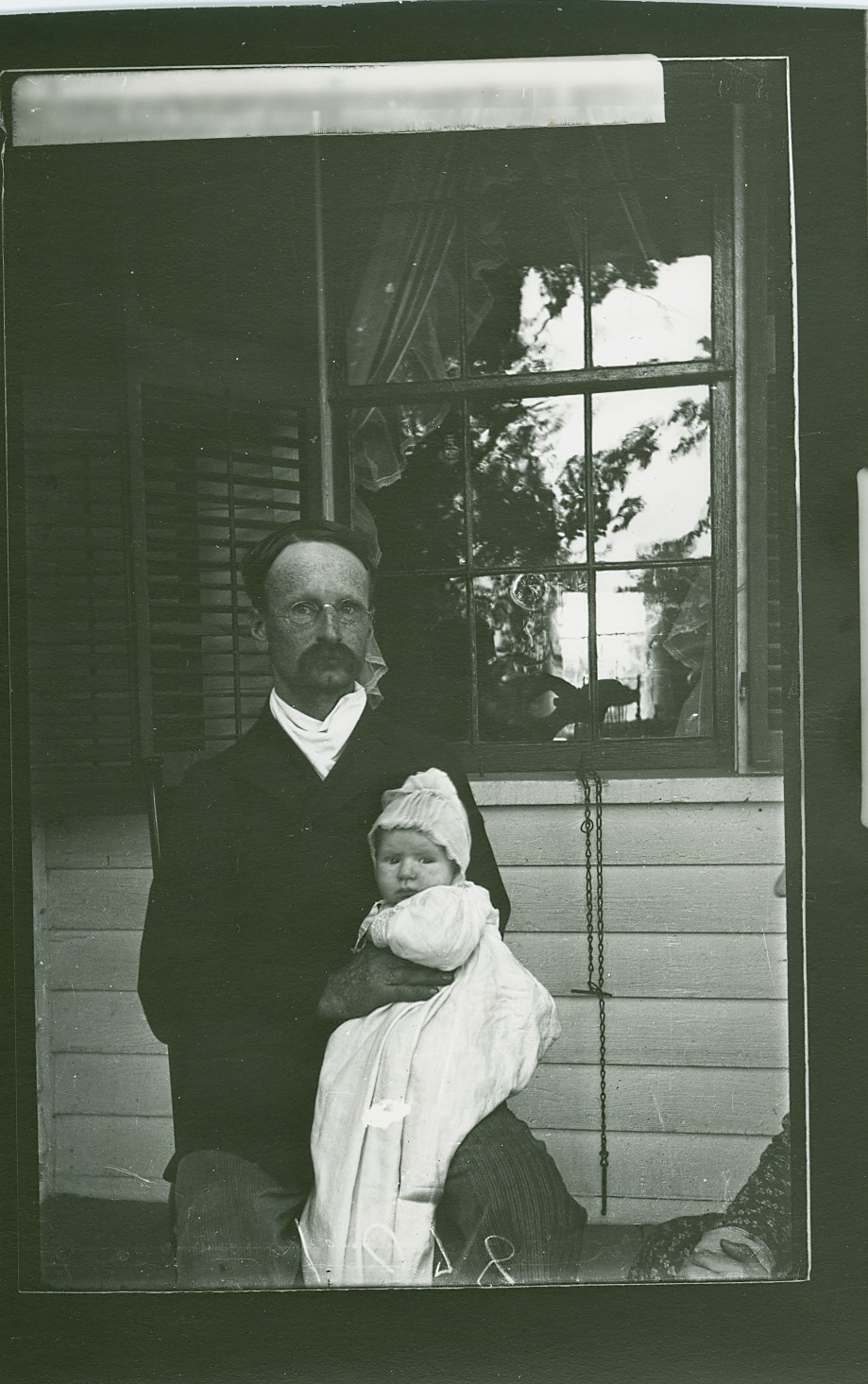 Portrait of Wilfred Parsons and Dorothy Parsons Howland
Popielarz Family, Formerly Henry Parsons – Clark Street
This property was first settled by Timothy Clark and owned successively by his son Timothy Clark, II and his grandson Timothy Clark, III.
Timothy Clark was born in 1720 (son of Noah and Eunice Dickenson Clark[)] and was the first settler on this place. He married 1747 Freedom Edwards, daughter of Benjamin Edwards, Jr. Timothy Clark kept a public house or tavern. In Jonathon Judd's diary he was called Landlord Clark and it also was mentioned that court proceedings were sometimes held at his house.
Timothy and Freedom Clark had eight children born between 1748 and 1769. They were: Freedom who married Enos Pomeroy; Dorcas who married 1772 Martin Burt; Timothy, Jr. who married 1778 Lovina Parks; Saul died 1777, age 23; Justin married 1780 to Catherine Wright; Suzannah married 1779 Pliny Sheldon; Noah married 1783 Eunice Strong; Zenas married 1792 Priscilla Gates.
Mrs. Timothy Clark (Freedom) died 1781 and Timothy married (2) 1782 Priscilla Bunday. Timothy died in 1895 and his son Timothy Clark, Jr. became owner of the homestead. Timothy, Jr. and his wife Lovina had three children, Sophina; Timothy, and Saul. Sophia married 102 Eliphalet Hatch, Timothy died young, and Saul became a minister and had pastorates in East Haven, Conneticut, (sic) Chester Massachusetts and other places. Mrs. Lovina P. Clark died and Timothy Clark, Jr. married (2) 1793 Sarah Judd (daughter of Rev. Jonathon Judd). Timothy and Sarah had one child, Timothy born 1794 and married 1817 Phoebe Lyman. They did not stay at the home place but moved to a house on East Street. Timothy Clark, Jr. husband of Sarah (Judd) Clark died in 1823. This property then came to Timothy Clark, III, who sold it to Seth Bartlett in 1827.
Seth Bartlett born 1787 in Westhampton married Mary Ann Wheeler of Northampton in 1815. They had three children–Charles who died at sea in 1834, age 17; Thomas born in 1819, married Lucinda Graves in 1840; Milton died in the Civil War. Seth Bartlett's first wife Mary Ann died 1847 and he married (2) Widow Temperance Hubbard. She had a daughter, Almanza, by her first husband, David E. Hubbard.
The house built here by Timothy Clark, Sr. burned January 3, 1838.
Seth Bartlett, a mason, built the present brick house. He died about 1871 and the ownership of this property passed to Jarius Clark who married Almanza Hubbard, Seth's step-daughter. Jarius Clark was high sheriff of Hampshire County for many years and was a great grandson of Timothy Clark 1st. His parents were Strong and Roena (Searle) Clark. Jarius and Almanza Clark had three children but only one, Gertrude, born 1875 lived to grow up. She married James Rayner.
In 1875 Isaac Parson[s] bought this property from Jarius Clark (Isaac was the grandson of the Isaac Parsons who settled in 1775 on the third square mile in the west part of Southampton.) Isaac Parsons (son of Theodore and Sophia 'Kingsley' Parsons) born 1823, married 1850 Rachel C. Edwards, daughter of Luther and Rachel (Searle) Edwards. Isaac Parsons was at one time representative at the General Court of Boston. By 1875, Isaac and Rachel Parsons had had eight children of whom three had died. The five living children were: Catherine who married Frederick Judd in 1889; Edwards K. who married Fanny Knox in 1885; Henry L. who married Emma C. Phillips in 1892; Ellen who died in 1881, age 12; and Wilfred A. who married Martina Way in 1898.
After buying this farm of Jarius Clark, Isaac Parsons bought much additional land and farmed and lumbered extensively. His eldest son Edward K., left the farm between 1881 and 1885 and engaged exclusively in the lumber business. Henry L. Parsons stayed on this farm. Wilfred, after working three years at the Massachusetts Experiment Station in Amherst, came back to the farm when Isaac died in 1894. Henry and Wilfred operated the business together until 1901 when Wilfred bought the adjoining farm of George Lyon. Henry continued to farm here until 1930. Henry and his wife Emma (Phillips) Parsons had two children: Rachel who married Alfred Hooker in 1916 and moved to Westfield and Phillips Henry who married, 1924, Alice Evelyn Coe (daughter of Edwin J. and Etta 'Gibbons' Coe). Mrs. Henry Parsons (Emma) died July, 1909 and Henry married (2) in 1918 Mrs. Pearl (Kingsley) Scott. She had three children by her first husband, Enid, Carl, and Hugh.
Phillips Henry Parsons bought several acres of land from his father's farm about the time of his marriage in 1924 and built a house facing High Street. He and his wife, Alice Evelyn (Coe) Parsons have two children;' Phyllis, now a teacher-supervisor in Denver, Colorado, and David Henry who lives at home and works at the Searle Farm.
Stanley Popielarz, Sr. and Catherine Krystan Popielarz bought this property from Henry L. Parsons in May 1930. They had two boys Stanley and Joseph who married in the early 1940's. Stanley, Jr. married Anastasia Kostek and they have one son, Stanley, now a senior at the Massachusetts Institute of Technology. Joseph married Muriel Fowles and they have three daughters: Carol, Mary Ann, and Linda. Joseph went in the Armed services in World War II and Stanley operated the farm with his parents until the end of the war. When Joseph returned from the army, he took over the farm. Stanley attended a school for barbers and later opened a shop of his own in an ell of the house.
In 1963, the barns with the farm machinery and cattle burned to ground. The barns were not rebuilt, and the farm lands are now rented to neighbors.
–From "History of Old Houses" by Atherton Parsons
Return to the Edwards Public Library website.