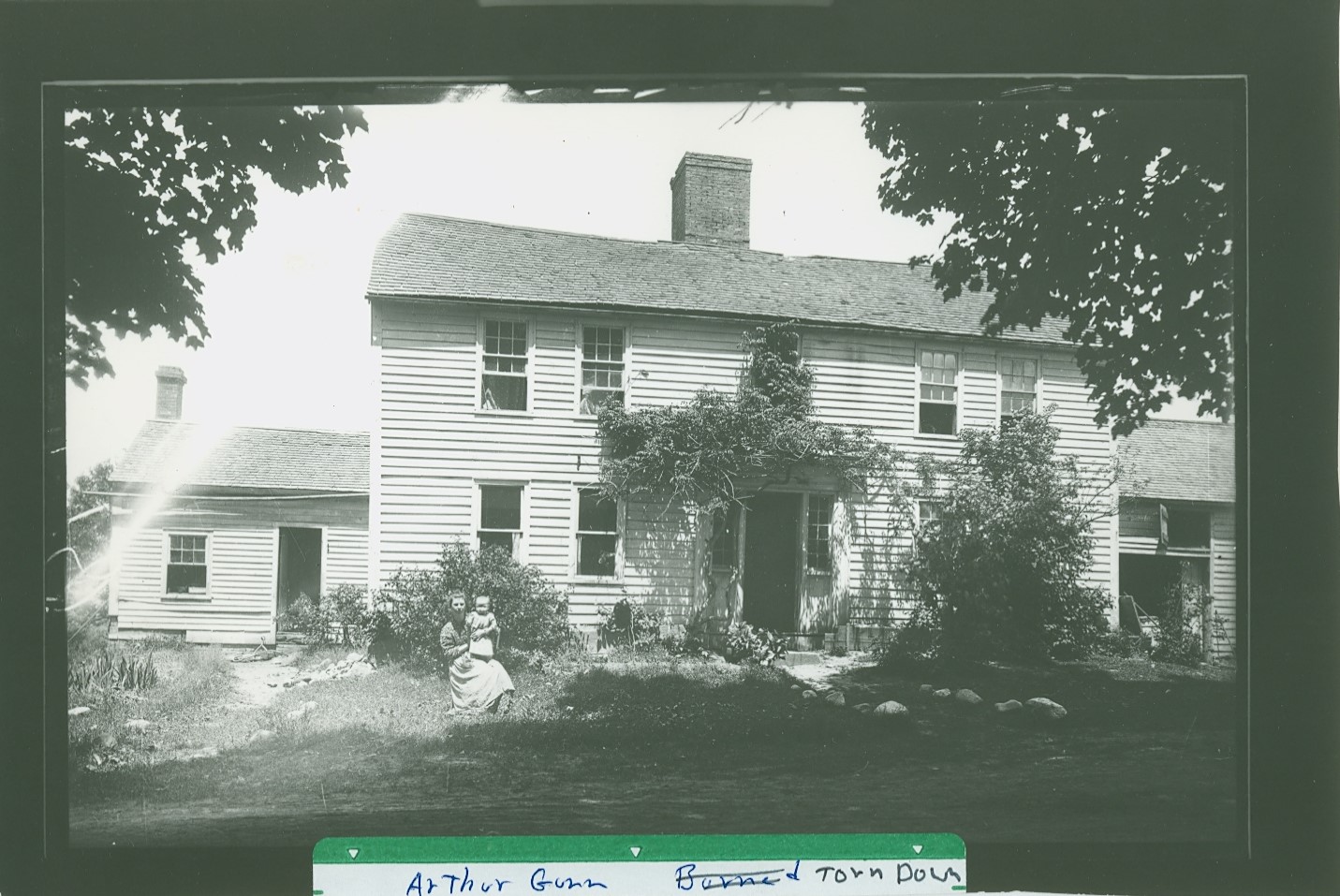 Kenneth and Margaret Gunn – Pleasant Street
This farm was originally the homestead of Gideon Searle, one of the nine sons of Nathaniel Searle, one of the first settlers in Southampton. Gideon married Anna Pomeroy about 1757 and presumably he built a house here at that time. They had ten children. The eighth child was Gaius and the last one was Heman. At a time near the end of Gideon's life he divided the farm, Gaius having part of what now is owned by Edward and Stella Bashista. Gaius also had the piece of land east of the road, now belonging to George and Alice Brown, and known as the Treat place.
Heman Searle received, when the farm was divided, the buildings with land west of the road and also considerable land least of the road. He had married Abigal Clapp in 1801, and they lived here until 1837 when they sold out to Ethan Barnes (81-391).
Ethan Barnes sold to James A. Thorpe in 1840 (91-412) and Thorpe sold to Samuel J. Loomis in 1864 (218-133).
Samuel J. Loomis sold to Roswell J. Marshall in 1887 (340-507). Eva Marshall sold to Minnie K. Crosby in 1894, and Minnie Crosby sold to Anthony Zavorski in 1906 (604-243). The Savorski family never lived here but rented it to Lauriston Bishop and family. The house was now in poor condition and not worth repairing. According to a daughter of Mr. Bishop he tore the old house down and used the best of the lumber to build a small house on Line Street, Easthampton. Another version is that the old house burned, but however that may be, there was no house here when Arthur S. Gunn bought the property in 1911. He built the house now standing around 1912. His wife was Eva Healey and they had two children, Evelyn A. and Kenneth B.
Kenneth B. Gunn married Margaret Peckham of Russell. They have three children, Roger, Debra and Sharon. They live here on the home place. Evelyn A. Gunn works for Stanley Home Products in Westfield. She lives on East Street, and her aunt Ella Healey, now a retired school teacher lives with her.
–From "History of Old Houses" by Atherton Parsons
Return to the Edwards Public Library website.