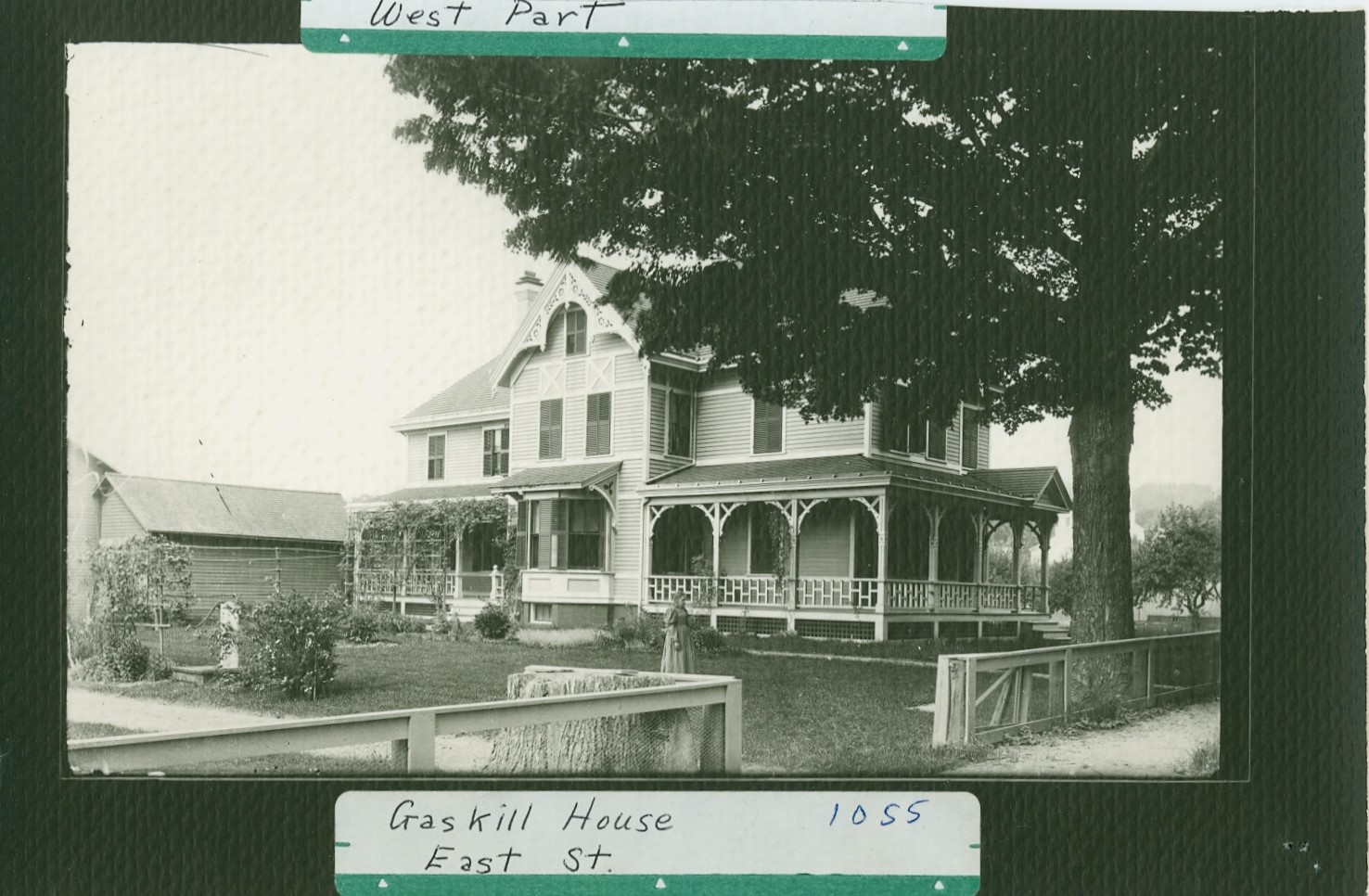 Joseph I. and Ethel M. C. Gaskill
King Bascom presumably built the first set of buildings on this property about the time of his marriage to Mary Clark (daughter of Oliver Clark) in 1796. He had inherited the land in 1780 from his grandfather Jonathon Bascom. This Jonathon was one of the first settlers in Southampton and the land allotted to him was situated on the north side of the present East Street and about fifteen acres on the south side of East Street and the east side of the main Road (College Highway). This fifteen acres was considered Jonathon's home lot and his buildings were where Mark Cooper now lives. In Jonathon's will, he had left the east side of this home lot (seven and one half acres) to his grandson King Bascom.
King Bascom and his wife Mary had eight children; Henry, Armena, Sheldon, Jonathon, Mary, Silas, Sarah who lived only year, and a second Sarah. King Bascom died in 1827 and his wife died in 1845.
In his will, King left part of his house and other property to his wife, but the farm went principally to his son, Sheldon King Bascom. Sheldon was born 1801, married in 1827 Almira Bartlett of Westhampton. The had one son, Horace Sheldon Bascom, born 1845, married 1871 Sarah E. Parsons of Northampton. He was a dentist in New Haven, Conn.
Sheldon K. Bascom's will was probated in 1879, and his widow Betsey Bascom sold this property to Anson A. Swift in 1879, (347-229), seven and one half acres. Anson Swift was born in Mansfield, Conn., 1825 and married Maria M. Wyman of Southampton in 1848. Maria was a daughter of Joshua and Mary Ann (Searle) Wyman. Anson Swift sold or gave the house to C. A. Frary who moved it to a small lot at the junction of East Street and New Road. This house burned very soon after. Mr. Swift, 1884, built a set of buildings standing there on the property today.
Anson Swift died in 1903 and in 1905 his widow Maria, sold the property to Orlando C. Searle. Mr. Searle owned it briefly and sold it the same year, 1905, to Henry R. Walker (594-213). Esther Searle (daughter of Zophar Searle III) was Henry Walker's wife, and they both died in 1906 each being age 66. The property then went to Ella Walker Hovey, wife of George Hovey.
George H. Lyon bought the property from the Hovey's also in 1906 (610-263). George Lyon was in the grain and grist mill business. His wife was Estella Russell and they had two daughters, Edith and Florence.
Oscar Johnson was the next owner, buying the property from George Lyon Jan. 16, 1912 (675-327). Oscar and his wife Anna had two children: Rudolph who married Alice Anderson, and Edna who married Hugh Scott. Mr. Johnson died in 1920 and in 1927 his widow, Anna, sold the property to Frederick D. Chamberlain. (The Chamberlain family had to leave their home when Quabbin Reservoir was built).
On October 2, 1935 Joseph I. Gaskill and wife Ethel M. Chesbrough Gaskill bought the property from Frederick D. Chamberlain. Mr. Gaskill is of the opinion that the barn standing today is the one that was first built here. The Gaskill's have one son, Irving, who is associated in business with his father. They own and operate a printing business in Springfield.
–From "History of Old Houses" by Atherton Parsons
Return to the Edwards Public Library website.