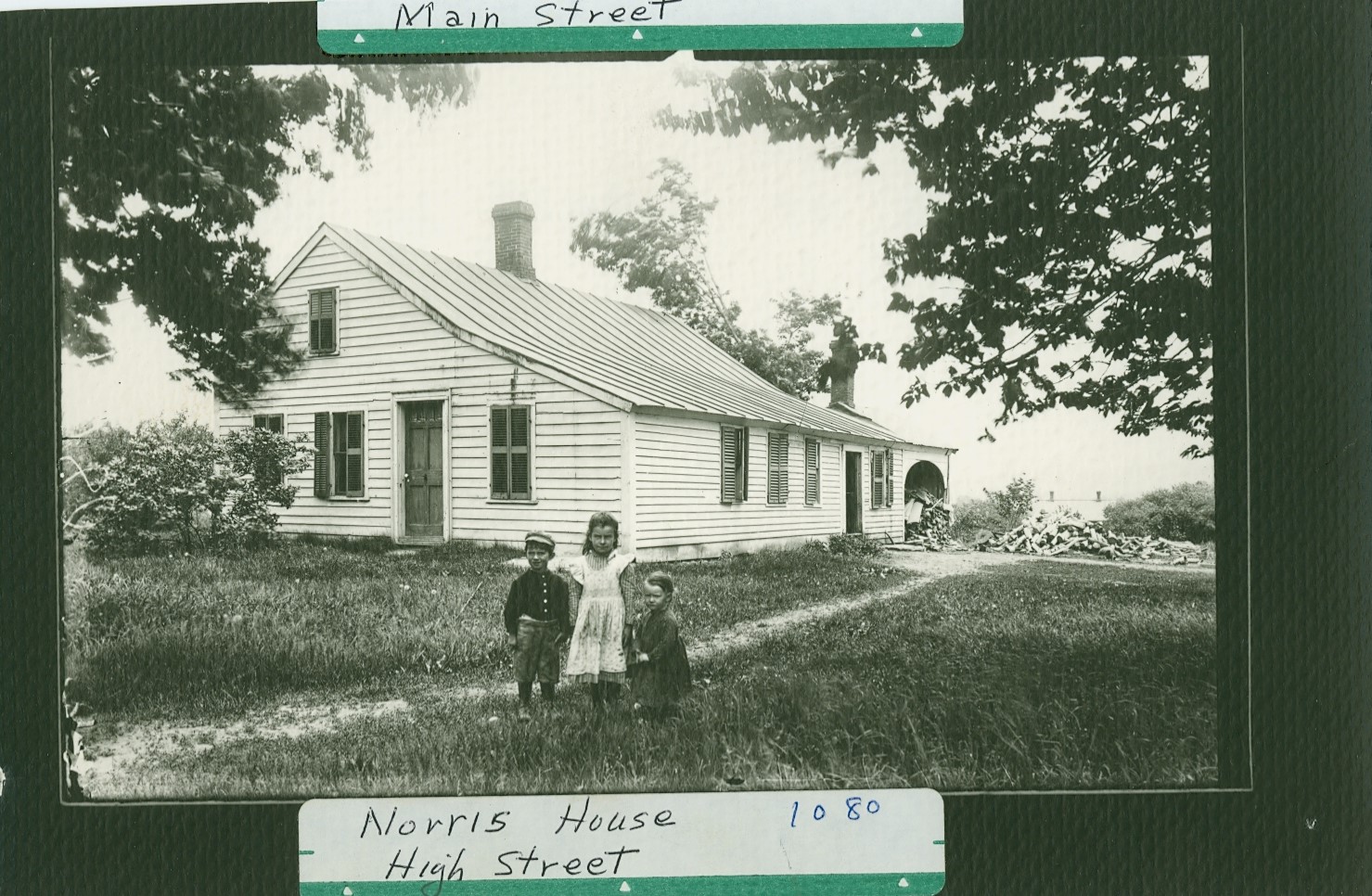 John Norris Homestead – High Street
A Southampton National Register Parcel
The land here and adjoining land was originally owned by Nathaniel Searle one of the first settlers in Southampton. He must have sold 9 acres here to Simeon Waite though the deed is not recorded in Northampton.
Simeon Waite was the son of John and Eunice (Phelps) Waite who were among the first 14 settlers in Southampton, their homestead was the most westerly on what is now called Maple Street. Later owner was Gilbert Hall and still later Stanley Andrzejczyk.
Simeon Waite was born 7-14-1744 and married (int.) 10-22-1763 Dorothy Hannum. Simeon died 3-23-1787 and his wife died 1-1-1810, age 65.
Probably Simeon built the first set of buildings here about the time of his marriage. Children of Dorothy and Simeon Waite were:
Belinda- b. 2-4-1765, m. 1785 Pliny Clapp and (2) James Otis in 1811
Nancy- b. 12-17-1766, m. (int.) 11-13-1785 Frederick Judd
Simeon- b. 7-24-1772, died young
Seth- b. 10-18-1774, m. (int.) 11-1-1795 Lucretia Otis (they moved to Chester)
Simeon- b. 1778
Silas- b. 1782, m. 11-12-1806 Roxana Rowley
Dorothy- b. 1785, m. 1807 Benomi Rust of Amherst
In 1810 Moses Searle the third bought this property from the heirs of Simeon Waite for $600.00. It was still nine acres and included, "all buildings except one half of the cider mill standing on the same" (66-309).
Moses Searle the third sold this property to his son Asa R. Searle in 1831 (75-482) for $350.00. The deed was as follows: "Beginning at a mark 14 feet south from the northwest corner of my barn thence on the highway north 2 1/2 degrees east 12 rods, easterly about 2 rods, south 81 1/2 degrees, east about 10 rods, southerly 14 rods, westerly about 12 rods to first bounds, one acre with buildings".
Asa R. Searle probably never lived here. Apparently he was a quite good business man and on several known occasions he helped his relatives in a financial way.
He sold the property to his brother Moses Searle the fourth in 1838 (82-490). This Moses Searle apparently did not live here very long as he moved to Ansonia, Ohio.
He sold to Joseph Carrier in 1839 (85-452). Joseph Carrier sold to Zaavan Moore (102-93) Dec. 24, 1842. Zaavan Moore sold to Levi White 3-4-1844 (102-92). Levi White sold to Julius White in 1849 (127-202) and Julius sold to Theodore Clapp in 1872 (315-181). This last transaction was probably a legal move for some reason and Theodore Clapp sold it to Almira White also in 1872.
Almira White sold to William D. Boyd 4-3-1883 (378-69) and he sold it to C. Arthur Frary 3-18-1887 (409-403). Mr. Frary was not married at that time but he lived here with his parents until he sold out to William Smith 5-18-1893. It is not likely that the Smiths lived here very long if at all. William Smith gave a mortgage on the property to John Norris 5-19-1893 (462-361) who then became owner and moved in with his family probably in 1894 or 1895.
John Norris was boss of the Southampton section of the New York, New Haven and Hartford Railroad for many years. He died July 23, 1913 leaving his widow Mary (Kane) Norris and 6 children, Walter, Julia, Edward, Nellie, William and George.
Walter became a physician and located in Long Island, H. Y.
Julia held a prominent teaching position, principally at Hawley Grammar School in Northampton.
Edwards was Southampton highway superintendent.
Nellie Held a prominent teaching position, was principal at Center Grammar School in Easthampton for many years.
William was principal of the Southampton Primary School and when the Junior High School was built on Pomeroy Meadow Road, he became the principal there. He died in 1959 and the Southampton Junior High School was renamed the "William E. Norris School". This name change was done by the voters in town meeting February 8, 1960.
George became a dentist and has had an office in Westfield all his professional life.
Walter was the only member of the John Norris family to marry.
Previous to about 1930 the buildings consisted of a long low neat appearing house with a barn situated to the south of the house.
At the above date the Norris family completely remodeled and modernized the house making it into two stories with and enclosed porch at the west end. The barn was torn down and an attractive garage was built in its place with room for several cars.
As of this date (1966) the remaining members of the John and Mary (Kane) Norris family living here are Julia and Nellie, retired, and George who still practices dentistry in Westfield.
–From "History of Old Houses" by Atherton Parsons
Return to the Edwards Public Library website.