P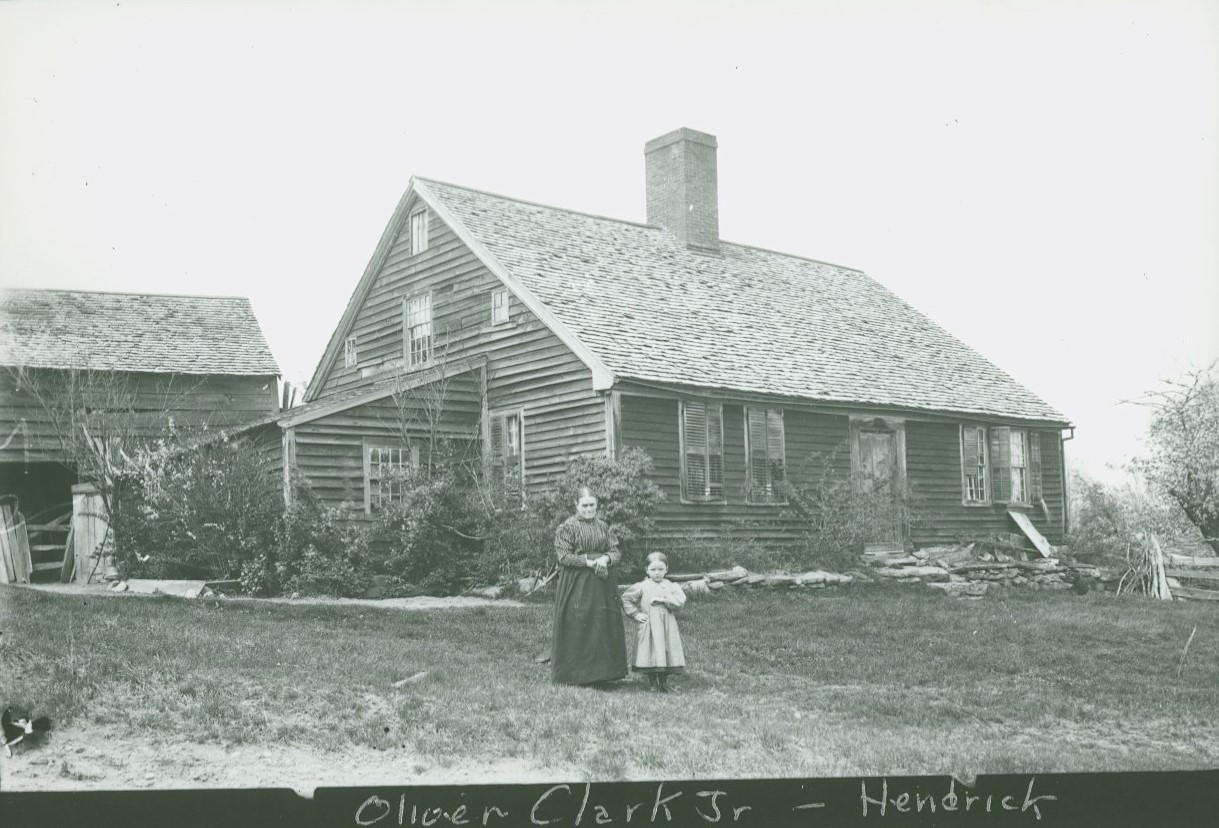 Homestead of Oliver Clark, Jr.- Cold Spring Road
The first settler on this farm was Elisha Clark about 1733. He was one of the six Clarks who were early settlers of the town.
Elisha was born in 1714, married Hannah Bartlett in 1737, and on the afternoon of August 27, 1747, was surprised by the Indians while working in his barn. He was shot seven times and his body hidden under the grain. Supposedly, the Indians were seeking revenge for having received as wages, boiled seed corn which would not grow.
Elisha and Hannah Clark had six children. The third was Oliver, born in 1742, and he married in 1764, Mary Clark, daughter of Selah Clark, and he died in 1829. Oliver lived on this farm, in the old original house all of his life. The old house stood across the road, a few rods west of the present homestead. The cellar hole is still visable (sic) and there is a small pile of bricks where the chimney once stood. It is assumed that this house was not lived in after 1829 when the old man died.
Oliver and Mary had seven children, the second of which was Oliver Clark, Jr., born in 1768. He was married in 1791 to Cynthia Clapp and died in 1855, at the age of 87.
Oliver Clark, Jr. built the house presently standing in 1793. On a beam under the attic floor is written with a soapstone crayon "Oliver Clark, Jr., August 8, 1793". The first recorded transaction regarding this property is dated 1808 and the description reads: "Oliver Clark to Oliver Clark, Jr. one half interest in the farm on which I now live on both sides of the County Road leading to Westhampton." The farm then consisted of 135 acres.
The house is of typical design and construction of the era. All the large beams are hand hewn, some of the native hard pine and some of the bass wood, sometimes called tulip wood. Several of these are thirty-eight feet in lenght (sic) and hewed from one log. All the floors are the original wide hand-planed, hard pine boards. It has a typical center chimney with four fireplaces, but is unusual in that it has two bake ovens. The old hand dug well just outside the kitchen door is still in use.
After Oliver Clark, Jr.'s death the estate was sold at auction in 1855 and was purchased by Gilbert Bascomb. His wife was a daughter of Oliver Clark, Jr., she being the second in a family of seven. When this estate was settled a detailed survey was made which showed the house with outbuildings, barns, and a total of 235 acres of land.
In 1863, the property changed hands again, this time from Gilbert Bascomb to Martin P. Clapp. The selling price at that time was $1000.00. Mr. Clapp was a school teacher for many years, probably in the North Part School. He died in 1888.
The property was auctioned again in 1908. The deed reads: "Frederick E. Judd, guardian of Elmira Finch Clapp (widow of Martin Clapp) to George W. Graves for $715.00. Mr. Graves probably never lived on this property because he sold it the same year (1908) to Mary Myrick.
Mary Myrick's husband was Charles Lyman Myrick. It is assumed that they were engaged in farming while living on the property. The next transaction was on 1923 when the deed reads from Mary Myrick to Ransom Manley.
Mr. Manley's wife was Eleanor Myrick, daughter of Charles Lyman Myrick. He was a carpenter by trade and was also a member of the Springfield Fire Department for many years. From the time he purchased the property until his retirement in 1945 he used it primarily as a summer home. In that year he made extensive repairs and from then on it was their year-round home.
Prior to 1945 different tenants occupied the place, among them an old man called "Pop" Hires. He was often seen riding down town with a horse and buggy for his supplies. People who knew him say that he kept his horse in the panty (sic) on cold winter nights.
In later years Mr. Manley's sister, Mrs. Lois Ballou lived with him and Mrs. Manley. Eleanor Manley died in 1965 at the age of 82. Ransom Manley died the following year, 1966.
In 1967 the estate was sold to Paul Ford, an Amherst attorney, and later in the year Attorney Ford sold to Theodore and Maxine Hendrick. The Hendricks are now attempting to restore the old cape so that it will appear as it did when built in the late 1700's.
–From "History of Old Houses" by Atherton Parsons
Return to the Edwards Public Library website.