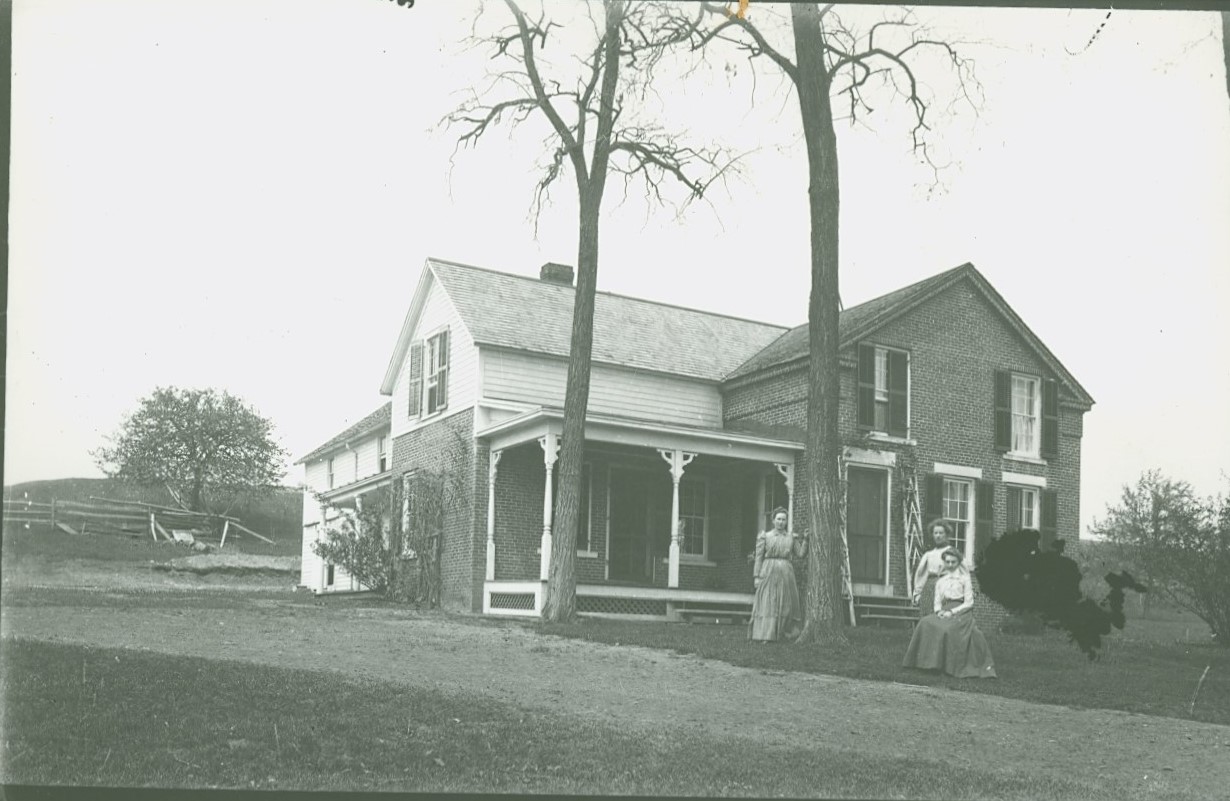 Georgia and Edith Kingsley-145 Glendale Road
This house was built about 1846 by King Pomeroy. King was born in 1805, the son of Samuel Pomeroy who lived farther north on this street. (Samuel Pomeroy's buildings were gone by 1866). King Pomeroy suffered from asthma, and was not able to work very hard. He did keep some stock in his barn which stood across the road from the house. In 1850 King married Sarah Clapp, born 1819, daughter of Martin Clapp and wife Lucretia (Farnam) Clapp. King married (2) Hilah M. Bolt of Shoreham, Vermont. Hilah died in 1877 and King died on march 8, 1880.
By his first wife, Sarah C. Pomeroy, King Pomeroy had three sons, Henry, William and Samuel.
Henry Burt Pomeroy, born 1852, married Harriet Lindsay of Reysville, N. Y. They located in Easthampton where Henry engaged in the dry goods business. Later he was connected with Mill River Button Co. of Leeds and later still took a position with a corset manufacturer in N. Y. In 1899 he moved to Cortland, N. Y. and build a fine homestead there.
William King Pomeroy was born in 1853. In 1884 he married Sarah Wadsworth at Becket. They lived in Easthampton and he died in 1890.
Samuel Clark Pomeroy, born in 1857, married Arcilla P. Merritt in 1878. They lived in Huntington. He was accidentally killed in 1890 while taking a loaded gun out of the carriage of his friend Mr. John Leitch.
Joseph H. Kingsley who lived on the next place to the north bought this property after King Pomeroy died in 1880. In 1881 Joseph Kingsley rented the house to Eugene Lowe and family; in 1882 to Fred Allen and family; in 1883 and 1884 to Luther Gorham; and to George Rood in 1885 and 1886.
The next occupant was Dwight, a son of Joseph H. Kingsley. Dwight H. Kingsley married Hattie Powers, June 15, 1887, and their son Harry was born in this house. Hattie Powers Kingsley died July 13, 1891 and Dwight married (2) Florence E. Sheldon, Dec. 15, 1892. Their daughter Florence E. was born here in 1893. Florence is now retired from her work as telephone operator and lives in Easthampton. Dwight and his family moved to a farm on East Street in 1894.
This house was next rented by Joseph Deptula with his wife Mary and their oldest son, Stash. Just how long they stayed here is not known. They were followed by the Schuman family.
In the fall of 1901 Arthur Z. Kingsley, son of Joseph H. Kingsley, moved here with his wife Lillian Dickinson whom he had married January 11, 1899. Their son Joseph H. was born here in 1902. When Joseph H. Kingsley Sr. died in 1904, Arthur and family moved into Joseph Sr.'s house next door and took over that farm. Also in 1904 Joseph Sr.'s three youngest daughters, Edith, Delia, and Georgia took ownership of this house where Edith and Georgia live.
Edith Kingsley did specialized work for the Heminway Silk Co. of N. Y. Delia Kingsley taught school for a total of thirty-nine years, a large part of that time in Stamford, Conn. She taught also in other places in Connecticut, in Massachusetts and in Pennsylvania. Georgia taught for forty-one years, all but one of these years in Easthampton. The last few years were in the Junior High School. Delia died in 1964, and Edith and Georgia still reside here.
–From "A History of Old Houses" by Atherton Parsons
Return to the Edwards Public Library website.