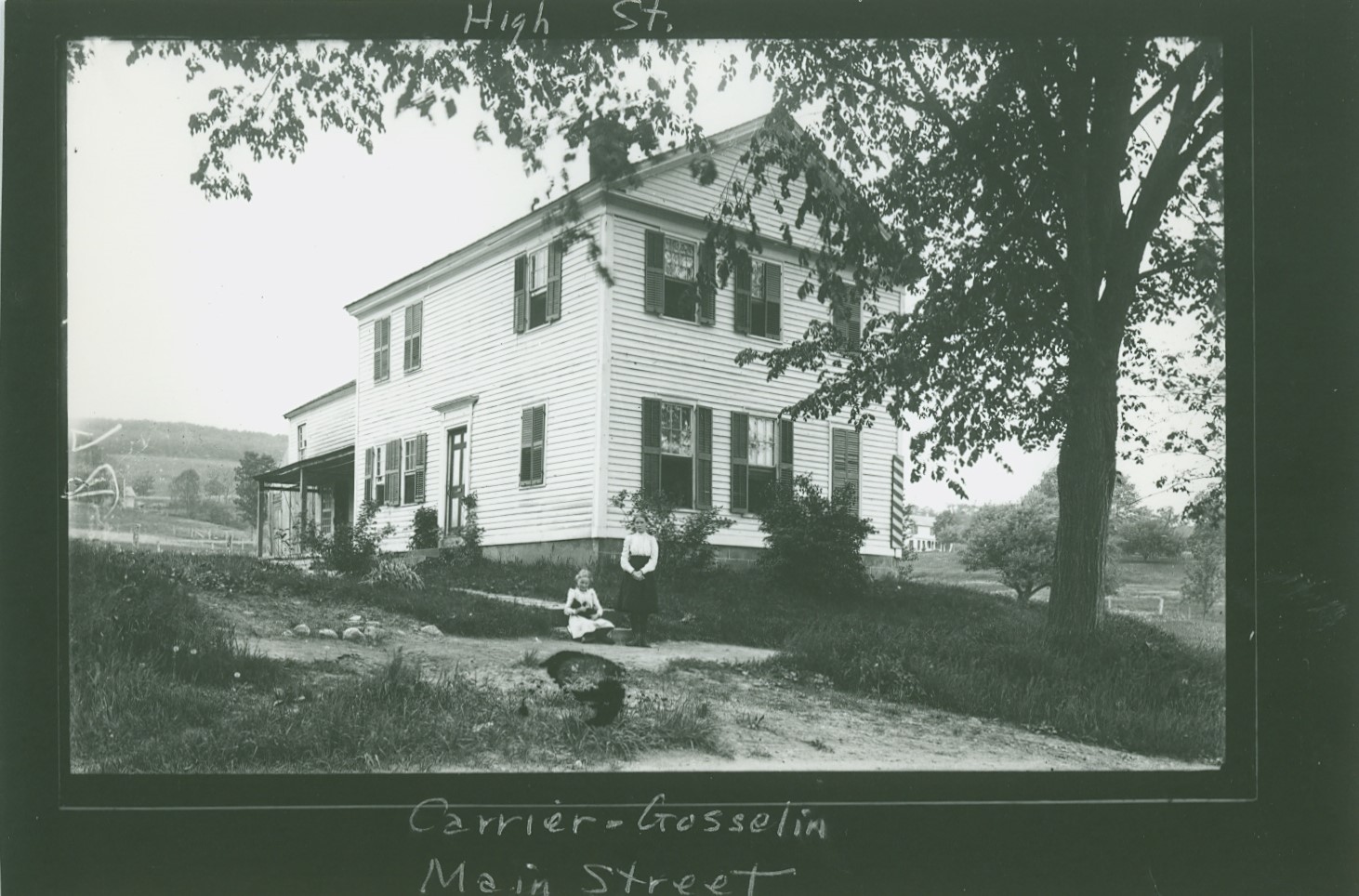 George W. and Aurora M. Gosselin – Main Street
This house was built in 1822 by Asahel Chapman, Jr. whose father lived in the house next south, (Willard and Dorothy Howland). Asahel Chapman Jr. married in 1822 Louisa Bates, daughter of Stephen Bates. They had no children. He worked in his father's blacksmith shop specializing in tin smithing.
In 1839 Jeremiah Ives bought the place from Asahel Chapman for $675, (86-268). Jeremiah Ives m. Laura Chapman, b. 1801, a sister of Asahel Jr. 5-10-1827. Jeremiah was a shoemaker, and his shop stood just south of the present Congregational Parsonage. Their five children were born in Southampton. Their oldest daughter, Sarah, m. 1849 Benjamin Gladden, and another daughter Ellen, m. Ely Thorp of Holyoke. No complete records are available on their three other children.
in 1857 Arba Stacy of Westfield bought the property from Jeremiah and Laura Ives for $1,000, (172-229). Arba Stacy's wife, Sarah B. died in 1868, at 39, and Arba died in 1871, at 47.
Sheldon R. Clapp (b. 1828 m. 1845 Mary E. Strong of Northampton, d. 1878) was the next owner, buying from William Stacy of South Hadley in 1871. Sheldon and Mary Clapp had four children born between 1846 and 1857; Mary, William d. died young, Albert, and Nellie who m. Henry Carrier in 1878. Mary Strong Clapp died in 1895, at 70.
Nellie Clapp Carrier owned the property until she died in 1925. She and her husband Henry Carrier had four children who lived to grow up. Homer C. married and moved to Providence, R. I., Elva Carrier m. Samuel Anderson and lived in Springfield. Sadie Carrier, unmarried, also lived in Springfield. Robertr Carrier m. (1st) Delia Brouilette and their two living children, Leona Carrier Ward, a widow, lives in Easthampton and Robert Jr. lives in Springfield. Delia B. Carrier died and Robert m. (2nd) Rose M. Phoenix of Turners Falls. They had one daughter, Vera Maude, now the wife of George Herzig living in Easthampton. Robert Carrier inherited the property from his mother Nellie. He lived here until 1939, when he moved to Westfield and sold the property.
The next owners were George W. and Aurora M. (Courchesne) Gosselin. Aurora came from Quebec, Canada. They were married in Holyoke 4-20-1925. Before 1939, they lived on the Will Allen farm on Pleasant Street. They have had eight children born between 1927 and 1950. George W. Gosselin is a sheet metal worker.
Their children are Norman, Lucille, Raymond, (Raymond was twin with Roger who died at age 4 1/2 months), Claire, Doris, Francis, and George H. All are now married except the youngest son, George H. who lives at home and he operates a welding shop on the home premises. When Normand was first married he lived in the upstairs apartment for a year or two. Claire, who married Leonard Carey also lived upstairs for the past 14 years, just recently moving to West Street, Easthampton.
–From "History of Old Houses" by Atherton Parsons
Return to the Edwards Public Library website.