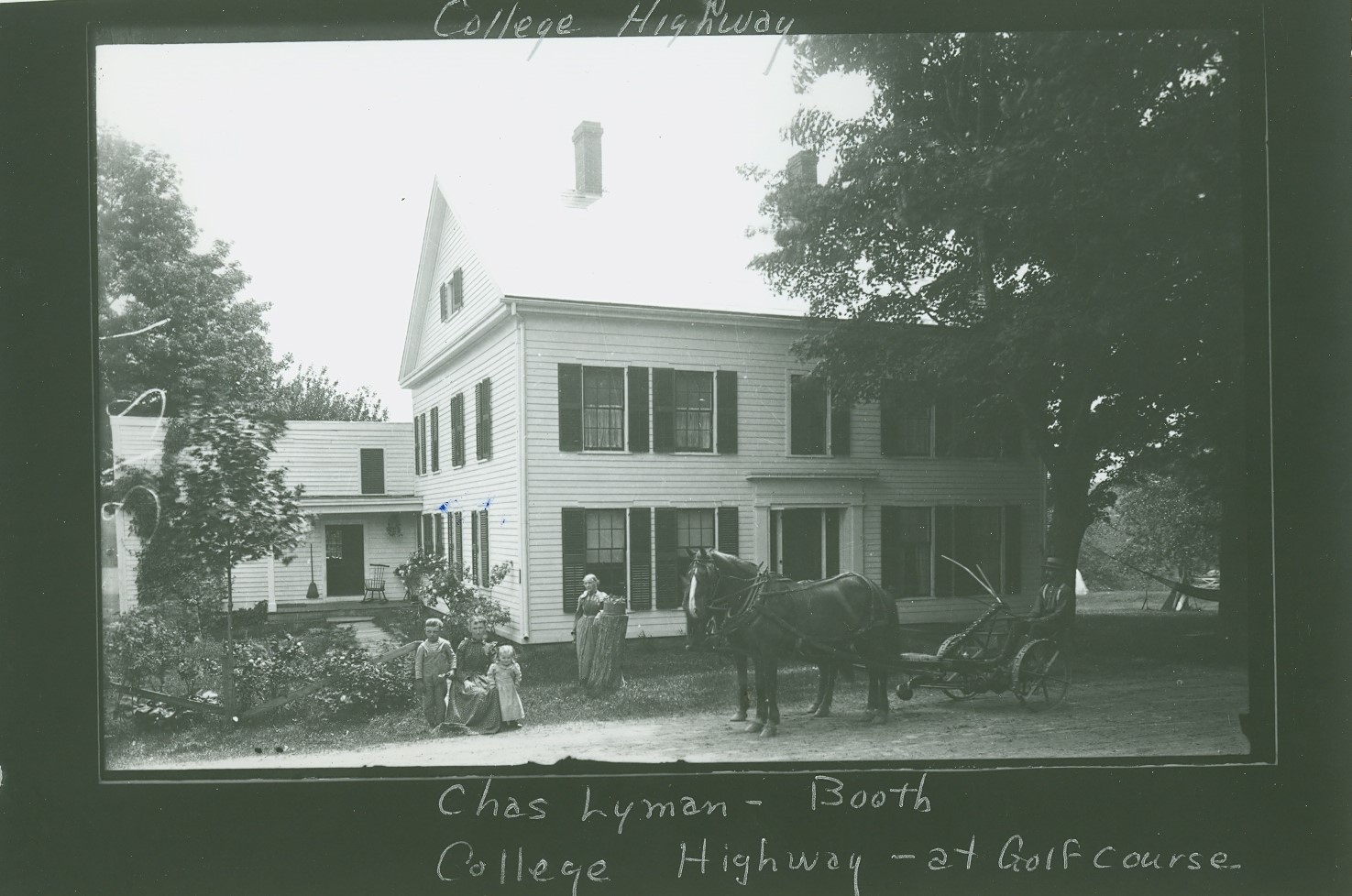 George L. and Mary L. (Crowley) Booth – College Highway
The Lyman Homestead
This is the homestead where Deacon John Clark of Northampton settled in the early 1730's. He was the son of John and Elizabeth (Cook) Clark. He was b. 1705 m. 1730 or 1732 Submit Searle the dau. of John and Abigal (Pomeroy) Searle. They had eight children –John and Chloe, both died soon, Jehiel b. 1736 m. 1760 Sarah Strong, Submit b. 1738 m. 1760 Elijah Clapp, John who died in 1767 with no record of his marrying, Gad b. 1742 m. 1773 Hanna Edwards, Martha, and Abigal who m. 1767 Selah Clapp.
Deacon John Clark was one of four men who were given liberty, by the proprietors of the town in 1732, to set up a sawmill at the Falls on Great Brook or below upon Manhan River. Whether a sawmill was set up at that time is not known, but certainly at a later date the Clark family did have an interest in a sawmill
Mrs. Submit (Searle) Clark died 1757 and Deacon John Clark m. (2) widow Submit Judd of South Hadley. He died in 1766 and beyond certain bequests to his widow and his other survivors he gave the rest of his estate to sons John and Gad. However, the son John died the next year in 1767. Quoting in part from his will "to my sisters Martha and Abigal room in my house to carry on their work as long as they remain unmarried." He left them also a certain amount of money as he did for his other sister Submit (Clark) Clapp. All the rest of his possissions (sic) he left to his brother Gad.
Gad Clark m. 1773 Hanna Edward (dau. of Samuel Edwards). They had two daughters Tryphena and Submit. Gad was a soldier in the Revolutionary War, was attacked by sickness and died soon after returning home in 1777.
His widow m. 1786 Stephen Lyman of Chester as his second wife.
Tryphena Clark b. 1775 m. 1793 Gauis Lyman son of Stephen Lyman of Chester by his first wife Anna Blair.
These two marriages made Stephen Lyman both stepfather and father-in-law to Tryphena (Clark) Lyman
Submit Clark (dau. of Gad Clark) m. 1810 Joseph Lyman cousin of Gauis Lyman.
After Gad Clark died in 1777 this farm was divided, with his daughter Submit receiving that part on which the buildings of Charles Goral now stand.
Gad Clark's widow and daughter Tryphena received the rest of the farm and these two shares finally passed to Gauis Lyman husband of Tryphena.
Presumably Gauis Lyman moved on to this farm in 1793 when he married Tryphena Clark. They had ten children–Gad C. Lyman b. 1796 m. 1st 1822 Achsah Searle; Hanna b. 1798 m. 1841 James K. Sheldon; Ann b. 1890 d. 1803; Gauis Jr. b. 1804 m. 1828 Silence Loomis; Tryphena b. 1808 m. 1839 Joel Miller of South Hadley; child born and died 1810; Catherine E. born 1811 married 1839 to Timothy Bates; Harriet born 1814 and died 1886 unmarried; Mary born 1817 died 1820.*
Gauis Lyman died June 13, 1841 and his widow, Tryphen, died January 12, 1842.
Early in 1841, Gauis and Tryphena had sold this property for $3,000 to their son, Gauis Lyman, Jr. He, however, was not living here at this time and probably had not lived here since he was married in 1828.
In 1842, he, Gauis Lyman, Jr. sold this property to his uncle, Samuel Lyman of Chester.
Samuel Lyman was a son of Stephen Lyman of Chester by his second wife, Hannah (Edwards) Clark Lyman, the widow of Gad Clark.
Samuel Lyman, born 1787, married Miriam S. Tinker in 1809. They moved here from Chester in 1842. Their ten children were all born in Chester, but six of the ten moved here with their parents.
The oldest child, Harriet, had married Garry Munson of Huntington and their oldest son, Stephen, had married Julia Searle in 1830. Their other children were Wealthy, born in 1816 and died in 1821; Miriam was born in 1819 and married Francis Strorg in 1845; Samuel, born in 1820 and died in 1823; Rufus, born in 1823 and married Sarah A. Bartlett in 1849; Samuel T. was born in 1824 and married Augusta Kirkland in 1849; Emma, born 1826, married to Samuel M. Coleman in 1848; Charles B. born 1828 and married in 1851 to Lydia Angeline Avery; and Mira, born 1833, married, 1858, to Solomon Richards.
Mrs. Samuel Lyman died in 1847 and Samuel Lyman married (2) Julia A. Marble in 1848. She lived until 1890 but Samuel died in 1876.
Charles B. Lyman, youngest son of Samuel and Miriam, stayed here with his parents and in addition to general farming he operated a farm produce route in Springfield. His wife, Lydia Angeline Avery, was a daughter of Richard and Mercy (Hutchinson) Avery.
They had two sons–Arthur W., born 1852 and married Anna F. Munson in 1878; Charles L., born 1865 and in 1890 married Etta F. Ranger. They also had a daughter, Flora, who only lived a year.
In 1855, all but the kitchen of the old house was torn down and replaced by the main part of the present house.
Charles L. Lyman stayed at home and worked the farm with his father. His wife, Etta Francena Ranger, born 1869, was a daughter of Joseph P. and Mary (Rogers) Ranger. Charles and Etta Lyman had three children–Harold, Hazel and Ralph.
Harold born in 1893 married Bessie Strype. He built a house on the home farm (now the Rapalus house). They left town after a few years and Harold married (2) Merle Irene Bennett of Brimfield.
In 1919 Hazel married Orrell Hendrick, they had three children–Ruth, Robert, and Theodore. Ruth married Girard Catalana and they live in Hartford, Conneticut. (sic) They have one son, Robert. See page 68 in this book.
Theodore married Maxine Frost from Cooper, Maine, and with their children, Darrell and Paula, live in a house which he built on the home farm (on the west side of College Highway).
Hazel, in 1960, married (2) Albert Vincent and they occupy a new house also on the original farm property.
Ralph Lyman married Rose Tessier and have one daughter, Norma. They lived for a few years in Southampton, but now live in East Longmeadow.
In 1930 part of the farm was leased for a golf course which has since been expanded and is now a major attraction.
In 1945 Charles L. and Etta Lyman sold the buildings and land east of the highway to John and Ida McTurk and moved to the W. J. Lyman (Ranger) house on East Street.
With this sale the major part of the farm passed out of the Lyman family after an ownership of about 150 years.
A feature of this property which should be mentioned is the spring of water situated a short distance south of the buildings, which reputedly has never gone dry. It supplied enough water for six or seven tubs in house and barn.
For many years the house was used for two families–the married son on one side and the "Old Folks" on the other.
John McTurk was killed in an automobile accident and his widow, Ida McTurk, sold the golf course and the house separately; the house and a small amount of land to George L. and Mary L. (Crowley) Booth. This was in 1955.
Both Mr. & Mrs. Booth were born and raised in Holyoke and he works at the Monsanto Chemical Plant.
They have ten children: Barbara, Nancy, Mary Lou, Richard, Carol, Linda, Howard, Kathleen, Robert, and Janet. The children were all born before the family moved here, but since then eight have been married from this house.
Two of the girls settled here in Southampton; Nancy, whose husband is Roger Sheafer and they live at the corner of High Street and Foamer Road, and Kathleen whose husband is Edward Dzialo and they have an apartment upstairs at the home place.
Of interest–the Submit Searle who married John Clark, the first settler on this farm, was born September 17, 1704, four months after her father John Searle was killed by Indians in the massacre at Pascommuck. Her mother Abigal was taken prisoner and knocked on the head, but she was rescued and lived for many more years. Submit's brother Elisha, a boy of nine in 1704, was taken to Canada by the Indians and lived with them for 15 years. He finally returned, married and settled in Pascommuck.
Charles B. Lyman – died – March 24, 1913
Lydia Angeline Lyman – died -October 4, 1920
Charles L. Lyman – died – May 12, 1948
Etta Lyman – died – August 27, 1960
Much of the information in this article was supplied by Mrs. Hazel Lyman Vincent and Theodore L. Hendrick, daugher (sic) and grandson of Charles L. Lyman
From "History of Old Houses" by Atherton Parsons
Return to the Edwards Public Library website.
*No information about the tenth child.