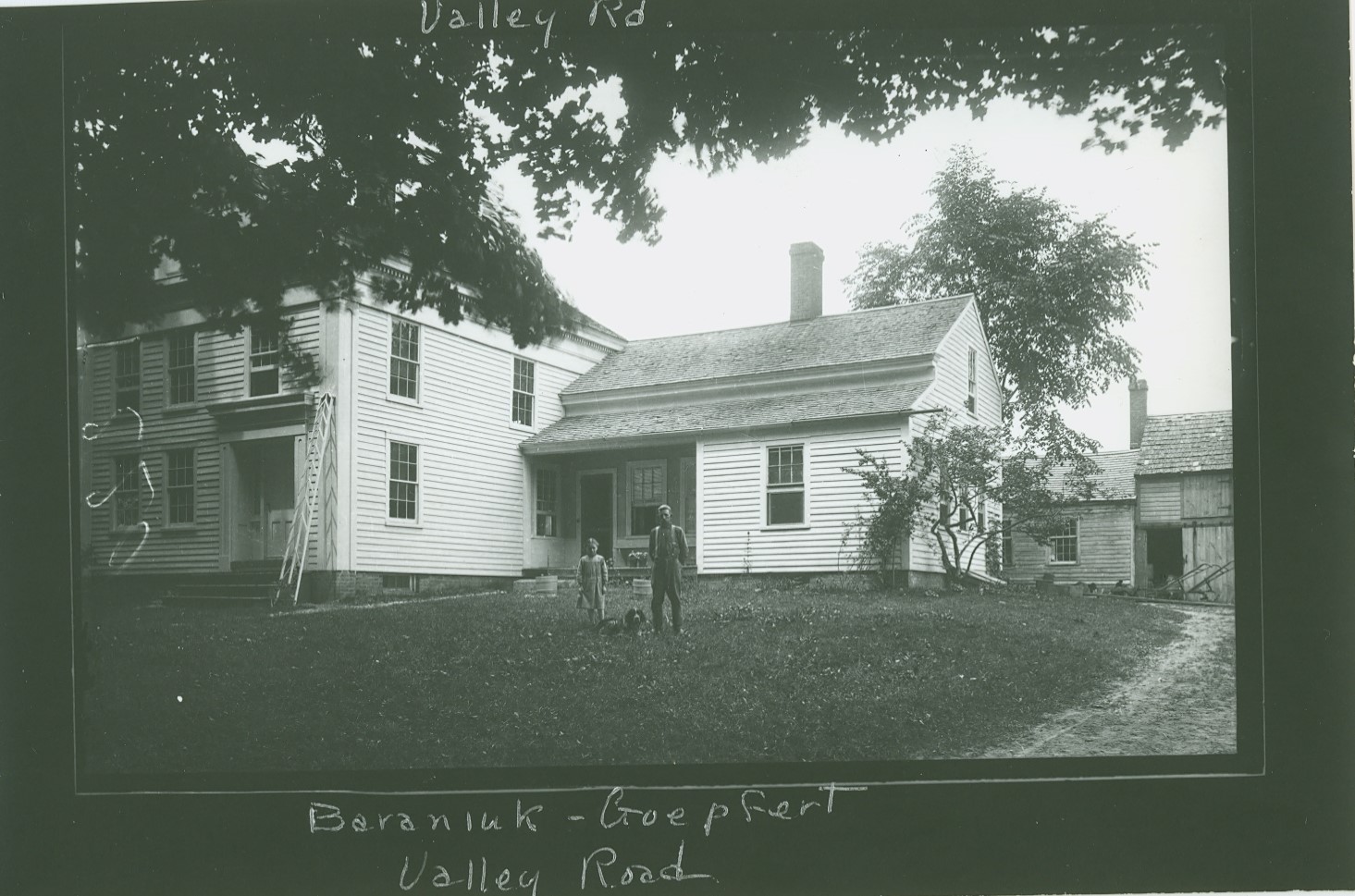 Franz W. and Elaine Goepfert – Formerly Norton Farm – Valley Road
Samuel Clapp Jr., born 1711, died 1755. He married Mindwell Strong in 1732 and came to Southampton in 1750. He homesteaded in the southeast part of town on what is now called the Norton farm. It can be assumed that after the death of Samuel his widow lived on here with their ten children. The oldest child was Elijah born in 1736 and youngest was Moses born 1751. Another son was Timothy born in 1740.
Nathaniel Clapp, son of Moses apparently became the owner of this property because he sold it to Seth and Ira Norton in 1825. It was stated that at that time Capt. Timothy Clapp had lately lived here. Benjamin Norton son of Ira, became the next owner in 1862, and he sold to George A. Lawrence in 1895.
George A. Lawrence sold to George Jenks in 1896. Mr. Jenks sold to Ignatious Malinowski in 1915. John Mayo bought also in 1915 but as he soon died the property came to be owned by Joseph Lemiux. Lemiux sold to Gottwald Herzig in 1918. Herzig sold out and moved to Easthampton in 1923. In the following fours years it was owned by Wojcieik Gayde and Joseph Widyka in 1926. Stephen Baraniuk was the next owner in 1927. His Son, John, was next in 1946, and then Charles Goebel in 1949.
Mr Goebel is dividing up the land and selling it in large size building lots. There are two fairly old houses here on this place. The smaller one is now owned by Herbert Boucher. The larger or main house is owned by Mr. and Mrs. Franz Goepfert.
The land on the south side of the road that belonged to this farm was sold to Mr. Henry Labrie by Mr. Baraniuk, and Mr. Labrie has built five houses on it for his children.
Two other lots were sold out of this property before it was sub-divided. Dr. Ripa built on a lot on Valley Road and his father-in-law built on a lot at the junction of Valley and Strong Roads. Ripa sold to Kenovak and Kenovak has just sold to a couple from Chicopee. At this time Gove lives in the other house (built by Ripa's father-in-law) at this time (1963).
About 100 yards north of the Gove place a new road has recently been made and there are now ten houses on this road and about half of them are already being lived in.
An old map in the archives at the State House in Boston shows that at one time there was a school house on this property on Strong Road maybe 200 yards south of the north property line and also a road from this school house running in the direction of Hampton Ponds.
A gentleman, Mr. Dubiel, built a house on Middle Road from the sub-division of this farm and while excavating for the house dug up old English bricks and uncovered two old wells about 50 feet apart one of which is very near the north wall of his house. This location is very near the old road previously mentioned leading from the old schoohouse to Hampton Ponds and leads one to believe that at one time there were buildings and perhaps a house at this location.
–From "History of Old Houses" by Atherton Parsons
Return to the Edwards Public Library website.