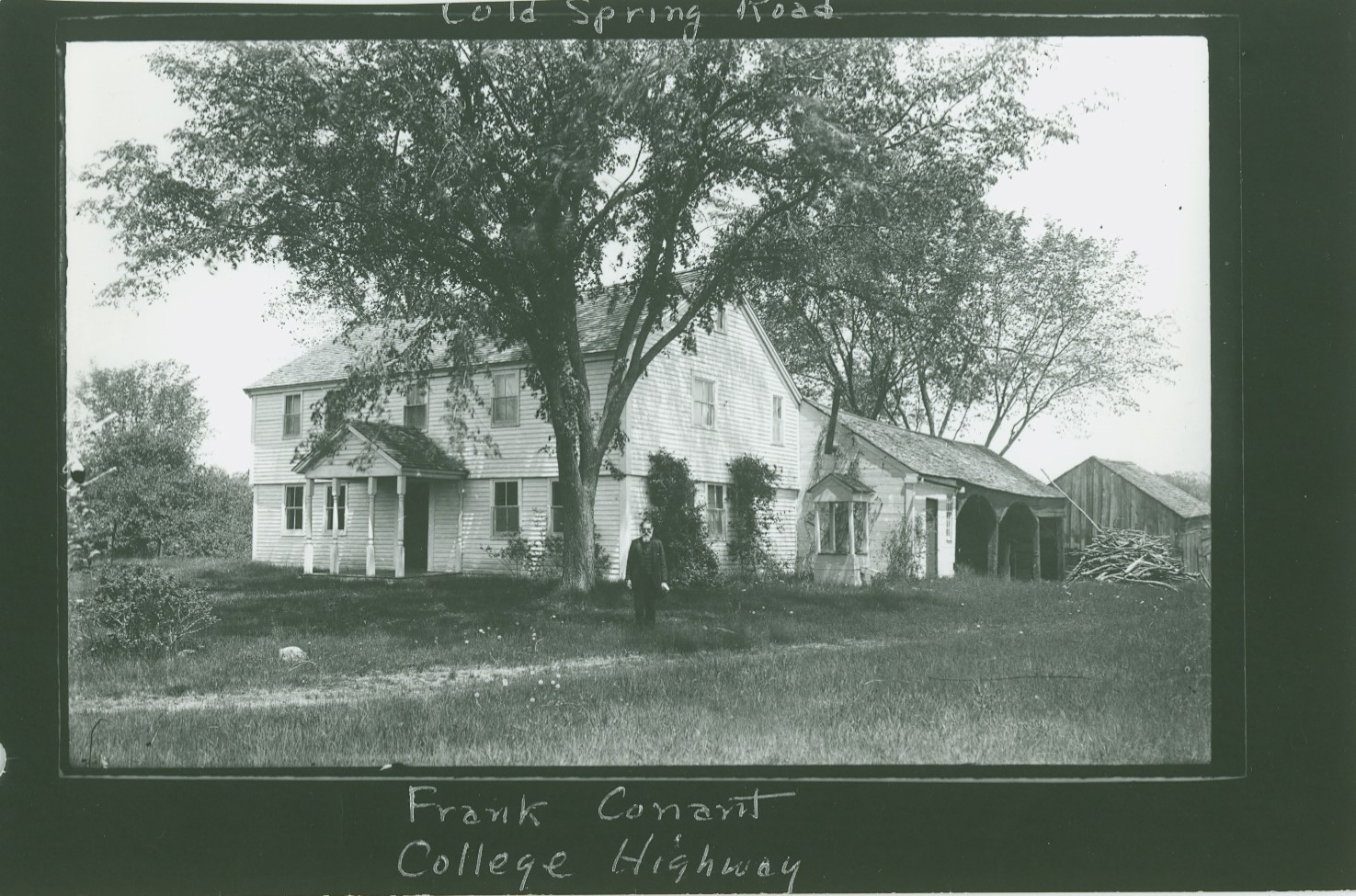 Frank P. and Ruby B. Conant – College Highway
Ebenezer Kingsley was one of the first settlers in Southampton. Probably one of the rooms in this house was the first house that he built. In "History of the Connecticut Valley" published in 1879 Louis E. Everts, the author, writes "after the drawing of lots on June 8, 1730, several of the proprietors came out to their lots, made some improvements, and cleared small tracts of land, leaving their families, however, in Northampton." Possibly the improvements can be interpreted to mean the erection of some buildings.
There is a gravestone in Southampton Cemetery which has the following inscription: "In memory of Ensign Ebenezer Kingsley and Mrs. Mary, his wife. Ensign Ebenezer died March 21st, 1783 in the 79th year of his age. Mrs. Mary Kingsley died Feb. 8, 1781 in the 74th year of her age. They were the first settlers in Southampton." Ebenezer and Mary Kingsley had seven children but only two need be mentioned here, Ebenezer Jr. and Azubah. Ebenezer Jr. born 1728, their first child, died in the Revolutionary War in 1775. The sixth child was Azubah born 1741, who married Lt. Lemuel Rust in 1762.
This couple, Lemuel and Azubah Rust settled on the east side of Pomeroy Mountain where now only a cellar hole remains. They lived there until 1774, when they purchased the farm which is the subject of this sketch from Ebenezer Kingsley, the father of Azubah. This deed (1-218) reads in part "for 100 lbs. lawful money the house in which I dwell and all and every building, 53 acres more or less. In the fourteenth year of His Majesty's reign."
Rev. Vinson Gould, Southampton's second minister bought this property from Lemuel Rust in 1802 (20-43). Rev. Gould, born in Sharon, Conn., in August 1773, was licensed to preach in 1799. He came to Southampton in 1801 as a colleague with Rev. Jonathan Judd during the time when the town's population was 1300. in 1808 he married the only daughter of Dr. Sylvester Woodbridge, Mindwell, and the couple had six children. Later, they lived in Woodbridge Hall, East Street. It is said that he tutored several young men, among them Samuel Williston. As a pastor he was dismissed in 1832, and he then taught school in South Hadley and preached in Bernardston. Later he returned to Southampton and preached his last sermon in First Church. He died in 1841 and was buried in Center Cemetery.
In 1828 (59-531) Elihu Brown bought this property from Rev. Vinson Gould. The price was $1600 and the land, 73 acres, went to the Manhan River, (no railroad at that time).
Samuel J. Loomis was the next owner. He bought it from Elihu Brown in 1837 (79-475). The farm was then described as being 60 acres and the price $1725. Samuel J. Loomis, son of Alexander and Miriam (Jones) Loomis, born 1809, married Lovina P. Wolcott in 1831. One of their daughters, Miriam, born in 1833 married Howard Johnson in 1851. Another daughter Laura, born 1838, married Almon Spooner in 1854. Lovina died in 1840 aged twenty-seven. Samuel J. Loomis then married (2) Naomi Clark. They had two children, Henry C. Loomis born 1842, married in 1873 Lucy Nimocks; and Emma, born 1851, and married 1887 (?) Thompson. Naomi, the second wife of Samuel J. Loomis died in 1859 aged forty-two and he married (3) Lucy Tower in 1861. Samuel died in 1886, aged Seventy-seven.
Levi Burt of Westhampton bought this property from Samuel J. Loomis in 1850 (133-422). However, Samuel J. Loomis bought it back from Levi Burt in the same year (134-249). Probably Levi Burt did not live here.
Rachel De Graff, wife of Andrew De Graff of Ohio bought this property from Samuel J. Loomis in 1854 (158-409).
Mary Frary bought it from Rachel De Graff and Andrew De Graff in 1865 (231-10). This was a quit claim deed and Charles H. Frary also received a quit claim deed from Andrew De Graff in 1873 (306-161). These last two transactions were evidently a family affair as Mary Frary was the wife of Charles H. Frary and sister of Rachel De Graff. Mrs. Charles H. Frary married (1) Charles P. Weld of Worcester. They had one daughter Elizabeth who married Charles Pomeroy in 1858. Elizabeth and Charles Pomeroy had no children and he died in 1904 and 1905. Charles P. Weld died in 1836. Charles H. Frary and his wife Mary Pomeroy (Weld) Frary had two children, Sarah and Andrew. Sarah M. Frary born 1841 married John G. Rathbun. Andrew Charles Frary born 1843, married Mary Coutts. They had no children and he died in 1912. John G. Rathbun died in 1885, age 47.
The children of John G. Rathbun and Sarah H. Frary Rathbun were Andrew, Mary Elizabeth, Frank and Eleanor. Andrew Rathbun was born in 1870 and died in 1871. Mary Elizabeth Rathbun, born 1874, married Frederick E. Judd as his second wife, May 3, 1920. Frank De Graff Rathbun, born in 1876 married Mary Goldacker. He was a mining engineer and resided in Morenci, Arizona. Eleanor Parker Rathbun born in 1880, died unmarried in 1904 in Morenci, Arizona, where she had gone in the hope of better health in that climate.
From 1854 until early 1900's it seems impossible to find out who actually occupied this house, though we have the records of the owners. Probably it was used as a summer home by Mrs. John Rathbun, her daughter, Mary Elizabeth Rathbun, her half sister Mrs. Elizabeth Pomeroy (widow of Charles Pomeroy) and Andrew C. Frary, brother of Mrs. John Rathbun.
Sarah F. Rathbun sold the property to Dorothy (Priest) Conant in 1928 (846-324). Her husband was Harold W. Conant. They were married in 1915 and had three children, Frank P., Lucy H., and Elizabeth N.
Frank P. Conant married Ruby Bowlin of Ft. Gibson, Okla. in 1947. Lucy Conant lives in Hamden, Conn., and is a teacher of Public Health Administration. Elizabeth Conant married Donald B. Cook, a physicist for the DuPont Co., at Wilmington, Delaware.
Dorothy Priest Conant died in 1958, and Harold W. Conant married (2) Eudora V. Van Meter. Harold Conant was associated with United Elastic Corporation for nearly sixty years as president, general manager and chairman of the board. He was of great help to Southampton, contributing largely to educational needs of college students, school funds, Conant Memorial Park, and town improvements. Harold Conant served as water commissioner for thirty years and was instrumental in developing the fine system we now have.
A long time member of First Congregational Church, he served as trustee and deacon and on may committees.
Frank P. and Ruby B. Conant purchased this property from Frank's mother (Dorothy P. Conant) in 1954 (1185-426). Frank and Ruby have four children, Dale, John, Ann and Mary. Frank P. Conant is associated with the United Elastic Corporation as corporate secretary and vice president of International Operations.
–From "History of Old Houses" by Atherton Parsons
Return to the Edwards Public Library website.