Ha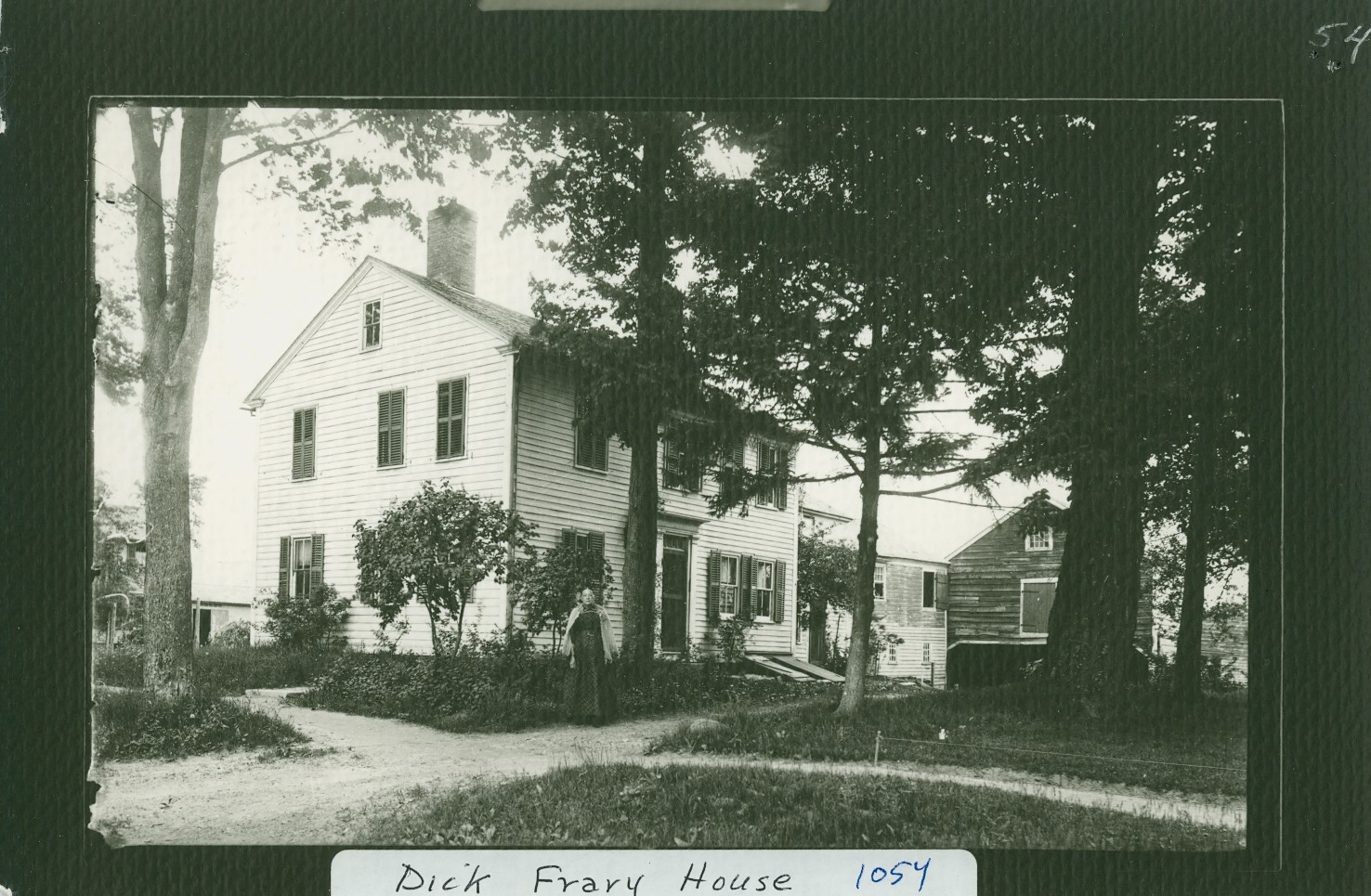 Dr. Josiah A. Gridley, now (1968) Richard and Dorothy Frary – East Street
A Southampton National Register Parcel
This house was built sometime between 1828-1830 by Henry Bascom and his brother. They sold it to Dr. Josiah A. Gridley in 1830. Josiah A. Gridley was born in Southington, Conneticut (sic) in 1802 and brought to Southampton by his father, Lemon Gridley, in 1806. Josiah married 1823 Fidelia Searle (daughter of Gaius and Electa Day Searle). When Josiah bought this property there was about 3/4 of an acre of land with it, and in later years he bought several pieces of adjoining land.
Dr. Gridley had a short medical education and was a manufacturer of patent medicines. He was a salesman on the road selling his medicines. He collected some of the ingredients for his medicines from nearby fields and woods. William Crowley who as a young man worked for Dr. Gridley relates that they collected burdock root, yellow dock root, and princess pine. Spiritualism appealed to Dr. Gridley and many seances and meetings were held at his home. He wrote at least one book on the subject of spiritualism. His wife, Fidelia Searle Gridley, died in 1853, age 50, after bearing five children. They were: Joseph P., who died at birth; Albert J., died in 1851, age 19; Electa who lived in the homestead till she died in 1895; Charles P. who married 1862 Augusta Clark (daughter of Joel); and Adeline Fidelia born 1843, married 1862 to Samuel F. Edwards (son of Asa Edwards).
Joshia Gridley married (2) Elmira Wright of Westhampton. She died in 1863 and he married (3) 1864 Mrs. Phila (Stiles) Ivers of Waterford, Vermont. Josiah had two children by his third wife; Hattie, born 1866 and Eva Mira born in 1869. Josiah died in 1876 leaving a rather complicated will. His widow married 1878 Mr. John Woods of Indiana. She and her daughter, Eva, lived with him a short time in Little Rock, Arkansas, and then they returned to Southampton to live. They lived here until 1917 when they moved to Westfield.
Harlan Hogan and his wife Mary (Lyman) Hogan bought this property by a trustee's deed in 1924 and they sold to Henry L. Parsons in 1930. Henry Parsons had sold his farm about this same time and he and his second wife Pearl K. Scott Parsons and her son Hugh C. Scott lived here until Henry died in 1932. Mrs. Pearl Parsons, widow, married a Mr. J. C. Ashley and moved to Amherst. Hugh C. and Edward E. Scott bought the property from the estate of Henry L. Parsons in 1938. Hugh C. Scott and Edna Elizabeth Johnson (daughter of Oscar and Anna Johnson) were married September 4, 1937. They had three children: Margaret Ann (born November 26, 1941), Elinor Jean (born November 24, 1944), and Hugh Canniff, III (born November 9, 1948). Mrs. Edna Johnson Scott died August 22, 1951 and Hugh Scott sold this property to Theodore and Helen K. Ulrich on August 13, 1956. The Ulrich's sold to W. Thomas and Betty L. Hughes November 14, 1963. The Hughes sold to Richard M. and Dorothy B. Frary March 3, 1966.
Richard M. Frary, an engineer, and his wife Dorothy were married in 1955 and they have four children: Richard, Jr., Peter Carl, Laura, and Alison. Richard Frary is the son of Morris L. Frary and Morris' first wife Marguerite Louis Gagne.
–From "History of Old Houses" by Atherton Parsons
Return to the Edwards Public Library website.