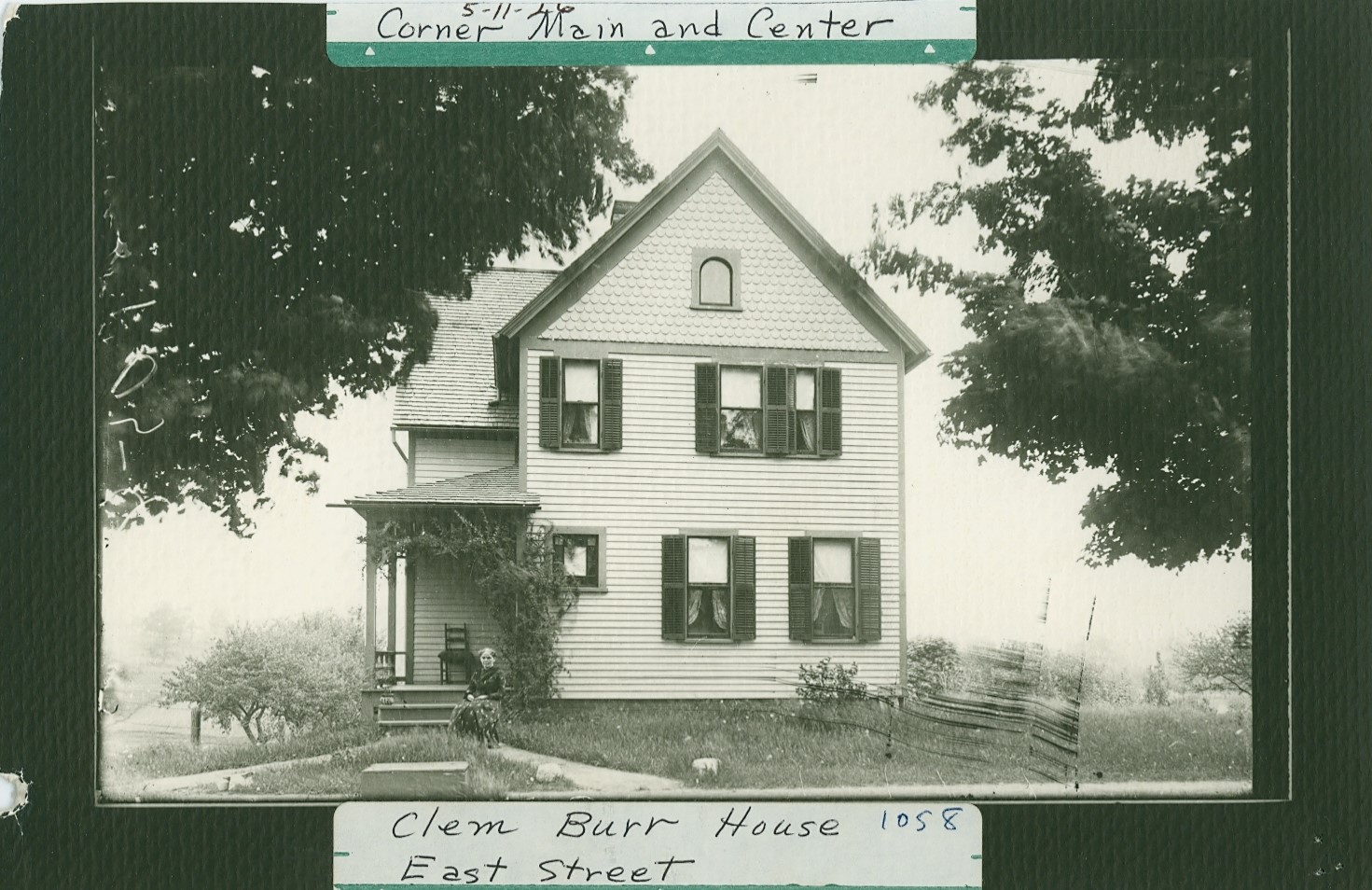 Clement F. and Mary Burr – East Street
A Southampton National Register Parcel
In 1828 Timothy Clark III purchased from Henry Parsons for $125, a lot of land described as 3 acres and 4 rods (south on Springfield Road).
Although there seems to be no recorded deed of a Homestead to Timothy Clark, adjoining this land, Jonathon Wolcott is reported to have bought land right or very near here and built a set of buildings. Timothy Clark III did have a Homestead here as he sold it with above described land to David Kingsley in 1834, (74-389) describing it as "4 acres on which I now live", now bounded north by Elihu Brown (the Harold Conant's farm), west by Vinson Gould (Sylvester Woodbridge farm).
Timothy Clark III, born 1794, son of Timothy Clark Jr. and Sarah Judd, married 1817 Phoebe Lyman (daughter of Thomas Lyman). They had three children, one died an infant, then Anson, who married Francis N. Searle III, Mary Clark born 1826. Timothy died 1840 apparently having moved from Southampton to Northampton soon after 1834.
David Kingsley born in Westhampton 1812 (son of Noah Kingsley and Electa Parsons) married Lucy Beebe in 1834. Electa Parsons was a daughter of Isaac Parsons and Mindwell King of Southampton, she being born just a few days after her parents moved from Northampton Southampton to settle in the wilderness. David died July 31, 1838, age 26, no record of any children.
Early in the same year in which David Kingsley died, he sold his homestead to Richard Kellogg for $1500 (1838) (81-556) the deed – "4 acres on which I now live".
Richard Kellogg sold to Gaius Searle in 1843. Gaius was born in 1772, his parents being Gideon (one of the 9 sons of Nathaniel (195-41) Searle) and Anna Pomeroy. He married first in 1797 Electa Day who died in 1818. Second wife, Mrs. Jemima (Lyman) Clark married in 1819. He married his third wife, Esther Pomeroy, in 1839, who died in 1862 at the age of 81. Gaius died in 1858, age 86, 7 children. After the death of Gaius the property was owned by both Albert S. Atkins and Joiah A. Gridley. Silas B. Sheldon was the next owner and one of his sons lived here for awhile. This son was called Bates Sheldon, and presumably his full name was Silas Bates Sheldon, who married in 1844 Phoebe Barnes, no children.
The old or first house must have either burned or was taken down as there was no house here in 1874 (according to Miss Lilla Ranger). While J. A. Gridley owned this property he evidently joined part of the land which other land he owned further east and which left only a small piece of land.
Flavell K Sheldon, son of Silas, sold this building lot to Caroline Edwards in 1893, and she built a house there which is the same building as is there now (1962).
Caroline was born in 1833, a twin to Elizabeth, who married Martin Gaylord. Their parents were Colonel Elisha Edwards and Julia King Edwards. Caroline never married but devoted her time to public works. Some of the writings are now in the Southampton Edwards Library and are very useful to present-researchers.
Albion and Leona (Carrier) Ward bought this property from the estate of Caroline Edwards in 1926. When they moved to Windsor, Conn., they sold to Clement F. Burr in 1946, who, with his wife, Mary, and two children, Linda and Charles, still reside there.
–From "A History of Old Houses" by Atherton Parsons
Return to the Edwards Public Library website.