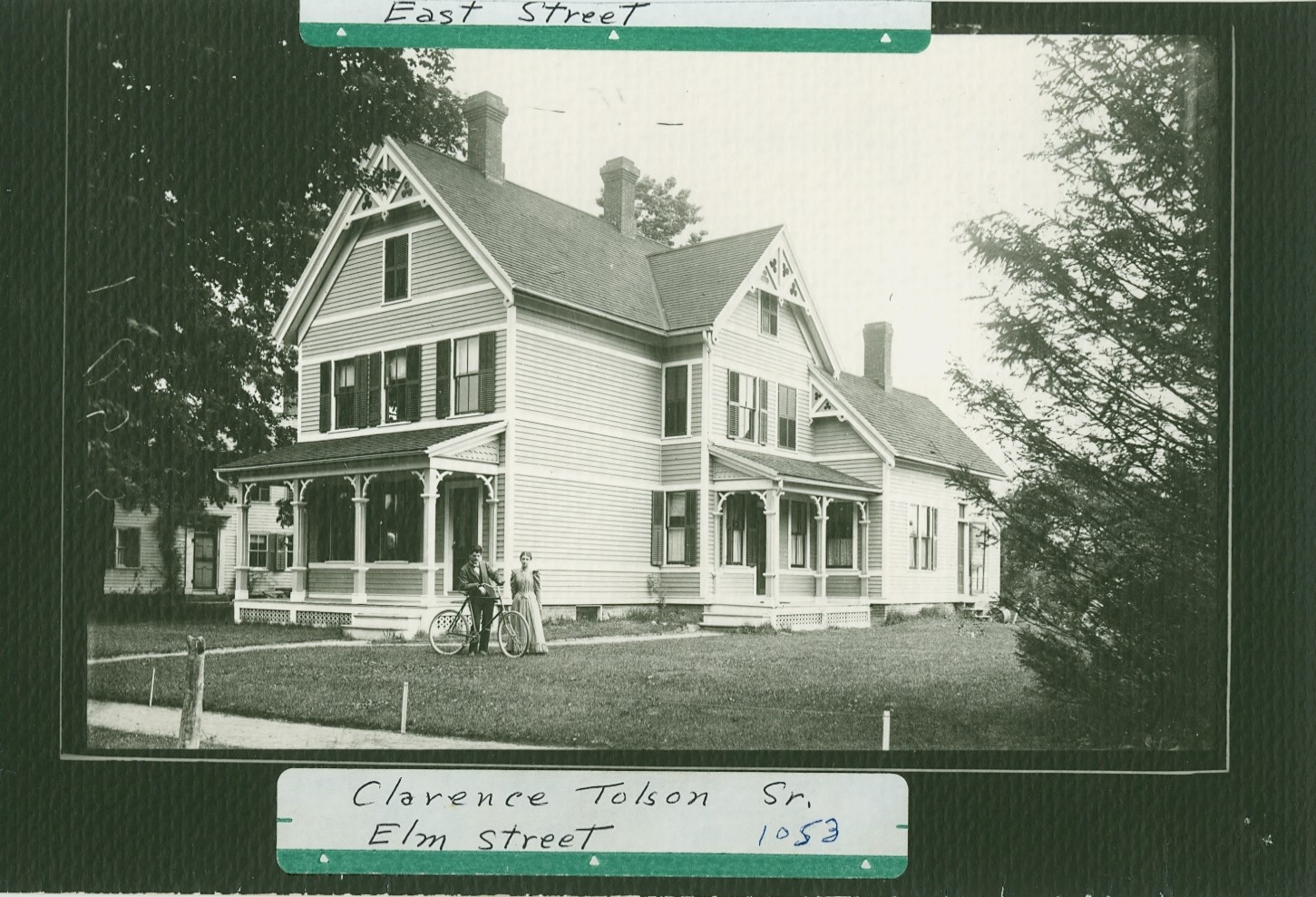 Clarence and Lena (Marcotte) Tolson – former Methodist Church Parsonage
The land where this house stands was purchased by the Methodist Episcopal Church of Southampton from Albert Atkins January 18, 1883; one-fourth acre for $200 (407-218). The house (to be used as a parsonage) was evidently built soon after the purchase of the land. The following ministers served the church and presumably all lived in this house:
William Wignall, 1883
Gervase A. Viets, 1884
Alfred Woods, 1885-1887
Jerome Wood, 1888-1890
William H. Adams, 1891-1892
Edward E. Abercrombie, 1893-1897
Thomas Livingston, 1898
T. C. Radoslavoff, 1899
John A. Betcher, 1900-1901
Thomas J. Judge, 1902-1904
Frederick W. McConnel, 1905
Charles Waldo Comstock, 1906-1908
Newton M. Caton, 1909-1910
W. E. Lang, 1911
H. G. Watling, 1912-1915
William Gladston Colgrove, 1916
James W. Higgins, 1917-1918
B. N. Angell, 1919
George H. Sutherland, 1920-1921
J. W. Walker, 1922-1923
Although the Methodist Church continued for some years after 1923, the last resident minister was Rev. J. W. Walker.
In 1924, the trustees of the Methodist Church sold this property to Ellen L. Nimocks, Henry S. Clapp and his wife Clara E. Clapp. Ellen L. Nimocks (widow of Harris Nimocks) and Clara E. Clapp were sisters, being daughters of Josiah Clark. A brother, Frank Clark, lived here also. Henry S. Clapp died in 1932; his wife, Clara, died in 1939; and Ellen Nimocks died in 1940.
Mrs. Maude E. Simenton (now Mrs. Busler) daughter of Henry S. and Clara E. Clapp inherited the property.
On February 18, 1943, Clarence M. Tolson bought this property from Mrs. Simenton (972-300). Clarence Tolson, born 1906, in Harland, Conneticut (sic) married, in 1927, Lena L. Marcotte born in Granville, Massachusetts in 1907. They moved to Southampton in 1929 living for some years in the house now owned by Walter Howland. Clarence and Lena Tolson have four children: Clarence M., Jr., married Barbara Miles; Aurea E., married John J. Jackson; Ronald J.; and Wayne. Clarence M. Tolson, Sr. built a garage on College Highway in 1952 and operates it as Tolson Motors.
From–" A History of Old Houses" by Atherton Parsons
Return to the Edwards Public Library website.