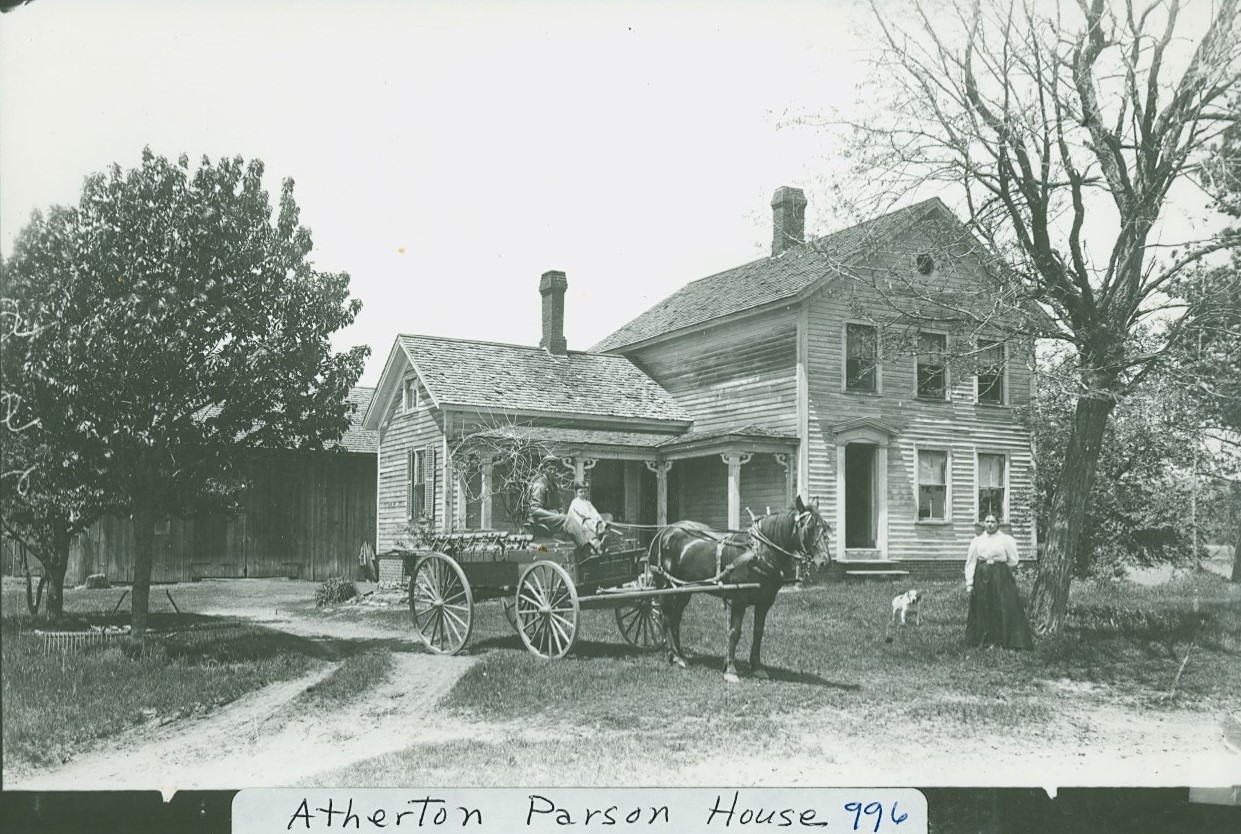 Atherton W. and Edith P. Parsons – Pomeroy Meadow Road
Originally the Leon Fowles land and the land now owned by Atherton W. and Edith P. Parsons was one piece. When the land in the town was divided, one hundred acres was acquired by Eleazur Hannum. Eleazur Hannum built the house which was owned for many years by Leon and Mary Fowles. The first house on the farm now owned by Atherton and Edith Parsons was probably built north of the present house. It was built previous to 1790, possibly when Eleazur's son Timothy was married to Silence Clark in 1772. This first house was torn down about 1880.
In 1794 Eleazur Hannum bequeathed the land and buildings on what is now the A. W. Parsons' property to his sons, Joel and Timothy. Timothy was living on the place at the time. In 1800 Joel and Timothy Hannum sold to John Miller, and in 1806 John Miller sold to Pliny Park, a speculator. In 1806 Pliny Park sold to Joshua Knowles. In 1806 Joshua Knowles sold to Thomas Rowley, Jr. He married Susanna Clapp in 1807. They had five children. One of them was Spencer Rowley who died in 1864.
In 1879 Spencer A. Rowley's heirs sold to Rachel L. Olds, 33 acres. When the Olds family, Enoch and Rachel, bought from the Rowley's, they built the house now standing.
1898 Arthur F. Frary and his wife Pocahontas (Taylor) Frary bought the property from Rachel L. Olds. The Frarys had two boys Frank T. and Morris L. Frank Frary has been the R. F. D. mail carrier in Southampton for many years, and lives nearby. He owns a large acreage of woodland including much of Pomeroy Mountain. Morris who was in the automobile business in Easthampton for many years resides in Westhampton. He also owns a large blueberry ranch on Fisher Hill in Westhampton, and a part of Pomeroy Mountain in Southampton.
In 1941 Atherton W. and Edith Parsons bought the property from Arthur Frary. They have one daughter, Rosalie Ann Parsons, born July 17, 1938. On June 5, 1959 Rosalie married Paul E. Mailman of Palmer, Mass., a graduate of the forestry course at the University of Massachusetts. Paul is employed by the Department of the Interior (U. S. Government). Paul and Rosalie and their three daughters, Brenda L., Krista A., and Heidi E. are presently living in Montpelier, Vermont.
–From "History of Old Houses" by Atherton Parsons
Return to the Edwards Public Library website.