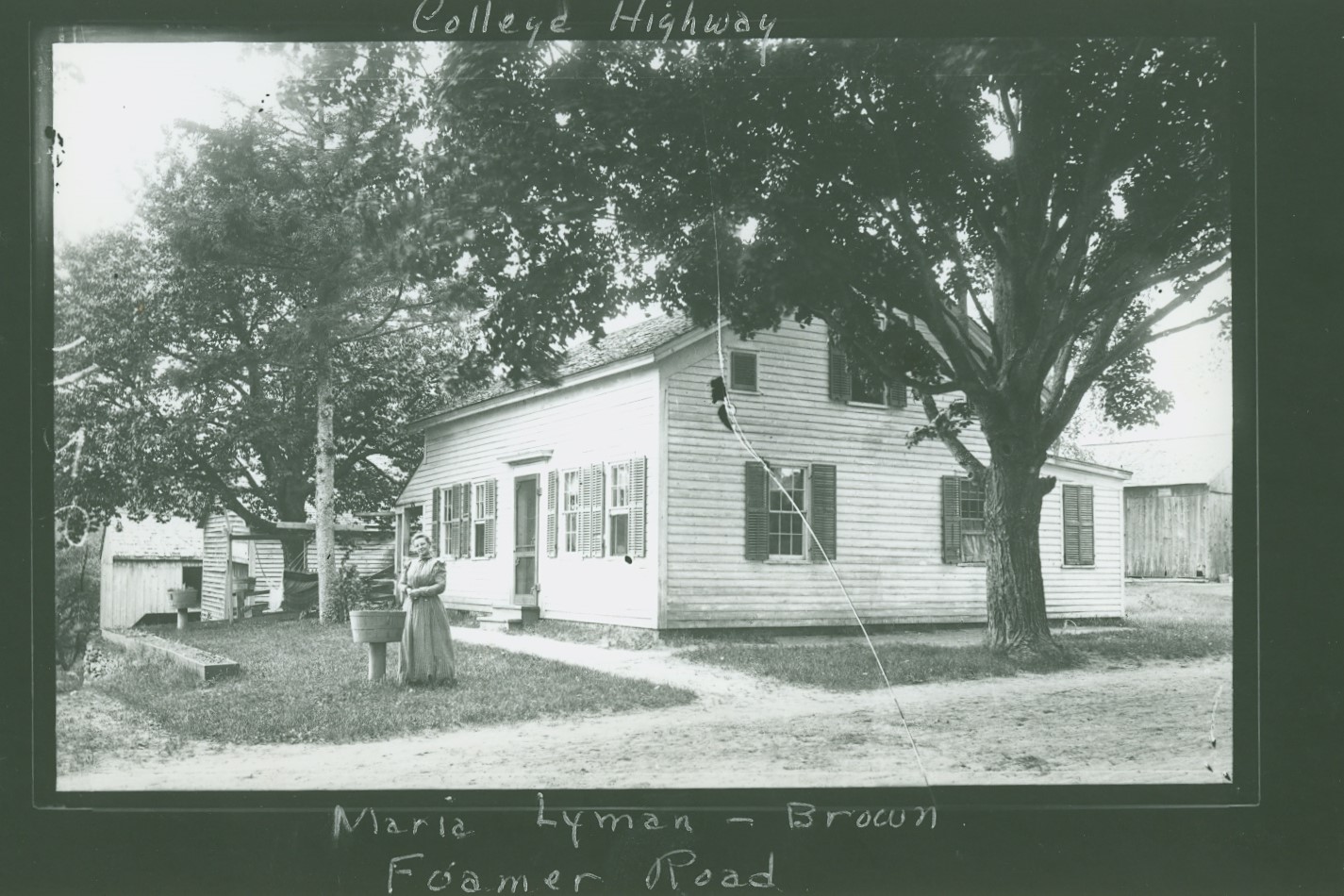 Arthur L. and Mildred (Colbath) Brown
The original part of this house was probably built about 1828 by Artemas Loomis, Jr. In 1836 he sold this property to Daniel Morgan for $310 (77-292). Daniel Morgan married, in 1837, Nancy Searle, daughter of Rufus and Nancy (Searle) Searle. It is later believed they moved to Illinois.
Merrick Searle bought it from Daniel Morgan in 1839 for $500 (86-223). Merrick Searle was a son of Nathaniel E. and Zilpha (Searle) Searle. Merrick Searle, born 1812, married Lucy B. Loomis of West Springfield in 1834. She died in 1864, age 51. Merrick Searle married (2) Mary R. Ashton in 1865. He died in 1868. Merrick and Lucy Searle had two children: Lucy Jane, born 1837, married 1856 Horace Atherton Hatch; and Helen born 1840, married 1866 George P. Lyman.
Horace A. Hatch, (born Middle Farms, Westfield 1835; died Westfield 1898) bought this property from his father-in-law, Merrick Searle, April 4, 1866. He married (1) Lucy Searle, daughter of Merrick and Lucy (Loomis) Searle. Horace and Lucy had one child, Willie, who died young. Horace married (2) 1870 Caroline C. Owen, born in Enfield, Conneticut (sic), 1838, died in Springfield, 1914. They had three children–Lillian, Harriett, and Horace Byron. Horace A. Hatch was an expert with horses and did a large business in buying and selling them, shipping them in from Canada by the carload.
Horace Byron Hatch, youngest child of Horace A. and Caroline (Owen) Hatch was born in Southampton, 1881, and when six years of age moved with his parents to Westfield. At eighteen years of age he came to live in Easthampton and engaged in the hardware and plumbing business. In 1905 he married Margaret E. Wade of Rockville, Conneticut (sic). They had six children, the second being Horace J. Hatch, President of the First National Bank of Easthampton. Horace J. Hatch writes that his grandfather, Horace A. Hatch had charge of the horses that pulled the street cars in Westfield, occasionally driving when he was needed to fill in. Edward C. Searle, as a ten year old boy rode on the horse cars in Westfield occasionally, and remembers being allowed to drive one of the teams, with Horace A. Hatch operating the brakes. The horses were not harnessed to hold back any of the weight of the car. About twenty horses were kept at the Westfield stable.
In 1868 (252-423) Gaius Lyman, Jr. bought the property which is the object of this sketch from Horace A. Hatch for $1500. Gaius Lyman, Jr. (son of Gaius and Tryphena (Clark) Lyman born 1804, married (1828) Silence Loomis daughter of Curtis and Jerusha (Clark) Loomis. They had four children born before they moved here. They were: Frances who married Stephen A. Bates, Henry and John who died young, and Edward Blair Lyman. Gaius Lyman, Jr. and family had formerly lived in what was known as the Canal Storehouse, and he was freight and passenger agent for both the canal (which operated from about 1835 to 1847), and later the railroad which began operating about 1855. He also ran a store there. This store-house has long been used as a residence and is situated at the corner of Brickyard Road and College Highway, now owned by the Goral Family.
Mrs. Gaius Lyman, Jr. (Silence) died in 1870 and Gaius married (2) widow Hannah Emerson. Gaius died in 1886 and left his property for the life use of his son Edward Blair Lyman, to go eventually to his grand-children.
Edward Blair Lyman born 1847, married 1871 Maria Woodbury born Cummington, 1852, daughter of Rev. Joseph J. Woodbury. Edward and Maria Lyman had four children: Henry E., killed in the Spanish American War; John L. born 1875, married Anna Graves; Delbert E. born 1883, and died 1884; and Winifred C. born 1887, died 1965, unmarried, was a school teacher for many years John L. Lyman settled in Easthampton and was a very successful lawyer and judge. At his death in 1965 he willed $15,000 to the Southampton Historical Society, in which he was much interested.
In 1954 Douglas Madsen bought this property from John and Winifred Lyman (1160-222) and in June, 1955, he sold it to Arthur and Mildred C. Brown. The Browns came originally from Maine where Arthur Brown was a funeral director. Since moving to Massachusetts he has been a salesman and is now semi-retired with hobby of harness horse breeding. Mildred C. Brown teaches sewing to a class in Westfield Trade School.
–From "History of Old Houses" by Atherton Parsons
Return to the Edwards Public Library website.