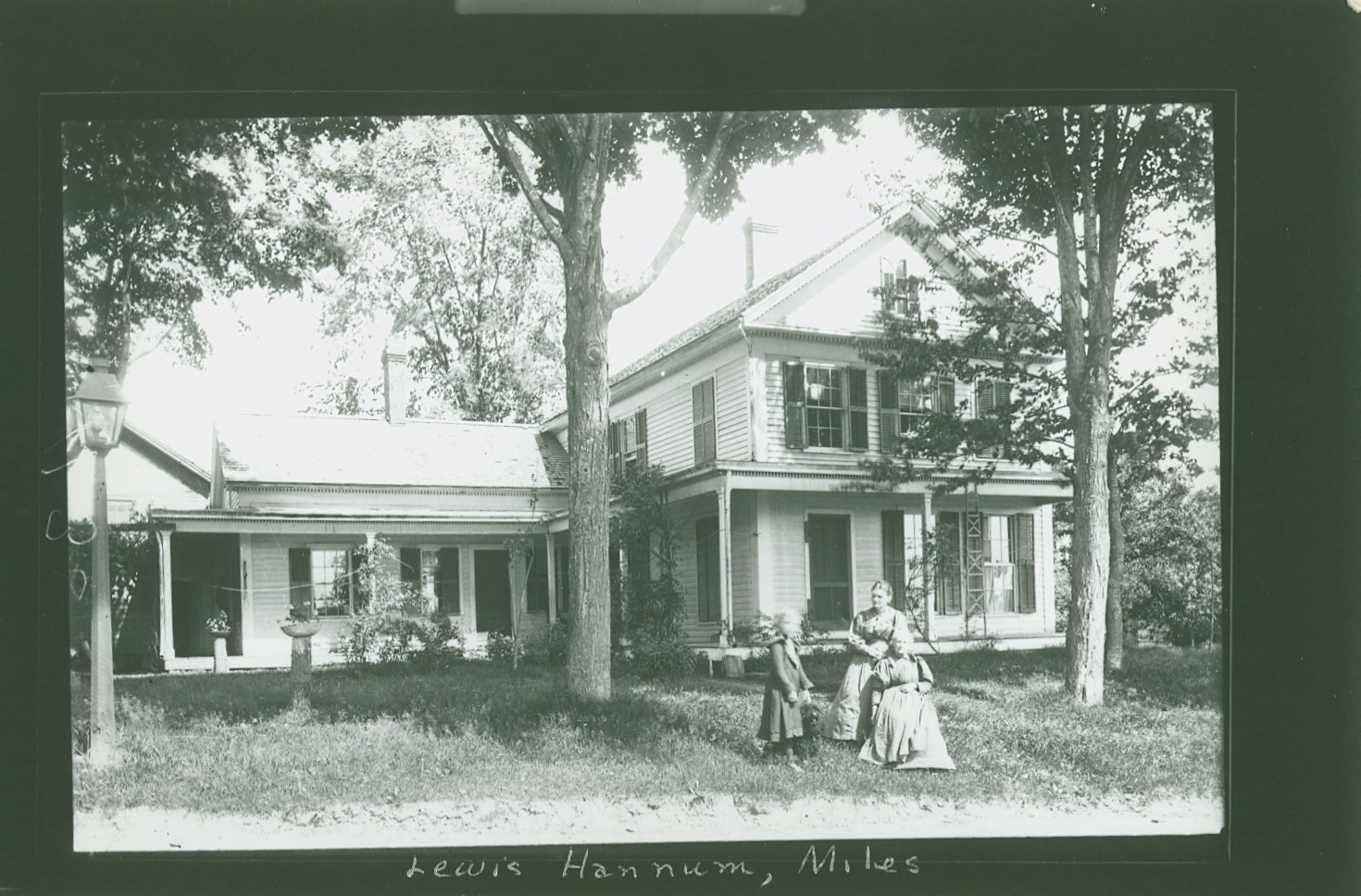 Albert J. and Gertrude T. Miles – College Highway
A Southampton National Register Parcel
The land where this house stands was bought by Lewis Hannum from Elisha Edwards February 1, 1866 (472-251). Later in 1889 Lewis Hannum bought other land adjoining from Charles Goodrich (472-249). Lewis Hannum (son of Quartus and Jane (Rogers) Hannum), born 1817, married (1839) Nancy Robinson. They had one son Melvin L. married Julie Reed. Lewis Hannum probably built the buildings here soon after he bought the land in 1866. Caroline Edwards wrote that the old Judd cooper shop was moved here and became part of the barn.
After the death of Lewis Hannum in 1893, Mary A. Tyler purchased the property from Melvin L. Hannum, administrator of the estate of his father, May 13, 1895. Mary A. Tyler and her husband, George W. Tyler (born in Canaan, Conneticut (sic) had two children; Charles W. and Marion E. Tyler. Marion E. Tyler was born 1888 and died in 1903. George W. Tyler is well remembered today as for many years he carried the mail to and from the post office and rail road station. Also he carried passengers in his horse drawn express wagon. Mary A. Tyler died in 1917 and George W. Tyler on February 2, 1918. Mary A. Tyler had left her property in a trust, the eventual recipients being her granddaughters Hazel and Gertrude Tyler.
Soon after the deaths of George and Mary Tyler, their son, Charles W., and his wife, Minnie (Sheldon) Tyler, with their daughter, (sic) Hazel and Gertrude, moved into the house. Charles W. Tyler was R.F.D. carrier for many years. After he died in 1926, the house was occupied by his daughter and son-in-law, Frank H. and Hazel T. Sherman. Frank and Hazel Sherman have two children; Frank, Jr., and Florence. Frank Sherman, Jr. married Mrs. Elizabeth Maxwell Stevens and they now live in Westfield. Florence married George Gosselin and they built a new house on East Street. Frank and Hazel Herman sold their interest in this property to Albert and Gertrude Miles and now live on East Street
In 1926 Mrs. Minnie Tyler and her daugher (sic) Gertrude had moved to Holyoke and stayed there until 1937. While there Gertrude married Albert J. Miles and their daughter Barbara was born there. Minnie Tyler died in Holyoke in 1937, and Albert and Gertrude (Tyler( Miles with their daughter, Barbara, moved back to Southampton and Albert now owns and operated a television sales and repair service. Barbara Miles married Clarence Tolson, Jr. and they live on East Street.
–From " A History of Old Houses" by Atherton Parsons
Return to the Edwards Public Library website.