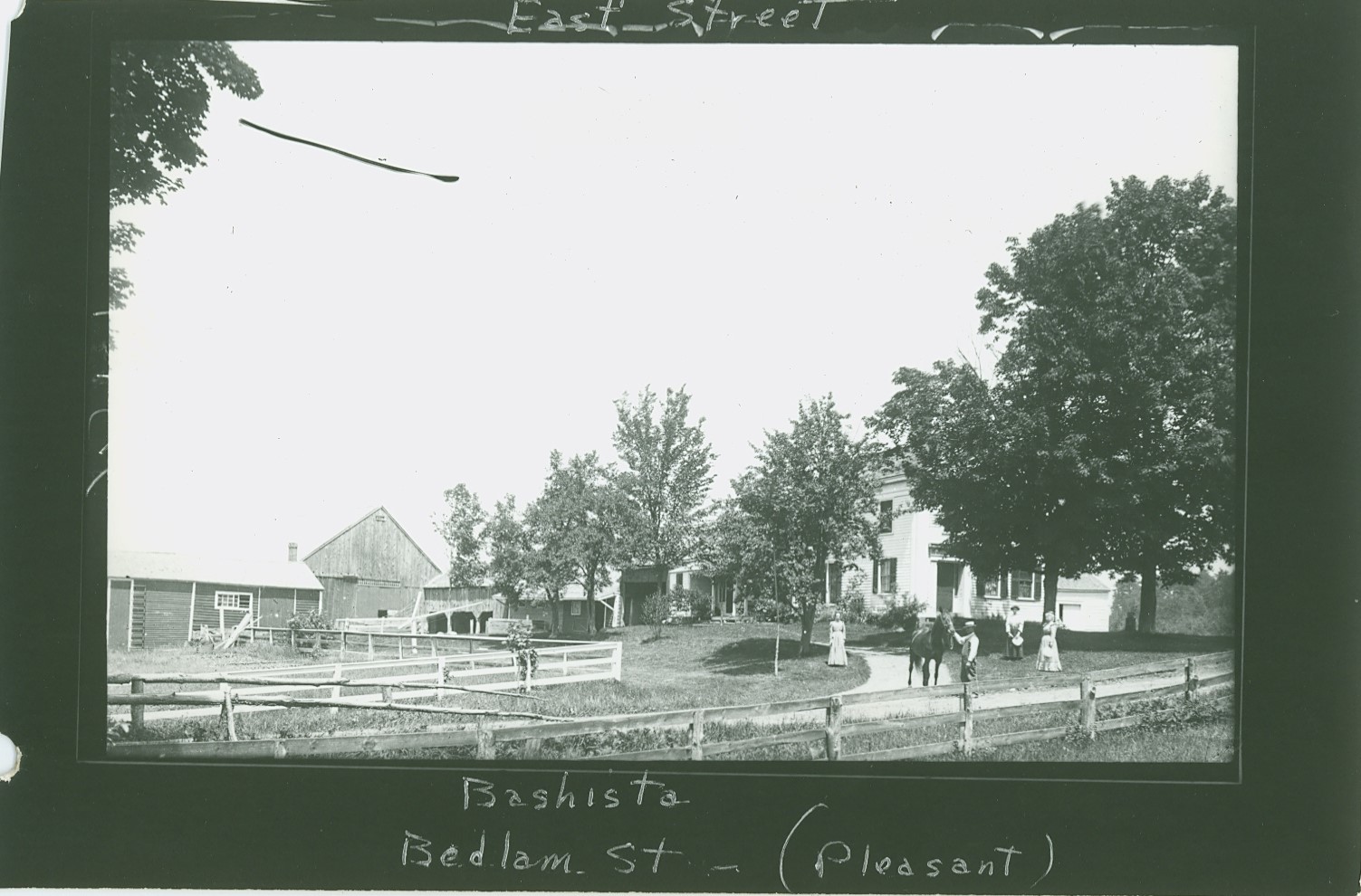 Edward and Stella Bashista- Pleasant Street
Gaius Searle, born in 1772, bought this property in 1804 from his father Gideon Searle, who homesteaded the farm to the south (now owned by Kenneth Gunn). Gideon gave a deed for 22 acres and 14 rods (42 rods on the road) to Gaius, and the deed also specifies "with building". Gaius married Electa Day of West Springfield in 1797, and it is reasonable to assume that Gaius or his father built the first set of buildings after 1797. When Joe Brown remodeled the horse barn about 1930 he found evidence that the barn had been used for living quarters at some time, and this may have been the first house built here. Gaius and Electa Searle had seven children but the only one to stay in Southampton was Fidelia, born in 1803, who married Dr. Josiah A. Gridley in 1823.
Harris Nimocks bought this farm from Gaius Searle January 1, 1842 (93-220). The deed specified "house, barn, woodshed, wagon house, and other out buildings as well as the land". It appears likely that Harris Nimocks built the back part of the present house soon after 1842. Harris Nimocks, born in Turin, N. Y. married Lucy Root of Westfield in 1835. The children of Harris and Lucy Nimocks were Harry L., Lucy and Arthur. Harris Lorenzo Nimocks, Born 1841, married Ellen L. Clark in 1867. Lucy Nimocks, born 1850, married (1) Henry Loomis in 1873, (2) Wilbur Carrier and (3) Austin Pettis. Arthur Nimocks, born Jan 1, 1854, married, lived in New York. Lucy Prudence (Root) Nimocks, first wife of Harris Nimocks died July 4, 1854. Harris married twice after that. He died in 1887.
Harris Lorenzo Nimocks married Ellen L. Clark (daughter of Josiah and Miranca "Torrey" Clark) in 1867. They had no children. He received most of the farm by will from his father in 1887. They sold the farm to William Shawcross in 1911 (667-627) and moved to East St., Southampton. Harris died in 1917 and Ellen died in 1940, aged 94.
William Shawcross and wife Edna had two children, William and Ruth. The family left Southampton in 1925. Ruth married Harold Norton in 1945 and came back to Southampton in that same year. Her parents came to her home in 1946 and lived there the rest of their lives. Ruth's brother, William, died unmarried in 1950.
Joseph P. Brown of Easthampton bought the property from William Shawcross Feb.6, 1915 (709-506). He or his wife Daisy N. Brown owned it until 1939. The Brown's never lived here. They hired Frank Blow to operate it and he with his wife Helena (Klopfenstein) Blow occupied the house.
Edward Bashista bought the farm from Joseph Brown in 1939. He had married Stella Radon October 12, 1937. They have three sons and one daughter; Donald, Stephen, Raymond, and Jeanne. Edward Bashista and his wife have greatly improved the house and the farm since they purchased it twenty-seven years ago. He keeps around sixty head of cattle and raises much of their feed. Their son Stephen and wife Christine live in a house north of the main house and Stephen works with his father. The Bashistas are interested in conservation practices having built two good farm ponds. They have also planted several thousand evergreen trees for Christmas trees, timber, and to prevent land erosion. The old barn was struck by lightning and burned in 1953 and Mr. Bashista built a new modern cow stable and attached hay storage barn the following year.
— From "History of Old Houses" by Atherton Parsons
Return to the Edwards Public Library website.